Tate Newmarch was on his way to becoming a soccer star, but an injury led him to U of T – and now medical school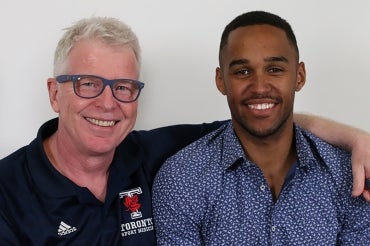 Tate Newmarch was 14 when he travelled from Canada to France with his agent to tour youth soccer clubs. At 15, he was training in Troyes, before moving to Nice and finally signing with Monaco. He was on his way to fulfilling his dream of being a soccer star.
Things took an unexpected turn when a serious injury to his pelvic area put him out of the game for 2½ years, as doctors tried to determine what was wrong. After an unsuccessful surgery, he travelled to Chicago's Caring Medical clinic, where he says they managed to "fix" him temporarily. He returned to soccer and signed to a reserve team in France called Balma SC, but the injury came back and – at 21 – he realized he was at a crossroads.
"I wasn't planning on ever going to university, because the path I was on was working," says Newmarch, who graduates from the University of Toronto's Faculty of Kinesiology & Physical Education on Wednesday.
 "I never signed a professional contract with a soccer club in France because I was there in my youth years, but a number of the guys that I played with are now professionals – two are on the French national team. I just knew after my second injury that I couldn't continue to experience setbacks, I needed to go the education route."
He decided to apply to study kinesiology, attracted by its multidisciplinary nature and the aspect of sport. He was interested in following up his kinesiology degree with studies in medicine, an idea that got solidified once he was in the U of T program and conducting research with Assistant Professor Doug Richards, medical director and staff physician at U of T's David L. MacIntosh Sport Medicine Clinic.
"Tate stood out as an exceptional student in both my first-year courses. He frequently came up after class to ask extra questions, and it was clear he was not only on top of everything we had covered in class, he was often one or two steps ahead," says Richards.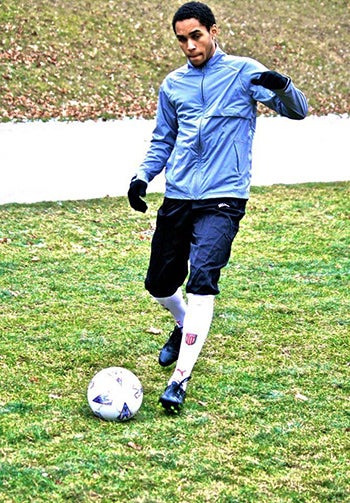 Newmarch excelled in the program, getting awards in first and second year for having the highest grades. He also worked as a research assistant with the MacIntosh clinic's consulting foot and ankle surgeon, Dr. Johnny Lau, at Toronto Western Hospital. When Newmarch approached Richards after second year to ask if he would supervise his undergraduate research project, Richards did not hesitate to involve him in a long-term study looking at the effects of static alignment of the legs on a variety of injuries and exercise programs. 
"Tate took on a preliminary project to validate some clinical measures we want to use in that long-term program and did a great job, showing all the independence, initiative, intellect and persistence required to complete that phase of our project," says Richards.
Newmarch describes the experience as "incredible." He will continue to work with Richards on the study as a medical student, having received acceptance from U of T's Faculty of Medicine.
Reflecting on his unorthodox path, Newmarch says he definitely made the right decision to study kinesiology after his bid for soccer stardom was interrupted.
"KPE does a great job at preparing you well for a number of fields you may want to enter later," he says. "The multidisciplinary approach lets you learn about the human condition from every angle and I really prize that. I feel that kinesiology has changed the way that I operate in the world, because the things that I learned are applicable in so many areas. 
 "I've been genuinely happy and made a lot of good relationships with a number of professors and students who have helped me just by being genuinely interested in what I was doing. Of course, the feeling is mutual."  
Does he regret not becoming a soccer player? He used to, he says, especially when he'd see former teammates signing big contracts. Over time, however, those feelings have abated, in no small measure because the transition from sports to academics has been unexpectedly easy.
"You need to be meticulous, determined and hard-working in both worlds," says Newmarch.
"I still miss soccer to some extent, but I'm happy with where I am now. Things don't always go the way you want to or expect them to go, but if you use each experience to learn from it, you'll be more equipped for every new situation because of where you were before."
When the 2018 World Cup starts this week, he'll be cheering for France and his buddies from another lifetime. Come September, he'll be training to be a doctor.
KPE