On target: U of T alumnus pursues Olympic medal ambitions alongside teaching career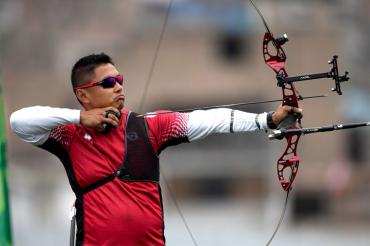 Crispin Duenas got his acceptance letter to the University of Toronto's Ontario Institute for Studies in Education (OISE) just as he was walking into the opening ceremonies of the 2012 Olympic Games in London.
"It was a really fun day that became better because now I had a little bit of a path for my future to take," said Duenas, an accomplished archer who is now competing in his fourth Olympics in Tokyo.
Since graduating from OISE in 2013, Duenas has been working with the Toronto District School Board as a supply teacher and long-term occasional teacher in math and physics. At the same time, he continued to compete nationally and internationally in his sport.  
Duenas said OISE was a life-changing and perspective-shifting experience – and he credits his professors for challenging him and expanded his horizons.
"When you're thinking of becoming a teacher, you have this vision of what you want to do," he said from his pre-Olympic training in Antalya, Turkey. "And then your profs at OISE suddenly throw this curveball at you and ask, 'Well, have you ever thought about this happening in your class?' And you're like ... 'No, I haven't.' That's one of the cool things that had happened to me at OISE –there's these scenarios that you just never think of."
He added that his education helped prepare him for his teacher placements and practicums, where "real stuff starts to happen – and you get a feel for what it's like to be an in-the-class, real teacher, instead of this theoretical, I-want-to-be-a-teacher-type person."
Duenas would routinely come back from practicums and present his experiences to his professors, including Ron Lancaster, an associate professor emeritus, teaching stream. "And they say, 'Yeah, well, what did you do? And let's analyze how you were successful, how you weren't successful and what would you do differently?'" said Duenas.
"I think there was a thoroughness to OISE that I don't know that exists in other teacher colleges. That was one of my really positive experiences coming out of OISE – even though it was just a one-year program."
Duenas also learned a lot about lesson planning and working with kids who have special needs. 
There were some amusing moments, too. That includes an instructor who made a remark about the Olympics and performance-enhancing drugs without realizing there was an Olympian sitting in the room.
Not surprisingly, Duenas said it was often tricky to strike a balance between his education and training. 
"Luckily, teaching doesn't have to be done during the summer, and I've got a summer sport," he said, noting that Lancaster often emphasized the importance of time management. "So, whether you do the work at school, or whether you bring the work home – I'm talking about lesson planning or whatnot – you're going to have to do it. So, manage your time well if you have other things on the go."
As he considers life after his fourth Games, Duenas said education will remain a key focus for the future. 
"I have gotten really lucky with a lot of it," he said.  "And I'm just going to try to keep making the best of what I can." 
OISE