Talk about the cosmos over a pint with these U of T space experts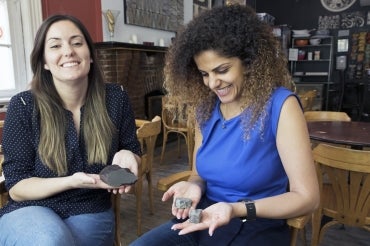 University of Toronto experts are bringing discoveries from out of this world into the pub.
They'll be speaking at the Solar System Social – a monthly event taking place on Saturday at Burdock brewery in Toronto.
"Bringing this to a pub, to a coffee shop, to the sidewalk – it's bringing science to the average person to help them understand the significance and importance of what we're doing," says Sara Mazrouei, a U of T PhD candidate in the department of earth sciences in the Faculty of Arts & Science.
She'll be talking about the first sample return mission to the Itokawa asteroid by the Japan Aerospace Exploration Agency – and specifically about C-type asteroids.
"They are made out of clay, and they're the answer to how life formed and evolved on earth," says Mazrouei. "If you think about it, asteroids are a time capsule, and they hold four and a half billion years of history of the solar system."
York University PhD student Dylan Hickson will be talking about NASA's OSIRIS-REx asteroid sample return mission, and U of T earth science master's student Tanya Kizovski will be focusing on what we can learn about Mars through Martian meteorites.
"There's also going to be some Martian trivia to make sure people are paying attention and some Martian-themed prizes," says Kizovski.
While there's a push to get kids excited about science, technology, engineering and math (STEM), there's value in getting adults excited about those topics too, says Kizovski.
"We love talking about it. It's our passion. It's a joy to be able to share it with other people, to get questions and to discuss it," she says.
"We're so used to giving talks at conferences or lectures, but at Solar System Social, I can just go up there with my pint of beer and take a sip and talk," adds Mazrouei. "It's more relaxed."
The event is also an opportunity to dispel stereotypes about scientists, says Mazrouei.
"People have this view of what a scientist looks like, what they do, that they're very anti-social people. This shows them a different view of what scientists are like," she says.
UTC