Survivors' Flag raised on U of T's three campuses
U of T will mark Orange Shirt Day and the National Day for Truth and Reconciliation with an event in advance of Sept. 30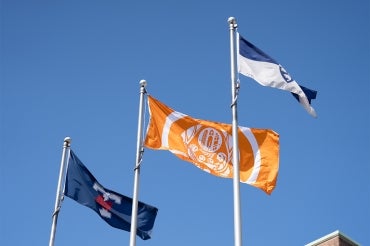 As the University of Toronto community prepares to mark Orange Shirt Day and the National Day for Truth and Reconciliation, the Survivors' Flag, which honours Indigenous lives and communities impacted by the residential school system in Canada, has been raised on each of its three campuses.
On the St. George campus, the Faculty of Kinesiology & Physical Education (KPE), in partnership with First Nations House and the U of T Office of Indigenous Initiatives, raised the Survivors' Flag at Varsity Stadium last week. It will be lowered to half-mast on Sept. 30 when the National Day for Truth and Reconciliation is formally recognized across Canada. 

Professor Gretchen Kerr, dean of the Faculty of Kinesiology & Physical Education, said the flag is an important sign of support and solidarity with Indigenous communities.

"Public commemoration of the painful history of Canada's residential school system, whose tragic consequences continue to reverberate today, is a vital component of the reconciliation process," said Kerr. "It's also a time for settlers to reflect on taking action to strengthen relationships with Indigenous Peoples and build a better future together.

"I take this opportunity to invite all students, staff and faculty members of KPE to attend Truth and Reconciliation events where their schedule permits and to spend some time reflecting on their own efforts towards reconciliation."

U of T will commemorate Orange Shirt Day and the National Day for Truth and Reconciliation with a tri-campus event on Sept. 29 in the Great Hall at Hart House that can be attended in person or watched via YouTube livestream. It will feature remarks by Alexandra Gillespie, U of T vice-president and principal of U of T Mississauga, and U of T Chancellor Rose Patten. 
Emceed by Hart House warden David Kim, the event includes a panel discussion on making residential school survivors' stories accessible at U of T libraries. The panel, moderated by Angela Henshilwood, head of the Engineering and Computer Science Library, features Grant Hurley, Canadiana librarian at the Thomas Fisher Rare Book Library, Mikayla Redden, information services and Instruction librarian at New College Library, and Desmond Wong, outreach librarian, OISE Library.
"There is no way to quantify the trauma suffered by the victims and survivors of residential and day schools. Yet this trauma has been shared – as Phyllis Webstad did by recalling the childhood experience that gives Orange Shirt Day its name," Kelly Hannah-Moffat, U of T's vice-president of people strategy, equity and culture, said in a statement.
"I urge non-Indigenous members of the U of T community to seek out this and other survivors' stories to gain greater knowledge, to foster deeper compassion, and to strengthen your resolve to engage in work that restores mutual respect and understanding between Indigenous and non-Indigenous peoples." 
KPE