With the support of profs, Mitch De Snoo finds a way to balance PhD research and pro lacrosse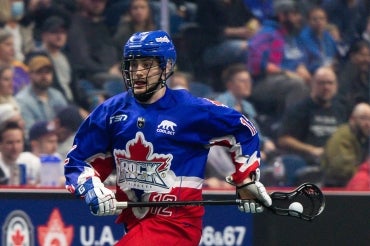 Mitch De Snoo is not only completing his MD/PhD studies at the University of Toronto's Temerty Faculty of Medicine – he has successful career as a professional lacrosse player, too.  
De Snoo, who studies the basic mechanisms involved in memory formation, just completed the second year of his PhD studies at the Institute of Medical Science (IMS) in the lab of Professor Paul Frankland, who has appointments with IMS and physiology at Temerty Medicine and is a senior scientist at SickKids Research Institute. 
De Snoo also plays defense for the Toronto Rock, and last month he was named Defensive Player of the Year by the National Lacrosse League (NLL), the world's largest professional lacrosse organization.
He recently spoke with writer Erin Howe about how he balances science and sport.  
---
What is the focus of your research?
I'm part of Professor Paul Frankland's neurobiology lab at SickKids. Working with mouse models, we look at basic science factors that affect the saliency and longevity of memory. My project specifically uses a technique called calcium imaging to track the activity of neurons in the hippocampus, an essential structure for memory formation, while mice are engaged in learning tasks. Calcium imaging allows me to track the same neurons over extended periods of time so I can compare how their hippocampal representations of the task evolve with time. I also study how neurogenesis – the birth of new neurons during adulthood, and a process that is unique to the hippocampus – affects these memories.  
What sparked your interest in this area? 
I'm interested in neurodegenerative diseases and, in particular, Parkinson's disease. My father had Parkinson's and was diagnosed when he was quite young, which influenced me to do research and pursue studies in medicine. 
When I was doing my master's degree in laboratory medicine and pathobiology in [Associate] Professor Suneil Kalia's lab, I explored the cell biology involved in some of the pathways known to cause genetic forms of Parkinson's disease.  
Difficulties related to memory and cognition are among the most concerning symptoms in Parkinson's and other neurological diseases. My goal is to better understand the fundamental science underlying memory so that I can eventually apply the concepts and techniques that I am learning in my PhD to study the pathophysiology and treatment of disease in my own research program in the future. 
What drew you to lacrosse?   
I'm very lucky things have worked out as they have. 
I played lacrosse and hockey while I was growing up in Oshawa and never imagined that playing sports would become more than a pastime – it just sort of happened. 
I was older than many players are when I began to play competitively. Some of the other people I played with were recruited for scholarship opportunities at universities in the United States. When I realized that could be a possibility for me, it was exciting. I was recruited to study at and play for Drexel University in Philadelphia. Each summer, I returned home to Canada to play in the competitive leagues here. 
At some point, I was ranked on an NLL draft board and people were talking to me about prospects and playing professionally – I was surprised! Then, when I finished my undergraduate degree in 2015, I was drafted to the Calgary Roughnecks. While I initially made the team out of training camp, I was traded to play for the Buffalo Bandits in New York State before the season began. I played my first five seasons in Buffalo. 
When did you join the Toronto Rock? 
I was traded to the Toronto Rock early in 2020, a few weeks after our league announced a shutdown due the COVID-19 pandemic. With public health precautions remaining in place, this past 2021-22 season was the first time I got to play with the team. It was a tremendous experience to be able to play for the hometown team that I watched when I was a kid. Once it was safe for friends and family to begin coming to see our games toward the end of the year, it was great.  
What was your reaction to learning you'd been named Defensive Player of the Year? 
It was pretty shocking. Even though it all worked out in the end, I never thought it would be possible to have a career in the NLL. I was just focused on doing my best and becoming a better player each year.   
How do you balance the demands of academic life with the rigours of professional sport?  
I've been fortunate to work with supportive faculty members like Professors Frankland and Kalia and to do the kind of research that allows me to manage my own time. And although the NLL is a professional league, we only play games during weekends. Our team practices are also capped to once a week and I do other workouts during the week around my research schedule. When I'm on the road, I also find time to work at my computer, whether I'm on a plane or fitting in time during the afternoon between our morning shootaround and gametime in the evening. 
Medicine