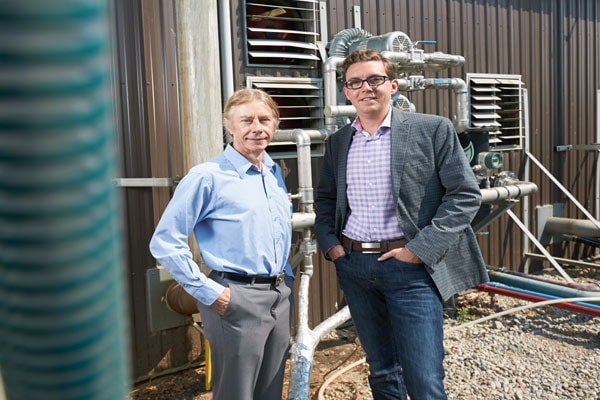 Supergreen: turning renewable natural gas waste into fertilizer with U of T startup, CHAR Technologies
Company wins $750,000 in first investment from Sustainable Development Technology Canada's Natural Gas Fund
The problem with 'green energy' solutions is that some of them aren't so much 'green' as they are 'green-ish' or 'green-er' than alternatives. 
Take renewable natural gas. It's seen as a clean and carbon-neutral alternative to fossil fuels. But as a form of energy rising from decomposing organic materials in landfills, natural gas starts out quite dirty.
A process called scrubbing can turn toxic and corrosive gas into useable energy. But cleaning it results in a lot of chemical waste – and when natural gas makes up more than 30 per cent of Canada's energy use, according to statistics from Sustainable Development Technology Canada, that's a lot of waste from a so-called green energy solution.
Enter alumnus Andrew White and his U of T research spinoff, CHAR Technologies. It's a unique entry into a growing market where innovations that can make production of renewable natural gas more affordable, sustainable and streamlined have much ground to gain. (Read more about CHAR Technologies.) 
"We developed a cost-effective, convenient and zero-waste cleaning solution," the chemical engineering grad says. 
The idea sparked when White toured a renewable natural gas plant in 2009 and was astonished by the waste generated in the filtering process. White finished his master's work in 2010 and began commercializing a research innovation that transforms corrosive chemical trash into agricultural treasure in the form of sulfur-rich fertilizer. He launched the resulting company, CHAR Technologies, in 2011.
White says its product, SulfaCHAR, is "the only product effectively converting hydrogen sulfide into a fertilizer supplement rather than another waste requiring disposal."
In other words, it taps into the existing market need for renewable natural gas filtering but also offers an extra-green benefit by turning that waste into a useful fertilizer material. Leaders in Canada's energy landscape say the economic potential of CHAR Technologies could have an impact on a national scale, and Sustainable Development Technology Canada has injected $750,000 into the company.
"We are proud to invest in the SulfaCHAR project, which will create jobs in Cambridge and continue to place Canada at the forefront of the clean tech industry," said Gary Goodyear, Canada's minister of state (Federal Economic Development Agency for Southern Ontario) and MP for Cambridge.
White says he was taught to avoid creating 'end-of-pipe' problems – the very challenge SulfaCHAR solves – through his engineering education at U of T.
"Professors Bryan Karney and Donald Kirk both inspired me to look at the life cycle of all projects and ensure that any wastes were preferably eliminated or, better still, converted into something useful," White said. "Looking at the life cycle ensures we're making the absolute best solution. And they both approach academia with an entrepreneurial mindset, which helped push me towards my entrepreneurial journey."
Karney, chair of the division of environmental engineering & energy systems at the Faculty of Applied Science & Engineering, served as White's undergraduate supervisor.
"I love the idea of turning a care for the world into a business, in an entrepreneurial way," he says. "It's fantastic to think about making a living and making the world better at the same time."
White's startup received mentorship and funding from the Research, Innovation, Commercialization (RIC) Centre's VentureStart program, tailored specifically for entrepreneurs coming from a science, technology, engineering or math background. 
Now he's working with U of T's Banting & Best Centre for Innovation & Entrepreneurship as he shares lessons learned through the startup process with aspiring entrepreneurs through lectures and mentorship.
And he says Sustainable Development Technology Canada's funding will mean CHAR Technologies can focus on scaling-up and moving from pre-commercial to a commercial stage.
Helping to support the renewable natural gas industry will allow it to grow – which will in turn help convert even more wastes into resources," White said.