Summer in the city: undergrad researchers making new bike lanes happen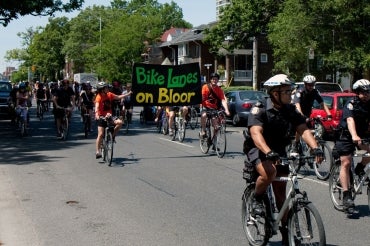 If you've been looking forward to getting around the city by bike this summer, you might want to thank some University of Toronto students for making that a little easier.
In 1976, the City of Toronto proposed bike lanes for a busy section of Bloor Street that includes an area known as the "Annex." Forty years later, those bike lanes may finally become a reality – and U of T's Cody Kita capped his undergraduate career by playing a small but important role in the epic battle.
As part of Active Citizenship in a Canadian Context, a University College fourth-year course in Canadian studies, Kita and classmate Adam De Luca spent seven months studying the issue of the Annex bike lanes and reporting their insights to the local Business Improvement Area (BIA).
Kita says the bike lanes had been the subject of numerous studies and debates over the decades, but the key factor was getting area businesses on board.
"It's kind of amazing, because bike lanes are a need that has been expressed by the community for a long time, and finally that support is coming from the businesses as well
"I mean, it was 40 years in the making while other bike lanes around the city went ahead, but Bloor has always been fraught with all kinds of issues, and it's like a perfect storm where it all finally came together."
City Council approved construction of new bike lanes by late this summer through the Annex as part of a larger pilot project along Bloor St. West. The data Kita and De Luca collected on the neighbourhood will be part of the information available to the BIA and planners as they work out details for things such as signage and metering.
A decision on whether to make the bike planes permanent will come in 2017. The pilot project will create bike lanes in each direction along a 2.6-km stretch of Bloor St. West, but parking will be maintained on at least one side of the street.
(Cody Kita and instructor Siobhan O'Flynn/photo by Diana Tyszko)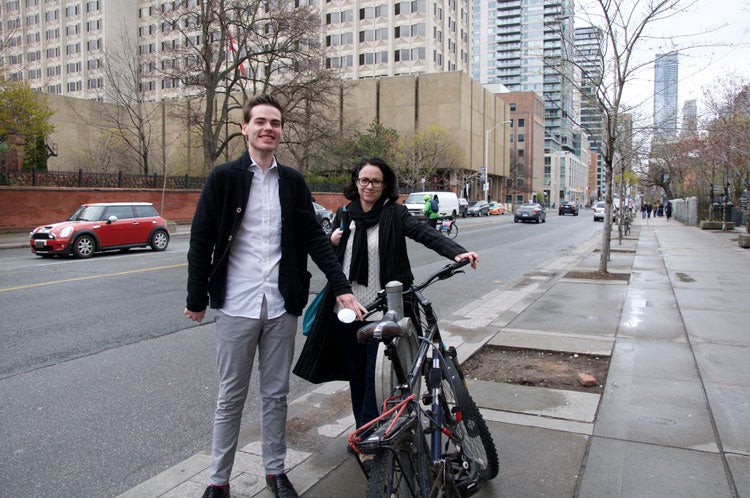 The Annex situation presented the perfect intersection of real-life community development and the course themes of citizen inclusion and city building, says Kita.
The course helped students consider various strategies to benefit urban planning, including the importance of building connections with community organizations like BIAs, which are often in need of expert assistance and support when it comes to neighbourhood development issues.
Economic and safety benefits
Building on the work of previous studies, Kita and De Luca were able to illustrate both the economic and safety benefits that closing one lane to cars in favour of bikes would create in the area.
They found that the majority of customers patronizing local businesses were from the immediate area and either walked, biked or took transit, while car traffic was mainly just passing through.
They also noted a study published in 2009 by the Clean Air Partnership that found that cyclists spent more money in local businesses than people driving to the area.
Further, they pointed out that while the removal of parking on Bloor in favour of a bike lane would put more parking pressure on nearby side streets, there was still capacity on many of those streets to handle some of the overflow.
The 20-page presentation Kita and De Luca made to the BIA included parking data, maps and a written report summarizing their findings. He says their report considered points of view from both the businesses and residents.
With its easy access to transit, high volume of bike users, and eclectic mix of student, resident and workforce commuters, the Annex is the ideal case study in how neighbourhoods and communities in large cities can have the best of both worlds, says Kita, noting that any measures that reduce carbon emissions and promote alternate modes of transportation benefit everyone.
"This was a really an incredible way to end my undergraduate career," says Kita.
"It connected all the areas I had been exploring in my course work about giving people the capacity to create changes in their community."