A procession of graduating students on the front lawn at the downtown Toronto campus (photo by Ken Jones)
Next Steps conference April 28 and 29 helps students plan for the great unknown after graduation
Elizabeth Ching had a post-graduation plan. 
She had laid the groundwork for a career in content marketing by completing internships as a student. She received a job offer even before her dual degree in linguistics, and book and media studies.
But things didn't go exactly as planned.
Ching was unhappy in her new workplace. After seeking advice from a counsellor at U of T's Career Centre, she quit and went back to the drawing board. She fired off more applications and was on LinkedIn constantly looking for work.
Her persistence paid off: she was offered a job at a startup about a month later.
Ching is returning to campus this Friday with a message for the class of 2017: "Success isn't a straight line." 
She joins Weil Huang, a career educator at the Career Centre, and other alumni for a panel discussion at the two-day Next Steps conference on the obstacles students may face after graduation.
U of T News spoke to Ching ahead of the conference as she reflected on her career path and advice to grads.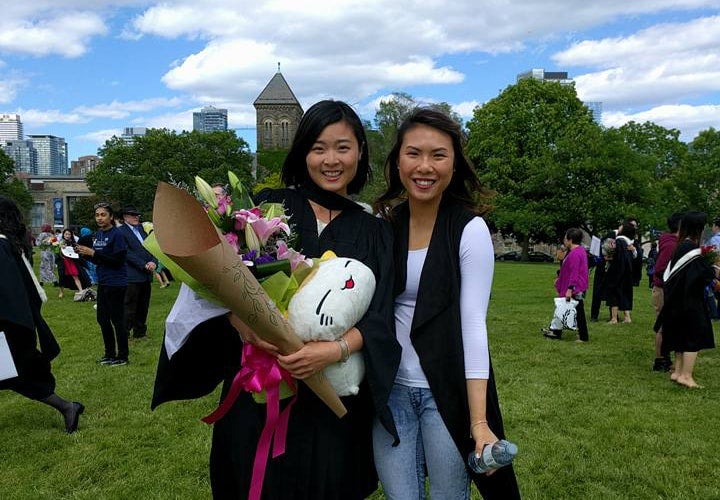 Elizabeth Ching (left), one of the speakers at the Next Steps conference, says new grads shouldn't always accept the first job offer they receive (photo courtesy of Elizabeth Ching). 
---
How did you feel in the weeks before convocation? 
I didn't really have time to be worried [about post graduation] because I was just sending out job applications like a machine. 
I think mostly I was excited for the end of school and the start of a new chapter.
Can you describe your path after graduation? 
In the beginning it was really rocky. I started working two weeks before I graduated. It was the first job that was offered to me. I had been applying frantically since September of my fourth year. In April, since I didn't have exams, I went back home [to Markham], and I sent out like a billion applications. 
What were some of the obstacles you encountered after convocation and how did you overcome them? 
That first job I was talking about – I guess because it was my first job – I wasn't sure what to expect. I felt very uncomfortable and didn't like the environment. I was very intimidated and scared. I didn't like the overall vibe of the office, and I wasn't coping very well. 
I didn't know if it was just me not adjusting well to work life or if it was the work itself. I just needed someone to talk to who wasn't a friend or family member.
I went to the U of T Career Centre and talked to one of the counsellors there, Kate Bowers. She just listened to me and gave me an unbiased take on what I told her and how to think about this job. Through that, I was able to separate my personal feelings from the workplace environment. I could see it wasn't just my problem, or that I had to get over it. It was a problem of the workplace – this wasn't working out. So I quit. 
What happened next? 
I started looking for jobs again. I was churning out a lot of applications every day. I was always on LinkedIn. I was very persistent. 
Then, I found my current role at CrowdRiff. I got an interview here and when I met with my current manager, I felt such a relief. There was such a huge difference between her attitude and the way she approached management and marketing. I was very happy to accept their job offer. 
Based on your experience, any tips for the class of 2017? 
I would say don't accept the first offer you get. Really evaluate the company, your interview, your manager. Ask yourself: "Does this look like a good fit?" I think it's important to sit down and think about whether you want the job as opposed to "they want me, so I'll take this job."
What's your give advice on how to bounce back from adversity? 
I think the key is talking to people who care about you and having someone who will listen to you. You need to separate yourself from the problem and realize you're not the failure. 
Anything else you'd tell this year's graduating class? 
Get on LinkedIn. Get on Twitter. Make sure you have a presence so people can find you so you don't have to do all the looking yourself.
More job tips from the Career Centre:
Erika Bailey, lead coordinator of career exploration at the centre, has advice for the next wave of U of T grads.
Think about who you are and what motivates you: "Know more about yourself, including what you value in life. For us to be great explorers of our careers, we have to understand who we are and what changes we want to effect."
 
Be open to possibility: "This means that we do not yet know what we do not know – jobs are evolving and being created every day – so keep an open mind to opportunities and understand how they align with our skills, interests, values and future career learning."
 
Know how to communicate your ideas and build connections: "Look at really expanding your network, connecting with alumni and participating in conferences. The data has shown us that students who participate in co-curricular activities, those who reflect on their lives and their skills, are the ones who are more attractive to employers."