'Succeed and thrive': U of T scholarship recipients honoured at virtual event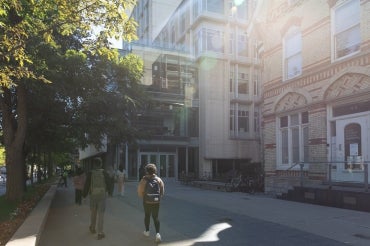 Hundreds of University of Toronto community members recently gathered at a virtual event to honour first-entry undergraduate students who received scholarships.
More than 2,200 admission awards totaling $29.9 million were distributed to students entering their first year at one of U of T's three campuses this fall. The university boosted the amount it awards first-entry undergraduate students – both domestic and international – by $6.9 million this year over last.
Over four years, the award payments to the new students will total $69.9 million.
At the virtual event, U of T President Meric Gertler welcomed U of T's newest generation of scholars to campus and wished them well on their academic journey.
"Our goal is to see you develop your knowledge in one or more fields of study while also honing a set of core competencies that will serve you well throughout your working lives: the ability to think critically, to solve problems creatively, to communicate effectively and to work well with others particularly within socially diverse teams," he said.
"In a world of technological disruption and change, it is these very qualities that will make you resilient and enable you to succeed and thrive."
The event, which saw more than 800 student scholarship recipients RSVP, was held to honour domestic and international scholarship recipients who were admitted to U of T in 2021 across a wide range of disciplines – from the humanities and social sciences to the sciences and professions.
Following remarks from senior university leaders, students had the opportunity to chat in virtual breakout rooms that were hosted by principals and deans from across the university.
Chancellor Rose Patten said one of the greatest perks of her role is meeting bright young students.
"For me, the opportunity to celebrate your accomplishments and support your potential is more than a privilege – it's an inspiration."
Patten congratulated the scholars on their accomplishments and said she was confident they would be important additions to the U of T community.
"U of T is a crucial hub of intellectual and cultural life in the Toronto region, in Canada and indeed in our world today," she said. "I have no doubt that you will make great contributions in your years here, in your studies and your co-curricular activities, and I know that your time at U of T will prepare you well for a lifetime of success."
Alexandra Gillespie, vice-president and principal of U of T Mississauga and an expert on medieval and early modern literature, cited 14th-century poet, Geoffrey Chaucer, to describe the role of university scholars.
"Gladly wolde he lerne and gladly teche," she said, quoting The Canterbury Tales.
"Learn and teach," Gillespie said, translating from Middle English. "The two actions express the sense of growth and community that lies behind a U of T scholarship like the one you have won."
"Thank you, U of T scholars, for joining a community as eager to acquire new knowledge as we are to share it with others."
Wisdom Tettey, vice-president and principal of U of T Scarborough, told the incoming group of scholars that their success despite the COVID-19 pandemic bodes well for their future and the future of society.
"We as your UTSC family will do our part to sustain that optimism. We will support you to strive to reach new goals and explore new possibilities that enrich you intellectually, and as critically minded citizens who carry with pride and live our vision of inclusive excellence," he said.
"Staff, faculty and your peers are here for you to ensure that you flourish and that you enrich and are enriched by some of the best minds you can find anywhere in the world."
UTC