Study finds Toronto's economic recovery from the pandemic lags other cities': Toronto Star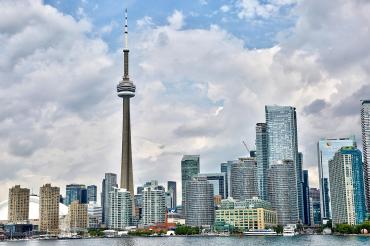 Downtown Toronto trails behind most other North American cities in its recovery from the economic impacts of COVID-19, according to a new study by the University of Toronto's School of Cities and the University of California, Berkeley, the Toronto Star reports.
The "Death of Downtown?" study assessed the economic recovery of 62 North American cities using cellphone activity data, the Star reported, with Toronto ranked 49th. Mobile activity in downtown Toronto between March and May 2022 was at 46 per cent compared to 2019 levels. By comparison, top-ranked Salt Lake City, Utah was at 155 per cent while Halifax was the top-ranked Canadian city, placing 20th with a recovery level of 72 per cent.
Karen Chapple, director of the School of Cities and co-author of the study, said there was a clear correlation between the sluggishness of a city's economic recovery and the strictness and duration of lockdown measures. "You look at that ranking chart and you look at the red cities, which are the Canadian ones, and Canada had much stricter lockdown policies than almost anywhere in the United States, with a couple of exceptions," Chapple, a professor in the department of geography and planning in the Faculty of Arts & Science, told the Star.
The makeup of a city's economy was also a key factor, Chapple added, with Toronto's reliance on sectors that embraced remote work – such as finance, technology and professional services – contributing to the city's slow pace of recovery.
UTC