Students from U of T Mississauga's first spoken-word course take the mic for live performance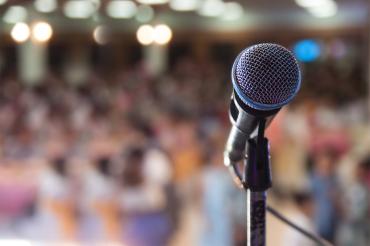 Students at the University of Toronto Mississauga had the chance to take a unique course this past semester, learning all about the art of spoken word.
The course, taught by poet and U of T Mississauga lecturer Andrea Thompson, aims to cultivate students' skill in the "empowering art form," Thompson says.
"The goal is to create a transformative experience that changes students' lives."
The students in the third-year course are set to show off what they learned at a showcase at the MiST Theatre on April 11.
Thompson had previously taught spoken word at U of T's School of Continuing Studies, but the U of T Mississauga class – offered as a special topics in creative writing course – is the first credit course in spoken word offered at that campus.
"There aren't a lot of spoken-word courses being taught [anywhere] as credit courses," Thompson says. "I was really excited about this, and so were the students." 
Sumyia Hashmi, who will be performing at the showcase, says the course has enhanced her writing and poetry skills. 
"I hope it's a recurring course at the university," says Hashmi, a fourth-year student studying English with a minor in creative writing. 
Hashmi had been writing short stories and prose since Grade 9, but didn't become interested in poetry until coming to U of T Mississauga. After taking a series of courses on poetry and literature, including Thompson's spoken-word class, Hashmi says she's "come out of her shell."
The course taught her not just how to write poetry and recite it, she notes, but also to collaborate with other students, develop critical thinking and articulate her ideas. 
Instead of a typical lecture format, Thompson gives her students weekly assignments and writing prompts, encouraging them to work interactively and share their work in open discussions before they perform their poetry.
"A lot of us were nervous at first," Hashmi says, adding that after hearing Thompson read from her own work and inviting discussion, the students became more comfortable with spoken word as an art form.
A spoken-word performance involves much more than reading words on a page, Thompson says. There is a dramatic element to reciting the poem that involves body language, word choice, pauses, gestures and more.
"You want to use everything in your physicality," she says. "You use stance breaks, line breaks, word choice – all these tools."
Thompson, who recently released her own spoken-word album, The Good Word, says she's excited to see her students' takes on performing the work they developed in the course.
"Your voice is the number-one tool to take what's in your head and heart – and on the page – and make that come alive."
UTM