Student teams from across Ontario to tackle air quality issues in case competition at U of T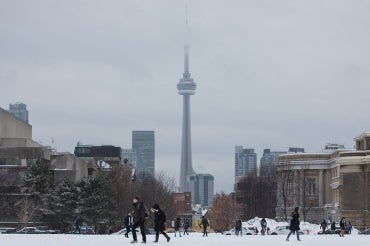 More than 130 students from Ontario universities will descend on the University of Toronto this weekend for the sixth annual Toronto Thinks Global Health Case Competition.
Co-hosted by Juxtaposition magazine and U of T's Dalla Lana School of Public Health, the event will tackle the issues of air quality and health.
Twenty-four multidisciplinary teams of four to six undergraduate and graduate students – including students studying public health, political science, engineering, computer science, and international relations – will work together to develop creative solutions to the prominent global health problem of traffic-related air pollution.
"Case competitions are an intense experience that take students outside their comfort zone in a low-stakes environment where they can apply innovative, interdisciplinary problem-solving to an important global health issue," says Erica Di Ruggiero, assistant professor and director of Dalla Lana's Office of Global Public Health and Education and Training.
"It also allows students to apply their education in a real-world scenario, build valuable career skills and engage with the school in new and exciting ways," she says.
Dalla Lana