(photo by Recep Buyukguzel via Getty Images)
With classes gone virtual and social activities shuttered or scaled back, many students may feel as though school has become an all-encompassing endeavor.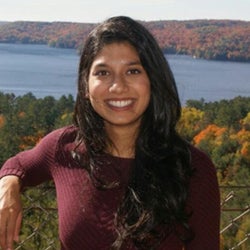 But
Fawn Rasquinha
, a senior peer mentor with Student Life's
Academic Success peer-mentorship program
, says it's still possible to find a happy – and healthy – balance between work and play by studying smarter, not harder.
"We were afforded time to be productive and focus on lectures and studying when we were going to school in person, and now we're having to create that environment for ourselves, which can be difficult – especially with lectures," Rasquinha says.
Rasquinha, who is pursuing a master's degree in the University of Toronto's Factor-Inwentash Faculty of Social Work, says peer mentors like herself are great resources because they are students, too.
"Peers offer that informality where they have been through whatever you're experiencing, and they offer you the same strategies and resources that they are familiar with."
Here are four areas where Rasquinha says she sees often sees students struggle – and her tips to help them succeed.
---
Putting yourself first
Many students who are doing their studies online find it difficult to stay motivated and focused on work, according to Rasquinha.
"It's a good idea to carve out space in your home, get rid of distractions, and make it an environment that's conducive to your ability to focus on lectures and tasks," she says.
Establishing a routine that really works for you is key, she adds.
"Everything is so merged now between your work, home and school life. Structure your studying time around your own energy levels and ability to concentrate and, in essence, create a routine and structure so your day is planned."
Bite-size pieces
Procrastination is a common experience for anyone facing a big task or assignment, which can initially seem overwhelming and insurmountable.
So, Rasquinha recommends students start small.
"First, I identify what is preventing me from getting started on my work and then develop strategies to tackle that mentality," she says. "What works for me is to conceptualize my work in the sense that I'm not approaching this task with the mentality of completing a ten-page essay in one day. I initially try to create an outline, and then I do research and fill out the introduction section.
"I really find utility in breaking down tasks into bite-sized and manageable pieces, setting incremental and manageable goals for myself until I eventually get that ten-page paper down."
Managing your time – and stress
Struggling with time-management and feeling anxious during exam season reflects the shared reality that many students are still "learning how to learn and discovering what works and what doesn't work as a learning strategy," Rasquinha says.
She adds this can be especially common for first-year and second-year students, where the process of studying for university exams is still about trial and error. Upper-year students who are experiencing excessive levels of stress may want to think about re-tooling their approach, she suggests.
"School-related anxiety is an aspect of the leaning process, but I don't think you should experience it consistently throughout your four years," she says. "I think when you are experiencing it, it's a signal to try new strategies, develop new skills, and access different resources."
Know when – and where – to seek help
U of T students seeking additional support have many options.
On the St. George campus, Student Life's Academic Success programming ranges from online courses and workshops to virtual study hubs and one-to-one supports.
That includes the option of booking an appointment – now on Zoom – with an academic peer mentor such as Rasquinha.
"The good thing about this platform is that we're more flexibly able to meet student's needs in that students may not want to have their camera or microphone on," says Rasquinha. "We are able to be more flexible with students in terms how they want to engage during their session and participate. In Zoom, you don't have to commute to us and it's scheduled."
Student Life has also compiled a list of academic resources on campus, from writing centres to tutoring services.
For students at U of T Mississauga, the Robert Gillespie Academic Skills Centre offers a full range of individual consultations, workshops and programs that are designed to help students identify and develop the skills they need to be successful in their studies.
Similarly, U of T Scarborough students have access to the Academic Advising & Career Centre, which offers workshops and peer coaching, as well as connections to other resources on campus.
"As a graduate student, I know that school-related stress is a very common experience," Rasquinha says.
"You're not alone in feeling anxious about studying for exams or managing your time."