'Strong in both worlds': U of T grad builds bridges between Indigenous and Western worldviews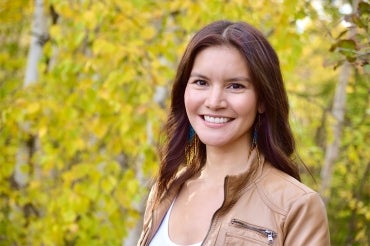 As a proud Tłı̨chǫ Dene who was born and raised in Denendeh – the Dene word for their traditional land in the Northwest Territories – Itoah Scott-Enns spends a lot of time building bridges between Western and Northern Indigenous knowledge and worldviews.
The University of Toronto alumna is the owner of Įdaà Strategies in Yellowknife, which facilitates culturally rooted, community-based development that recognizes community members as the experts. 
"We have a phrase in my language that translates to 'being strong like two people,'" says Scott-Enns, who earned a bachelor's degree in Indigenous studies and ethics, society and law with distinction from U of T's Faculty of Arts & Science in 2014. "It was coined by my great aunt, Elizabeth Mackenzie, based on a concept from one of our former chiefs.
"It's about recognizing we live in a world now where we have to stay strong in our traditional knowledge and culture while also learning to collaborate with Western and modern ways, so that we're strong in both worlds."
Scott-Enns, who was a member of Woodsworth College, recalls dealing with the culture shock that comes with traveling thousands of kilometres away from home to attend university. 
"It was hard to be away from my family and my community while going on that learning journey. But by the end of my time in Toronto, I was super comfortable there," she says. 
"The opportunity to leave the North really contributed to my overall knowledge. It was a good growing experience, living outside of the norm, learning more about other people's cultures and building networks and connections."
Ironically, Scott-Enns says being far from home rekindled her interest in her own culture as she learned more about residential schools, colonialism and reconciliation – especially from Lee Maracle, the celebrated writer, activist and Indigenous Studies instructor at U of T who died last fall at age 71. 
"Lee taught me about what reconciliation really means, and how to navigate those hard conversations so we can and figure out how to bring Western and Indigenous knowledge together to build stronger communities," she adds.
"A lot of the work I do is about building bridges. Having the chance to get an education and spend some time outside the North helped me understand that."
In 2015, just a year after arriving at U of T, Scott-Enns founded the #SpeakTłı̨chǫToMe social media campaign to promote the learning and use of Dene languages, especially Tłı̨chǫ.
"I think the passion for wanting to reclaim my language really started when I was at U of T, because I grew up not speaking it, and my grandparents did not speak English, which had a really big impact on my life," Scott-Enns says. 
Through #SpeakTłı̨chǫToMe, Scott-Ens shares stories and videos about her own learning journey, including teaching her daughter Tłı̨chǫ. She encourages others by pointing out her own mistakes and acknowledging the difficulty of the learning process while emphasizing that it's OK to make mistakes.
The feedback she's received from young people in her community has been extremely rewarding, she says.
After graduating from U of T, Scott-Enns spent four years as executive director of the Arctic Funders Collaborative, where she led the development of the Arctic Indigenous Fund (AIF), designed by Indigenous leaders recruited from across the circumpolar Arctic.
"The result is a philanthropic fund for Indigenous communities, by Indigenous communities, that does grantmaking according to our Indigenous ways of life for our communities," says Scott-Enns, who serves as a mentor to the fund manager.
In 2020, she published a report for the International Funders for Indigenous Peoples network about the importance of Indigenous-led funds like the AIF.
She started Įdaà Strategies two years ago to focus on supporting northern Indigenous communities.
"I help our communities brainstorm what values rooted in our culture, language and way of life should be guiding our future and how to work toward that, while understanding the complexities of the mixed world that we live in," she says.
"For instance, helping communities figure out how to build on their ways of doing things, but also communicate in ways that need to happen with government policy, which is often rooted in Western values."
Scott-Enns also sits on the board of directors for Indspire, a national charity that awards funding to post-secondary students, which she says is a perfect fit with the value she places on education and the opportunities she was given.
Currently on maternity leave after the birth of her second daughter last fall, Scott-Enns is excited about what lies ahead.
"There's so much work to be done. I don't have the capacity to do it by myself. I'm hoping that after my maternity leave, I can start focusing on expanding the business and hiring more people to help with it," she says.
"There's lots of Dene people who are really craving work that's meaningful, and that lets them build on their knowledge, culture and language and strengthen that within our communities."
Arts & Science