Strength in multiple subjects propels U of T to top 25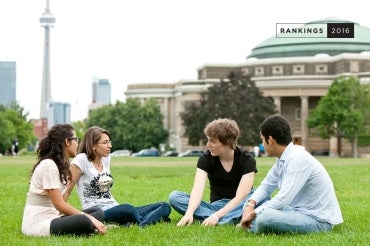 The bench strength of the University of Toronto in an array of important disciplines is evident in the latest world university subject rankings issued today by the Times Higher Education (THE) for 2016-2017.
In seven of the eight subjects ranked, U of T was rated in the top 25 worldwide. The number of institutions THE rated increased this year from 800 to 980, and included locations around the world, from Zurich to Singapore, Peking to Princeton.
"We're pleased the University of Toronto has once again been recognized as one of the top research universities in the world," said Vivek Goel, U of T's vice-president of research and innovation. "Today's results demonstrate the remarkable depth and breadth of our faculty in teaching and producing globally important research from the humanities to computer science to medicine."
Earlier this month, THE released its prestigious annual rankings of the top universities in the world, placing U of T in the 22nd overall spot and ninth among public universities. U of T also retained its title as the top university in Canada for the seventh year in a row.
This week, U of T also nabbed the 57th spot on Reuters World's Most Innovative Universities list — one of two Canadian universities to be recognized.
In a change this year to the way it ranks universities according to disciplines, Times Higher Education included two new subjects: computer science and business and economics, ranking U of T 17th and 21st in these fields. Previously, they were included in engineering and technology and social sciences.
THE ranked the University of Toronto:
14th in clinical, pre-clinical and health (11th last year)
15th in arts and humanities (14th last year)
17th in computer science (new ranking)
19th in social sciences (same as last year)
21st in business and economics (new ranking)
22nd in life sciences (17th last year)
25th in physical sciences (20th last year)
31st in engineering and technology (25th last year)
THE, like other independent ranking systems, uses different criteria and weighs them according to its own rules and standards. Overall, THE weighs research and research performance heavily at 60 per cent of the total score (30 per cent for research volume, reputation and income and 30 per cent for citations – research influence).
The University of Oxford, ranked the top university in the the world by THE this year, made the top five in seven of the subject rankings – more than any other institution – but is No. 1 in only the clinical, pre-clinical and health list.
These are the latest of several high-profile higher education rankings coming out over the 2016-2017 academic year. U of T was ranked 32nd in the world earlier this month by QS World University Rankings, as well as 27th in the world by Shanghai Jiao Tong University in its annual Academic Ranking of World Universities (ARWU).
Upcoming rankings include:
U.S. News and World Report Global University Rankings and the Performance Ranking of Scientific Papers for World Universities by National Taiwan University (NTU)