Story-sharing startup founded by U of T alumni raises US$51 million in funding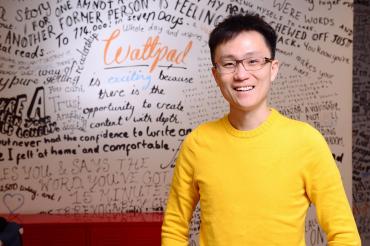 The crowdsourced entertainment startup Wattpad, co-founded by two University of Toronto alumni, has secured a US$51 million round of financing that it says will be used to invest in machine learning and new forms of interactive storytelling. 
The funding round, announced Wednesday, was led by Chinese internet giant Tencent Holdings and values the company at around US$400 million, according to TechCrunch. 
Other investors in Wattpad, a platform for users to write and share stories, include the Business Development Bank of Canada (BDC) and investors from the Philippines and Hong Kong.
"Entertainment is in a period of disruption, and how people find and experience stories is evolving," said CEO Allen Lau, who has a pair of engineering degrees from U of T, in a statement. "With our global community of users, hundreds of millions of stories and data-driven approach to helping people and partners find great content, Wattpad is leading both sides of this equation. 
"This new funding from Tencent and our other investors shows that confidence in our vision is growing alongside our revenue, our success and our community."
Wattpad was founded in 2006 by Lau and Ivan Yuen, who holds both a degree in computer engineering from the University of Waterloo and an MBA from U of T's Rotman School of Management.
The company, based in Toronto, provides a platform that connects readers and writers in a range of formats. It also has a studio to co-produce TV and movies alongside industry partners.
"Wattpad is the future of entertainment," Peter Misek of BDC'S IT Venture Fund told TechCrunch. "By harnessing the power of verticalized data and AI, Wattpad has unlocked the true value of content creation, enabling discovery, production and distribution in exponentially new ways."
Wattpad said its user base grew by 40 per cent last year to more than 65 million globally, and that investments in machine learning have enhanced the personalization and recommendation systems that users rely on to find content. That, in turn, has helped boost engagement, while similar tools are helping Wattpad's writers build audiences and monetize their work, the company said. 
The company added that its work in machine learning, deep learning and recurrent neural networks are being used to discover content trends. 
Wattpad's latest financing round comes as one U of T accelerator's research suggests Canadian startups are gaining traction on the world stage. 
The Impact Centre, one of nine entrepreneurship hubs on campus, released an annual report on the sector that found Canada is "beginning to show results at scaling our startups to world class" and has "almost doubled the number of firms on track to become unicorns," the Silicon Valley nickname for startups that reach a valuation of $1 billion.
UTC