Startups focused on wellness, education take home top prizes at U of T Pride Pitch event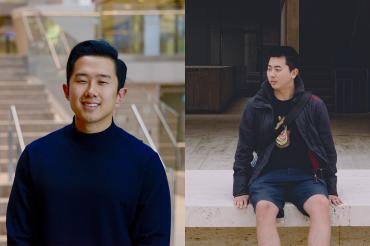 Startups focused on delivering innovations in achieving wellness and education design and delivery scored top prizes at the University of Toronto's recent Pride Pitch competition.
Organized by U of T Mississauga's ICUBE social entrepreneurship hub, the second annual business pitch event on June 16 and provided an opportunity for 2SLGBTQ+ students and recent alumni from all three U of T campuses to showcase their startup ventures to a panel of judges.
The grand prize of $3,000 went to Archipelago Genomics, a service that helps users leverage their unique genetic makeup to live a more healthful lifestyle. Co-founders Kyle Wang and Zi Yang, both PhD candidates in molecular genetics, launched the company after they spotted an untapped opportunity to use genetic science to help people optimize their fitness, nutrition and skincare routines.
"We understood that genetics goes beyond just health care – it impacts us in our everyday life: the way we eat, exercise, take care of our skin," says Wang, a former personal trainer. "We want to enable people to act on their genetic information in a professionally guided, science-based way."
Using a DNA-testing kit, users submit a saliva sample and receive a free genetic report revealing various pertinent data points. These include one's propensity for muscle-building and fat-burning, insulin resistance, risk of sustaining and recovering from an injury, food sensitivities, collagen production and vulnerability to sunburns.
Archipelago customers are also given the option to purchase one of several "blueprints," which include two- to 12-week genetically customized training programs supported by one of Archipelago's vetted fitness trainers or health coach partners. Whether the goal is to gain muscle, lose fat, build mobility or endurance, rehabilitate an injury or get back into shape after giving birth, the founders say the service caters to a wide range of lifestyle and fitness objectives and circumstances.
Wang and Yang developed their business model with the support of U of T's Health Innovation Hub, or H2i, one of several entrepreneurship hubs on campus. Wang says the Pride Pitch event further validated their current beta version of Archipelago and provided the startup with added momentum to officially launch by year's end.
"Pride Pitch affirms that the LGBTQ community can innovate, start successful businesses and lead by example, so it was significant for us to experience and to discover the ideas coming out of the community," Wang says. "The feedback was priceless and has helped us evolve the business more strategically."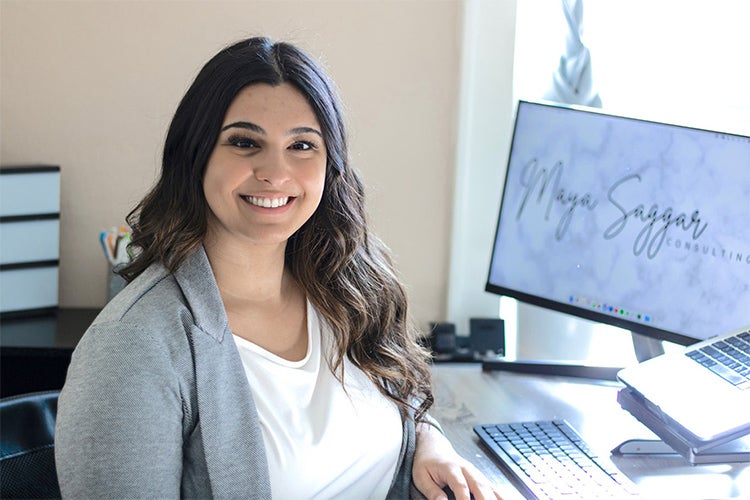 A graduate from the Ontario Institute for Studies in Education, Maya Saggar launched an educational consulting business after realizing teachers needed help shifting their work online during the pandemic (photo courtesy of Maya Saggar)
Maya Saggar's focus, meanwhile, is in the connected spheres of teaching, program creation and curriculum development. Her business – Maya Saggar Consulting – won the second-place prize of $2,000 and the People's Choice Award.
A 2020 master of education graduate from the Ontario Institute for Studies in Education, Saggar has worked in various teaching and curriculum design roles since 2015 and has fresh ideas for helping educators and entrepreneurs create thoughtfully designed learning experiences. She says her professional insights partly stem from the five years she spent as a self-employed dance instructor – and, later, business owner – working with K-8 schools in Mississauga.
"I found that I loved developing the programs, the planning and organizing the resources – that all got me excited," Saggar recalls. "Then I transitioned it into a business and hired others to teach the classes, and was able to expand to different schools."
She says her current entrepreneurial endeavour was sparked by the pandemic after teacher friends sought her help when they were forced to make the shift online. She realized the market was ripe for independent educational consultants who could work with individual instructors, schools and small businesses. She says presenting at Pride Pitch confirmed her insight: "The feedback was that I'm in the right space at the right time, and there is a need for this service."
After building up a client base over several months and fine-tuning her approach, Saggar formally launched her business in March. She developed a website and Instagram channel, and has recruited eight co-op students to help her grow the business. Along the way, she received guidance from ICUBE training sessions and mentors.
"This work is a creative outlet for me," says Saggar, who is currently pursuing her PhD in education. "I love the designing and the planning. I get to work in my zone of genius, and pass things off to instructors and let them carry out their genius."
UTM