'Sputtertron', among latest CFI-funded U of T projects, could help develop new materials for a greener economy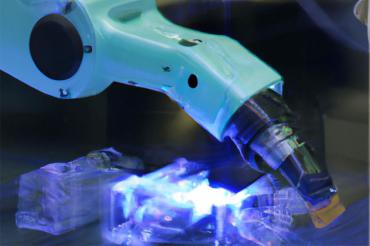 From keeping wind turbines ice-free to catalytically converting waste carbon dioxide into useful products, advanced materials will be critical for developing the sustainable technologies of the future. 
And a new system known as the 'Sputtertron' could help find them.
"This materials acceleration platform will be a unique, AI-controlled tool that combines both the synthesis of new materials and their characterization," says Professor Jason Hattrick-Simpers of the department of materials science and engineering in the University of Toronto's Faculty of Applied Science & Engineering, who is leading the team building the new platform.
"It will allow us to increase the rate at which we discover these new materials by factor of 1,000."
The project is one of 16 across U of T's three campuses that received support this week from the Canada Foundation for Innovation's John R. Evans Leaders Fund. A further 10 projects headed by faculty associated with U of T's partner hospitals also received funding. 
Named after a former U of T president, the John R. Evans Leaders Fund helps institutions to recruit and retain outstanding researchers and provide them with the tools and technology they needed to perform their work. 
"The federal government's ongoing support for Canadian research through the John R. Evans Leaders fund allows researchers to address some of the world's most pressing issues and greatest challenges," says Leah Cowen, U of T's vice-president, research and innovation, and strategic initiatives. "These strategic investments will support projects ranging from an examination of how fatty acids are metabolized to, in the case of the Sputtertron, the development of advanced materials needed for sustainable technologies. "
The Sputtertron's name comes from the term 'sputtering,' a technique that involves bombarding the surface of a material with energetic particles and analyzing what comes off. Sputtering is often used in industry to coat one material with another material in a process called "physical vapor deposition" – one example is the manufacture of computer chips.
But the Sputtertron will not only be capable of creating new alloys via sputtering, it will also autonomously analyze and characterize the electronic properties of those new alloys. Using artificial intelligence, the platform can extrapolate from those properties to imagine the next material to be made and direct its creation – all without any human intervention.
Hattrick-Simpers and his team will use the funding to purchase the equipment and software they need to build the Sputtertron, which they hope to have up and running by December 2023. They are particularly interested in a class of materials known as compositionally complex alloys/oxides, or CCAs. 
"CCAs are fascinating in that they typically contain five or more primary alloying elements," says Hattrick-Simpers. "Even if you restrict yourself to only around 30 useful elements, there are billions of possible alloys and oxides to be explored, of which the community has collectively studied less than 10,000."
Such materials could be used to extend the lifetime of electric vehicles and their components, or to make infrastructure such as wind turbines more resilient. They can also be used as catalysts, speeding up the chemical reactions that convert captured CO2 into fuels, commodity chemicals or other valuable products.
Hattrick-Simpers says a key aspect of the project is that its data and findings will be made available to other researchers around the world.
"We enable scientific equity by providing anyone who is interested actionable knowledge and working computational tools to build upon what we have done, and hopefully find other new and promising materials, as well as commercialize new technologies," he says.
The team is even planning to run an annual competition to design new computer models that can predict the properties of advanced materials. The top three finishers will collaborate with Hattrick-Simpers and his team to validate their predictions using the Sputtertron.
For his part, Hattrick-Simpers is excited about the possibilities for collaboration raised by the new project.
"Having the Sputtertron placed here at U of T, where folks from the National Research Council, Natural Resources Canada, the Acceleration Consortium, A3MD and the Vector Institute can all have direct access and provide input into the latest AI technologies, is absolutely amazing," he says.
"We are very much looking forward to continuing to work with our collaborators and to moving from demonstrating the viability of these materials to really using them to change the world." 
---
Here is a list of U of T projects announced in the latest round of JELF funding:
 Enabling the rapid evaluation of the WDR family of proteins as human drug targets – Cheryl Arrowsmith of the Temerty Faculty of Medicine
Exploring the impact of expertise on perception, encoding and retrieval in complex, dynamic events – Alexander Barnett of the Faculty of Arts & Science
Biophotonic wearables and implants for clinical translation – Daniel Franklin of the Faculty of Applied Science & Engineering
Collaborating continuum robots – Jessica Burgner-Kahrs of U of T Mississauga
Harnessing the activity of secreted bloodborne factors to restore synapse formation and function in aged human neurons – Kathlyn Gan of U of T Scarborough
Robust learning-based autonomy in dynamic environments – Igor Gilitschenski of U of T Mississauga
Prototyping a fully autonomous mobile robot for construction digital twinning with higher order DNNs – Daeho Kim of the Faculty of Applied Science & Engineering
Understanding and treating cancer, cardiovascular and metabolic disease in women: a holistic, lifestyle approach – Amy Kirkham of the Faculty of Kinesiology & Physical Education
The intelligent and interactive buildings (IIB) laboratory – Seungjae Lee of the Faculty of Applied Science & Engineering
An advanced optical instrumentation laboratory for the development of next generation spectroscopic surveys – Ting Li of the Faculty of Arts & Science 
High-throughput automated phenomics platform to improve plant and soil health – Shelley Lumba of the Faculty of Arts & Science 
Structure for studying sex differences in omega-3 fatty acid metabolism – Adam Metherel of the Temerty Faculty of Medicine
Environmental influences of sexual dimorphism – Rosalind Murray of U of T Mississauga
Physical vapor deposition materials acceleration platform – Jason Hattrick-Simpers of the Faculty of Applied Science & Engineering
 Enhancing TNFC's micro/nanofabrication capabilities – Wai Tung Ng of the Faculty of Applied Science & Engineering
Single-molecule detection of blood-based protein biomarkers for disease diagnostics – Alana Ogata of U of T Mississauga
Engineering/UTC