Spanish news service explores Atwood archives at U of T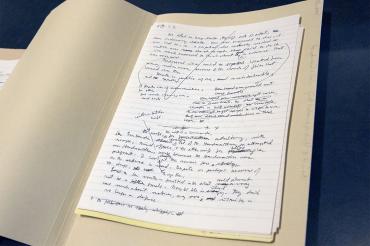 The original manuscript of The Handmaid's Tale and other archival materials housed at the University of Toronto's Thomas Fisher Rare Book Library offer a fascinating window into writer Margaret Atwood's creative process, says a story written for Agencia EFE, the largest Spanish-language wire service in the world.
Julio Rivas, the Canada correspondent for the wire service, wrote about the archives donated by Atwood, a U of T alumna. The library has over 600 boxes of material spanning almost 50 years.
The original manuscript of The Handmaid's Tale contains details such as the fact that the book was originally titled "OFFRED" (the name of the book's main character), Rivas's story says.  
It also revealed that Atwood investigated some of the book's overarching themes by collecting newspaper clippings in the 1980s that explored feminism, religion, reproductive rights, totalitarianism and the environment, among other topics.
Rivas's story was picked up in dozens of newspapers, including La Vanguardia and El Confidencial in Spain, Clarin in Argentina, Universal in Mexico and El Mostrador in Chile.
UTC