South Korean president's removal has broader implications for the world, says U of T expert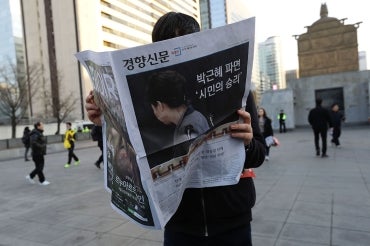 A South Korean court removed President Park Geun-hye, the nation's first female president, from office on Friday – a first in the nation's history, kicking off uncertainty in the region.
For weeks, protesters have taken to the streets, upset about a sprawling corruption scandal that reached the highest levels of government and business. Choi Soon-sil, Park's longtime friend and the daughter of a cult leader, has been accused of quietly pulling government strings and misusing her friendship with Park for personal gain. The president could face charges of bribery, extortion and abuse of power in connection with allegations of conspiring with her friend to collect tens of millions of dollars in bribes from companies like Samsung.
Tina J. Park is a PhD candidate in history and a researcher at the Asian Institute at U of T's Munk School of Global Affairs. Park talked to U of T News about how Park's downfall will shift South Korean politics, where opposition leaders are already looking for greater engagement with North Korea.
---
With the president being removed from office, what does this mean for South Korea?
The eight judges of the South Korean Constitutional Court made a unanimous decision to remove President Park Geun-Hye from office, thereby upholding the legislative body's impeachment in December. The acting chief justice noted that her systematic violation of law throughout her presidency "seriously impaired the spirit of... democracy and the rule of law" and "betrayed the public's trust."  
Practically, this means that an election must now be held within 60 days in South Korea, while the president awaits charges on abuse of power, corruption and bribery, to name a few. The general mood in Korea is a mix of festivities and a bit of chaos, with pro-Park protesters demonstrating on the street. Koreans will have to strive for unity and reconciliation in the weeks to come. One Korean broadcaster noted that, "We lost a president, but gained a victory for the rule of law." 
Since the president was very right wing, it is expected that a more liberal candidate (such as Moon Jae-In) with a conciliatory approach towards North Korea will be the likely candidate for the next election. 
How surprising was this decision for the Constitutional Court?
Everyone in Korea was anxiously waiting for the court's decision, which was broadcast live on TV across the nation.  
The legislative assembly had presented thirteen causes for impeachment to the court, which were later condensed to four main issues like misuse of authority for appointing civil servants, misuse of presidential authority, violation of the freedom of press, most of which the court dismissed as insufficient.  
Ultimately, it came down to one issue: Choi Soon-sil's meddling of government affairs and the president's misuse of power for Choi's personal financial gains showed a serious violation of the constitution. The court agreed that this issue alone was sufficient and made an unprecedented decision to go forward with impeachment.
This decision proved loud and clear that even the president is not exempted from the rule of law, and throughout the political controversy, key roles played by the judiciary and the legislature, as well as peaceful public participation and a free press – all demonstrated the robust nature of democracy in Korea. 
What does this mean for the region? 
This ruling comes at a time of heightened tension in northeast Asia, and South Korea's acting president has put the country on a higher state of military readiness.
In the past year alone, the North Korean regime has been intensifying its offensive military capabilities with hydrogen bombs, nuclear testing, payload capacity rocket launches on land and from mobile units and submarine missile launch technologies.
President Park, a conservative hardliner, preferred sticks over carrots in dealing with North Korea, and cooperated closely with Washington DC, advocating for tougher sanctions against Pyongyang.
There are serious implications for South Korea's relationship with the United States, China, North Korea, and for the broader international community. 
First, the deployment of the American missile defense system (Terminal High Altitude Area Defense or THAAD), which Park had approved, has become a thorny issue between Seoul and Beijing in recent weeks. The Trump administration is intent on placing this missile defense system, and the THAAD is seen by some Koreans as a defence mechanism against North Korea. However, the Chinese have expressed visible discontent and placed a ban on travel, which is already affecting South Korea's tourism industry. The next presidential candidate will likely try to reverse this decision. 
Second, dealing with North Korea's nuclear program will be a key election issue in South Korea moving forward. Park was decidedly against any conciliatory approach towards North Korea, while Pyongyang has been stepping up with missile and nuclear tests recently. It is likely that the next presidential candidate will try to reverse or at least significantly change the policy on North Korea, most likely providing more carrots than sticks. 
Third, events on the Korean peninsula have implications far beyond just the Pacific rim. For the first time in its history, NATO issued a statement on Dec. 15 that "strongly condemned" North Korea's continued development of nuclear weapons and ballistic missiles.
For a NATO member state like Canada, which fought for South Korea's freedom during the Korean War, political and economic stability in South Korea will serve as an important safeguard against new threats from the North Korean regime, both rhetorical and real. The shared borders with China and the Republic of Korea create a joint and shared priority between Beijing and Seoul around stability, humanitarian reform and nuclear restraint in Pyongyang. 
UTC