'Something that should be shared internationally': How an ancient Tamil epic was given new life at U of T Scarborough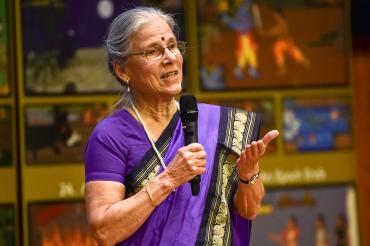 University of Toronto anthropologist Brenda Beck first heard the story that would change her life in Olappalayam, a village in India.
The year was 1965 and Beck was doing research for her doctoral studies when two bards sung The Legend of Ponnivala, an ancient, oral folk epic from South India. With permission, she recorded the epic, which took 38 hours to sing over 18 nights.
"It's a very rich and interesting story, which is totally unknown in the world of literature," says Beck, who is an adjunct professor in U of T's department of anthropology. "It is something that should be shared internationally, and it's something that Tamils can be proud of."
At U of T Scarborough's first Tamil Heritage Month celebration earlier this year, 18 performers made history by illustrating parts of the legend. It was the first time two ancient Tamil arts came together – an ancient tale told in a musical storytelling form too old to accurately date.
The U of T Scarborough performance was the first time the legend had been performed as a Villu Paattu, or bow-song, an ancient musical technique that combines narration and a 10-foot bow-string struck for rhythm. 
The legend is as difficult to summarize as the Iliad or Beowulf. The story spans roughly two centuries, set in the post-Sangam era in the Kongu region, now part of modern-day South India.
The story begins with the Goddess Parvati, who created nine farmers and told them to cultivate a vast, forested land. It follows these men and their families across three generations – through victory, defeat, famines, curses, power struggles and interfering gods.
Beck first published the tale in 1992 as a two-volume book in Tamil with English translations on alternate pages. She later decided to convert the story into modern mediums and found an animator from a village not far from where she first heard the story. Together, Beck and the artist, whose own grandfather had sung the legend, created a 13-hour animated series.
She went on to turn the story into graphic novels, in English and Tamil, and taught parts of it in local Toronto schools.
"I believe folklore and related story traditions can be used culturally, and applied to new situations," she says. "I want to see this story grow and become meaningful here."
A match made in Canada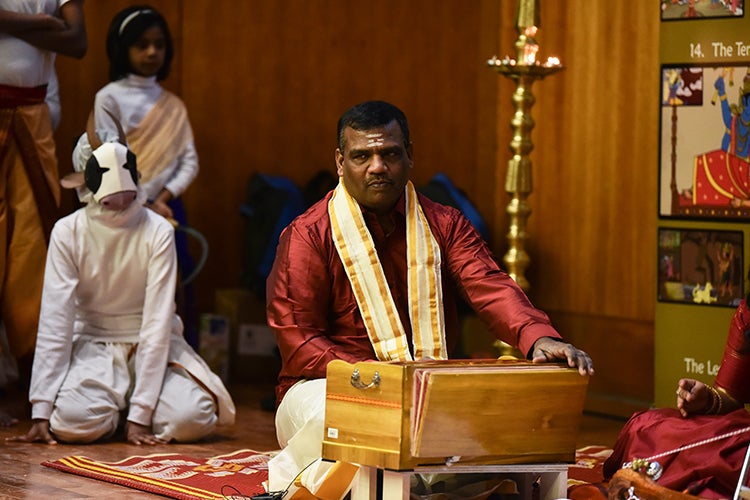 Shanmugananthan Ramaneekaran, a caretaker at Hart House and University College, wrote, directed and acted portions of the legend at a street festival in Markham, Ont. (photo by Joseph Burrell)
Fast-forward almost half a century, to 2009 – the year Shanmugananthan Ramaneekaran came to Canada as a refugee, fleeing Sri Lanka's civil war.  
Ramaneekaran was a celebrated performer in Tamil folk arts and worked training teachers for Sri Lanka's ministry of education. Upon coming to Canada, he became a caretaker at U of T's Hart House and University College. After years of saving, he brought his wife and children to Canada in 2012.
He continued to perform for the GTA's Tamil community and taught his children to do the same.
"Our community is a very ancient one, we have so much culture and tradition," Ramaneekaran says. "Whatever I have, I want to share it with communities and other people."
A few years ago, Beck watched Ramaneekaran on stage at a Tamil folk performance. Struck by his talent, she knew she had to meet him. They have been friends ever since.
Beck says The Legend of Ponnivala made its way to Sri Lanka, as families from the Indian continent were taken as labourers to tea plantations in Sri Lanka's hill country decades ago. But Ramaneekaran had never heard it. Throughout their friendship, he grew to appreciate the story – just as Beck had almost 50 years earlier, no more than 1,000 kilometres from where he grew up.
This is how The Legend of Ponnivala found a new home, on a new continent, in a new century, and how, through Beck and Ramaneekaran, found a way to become something new. 
The epic retold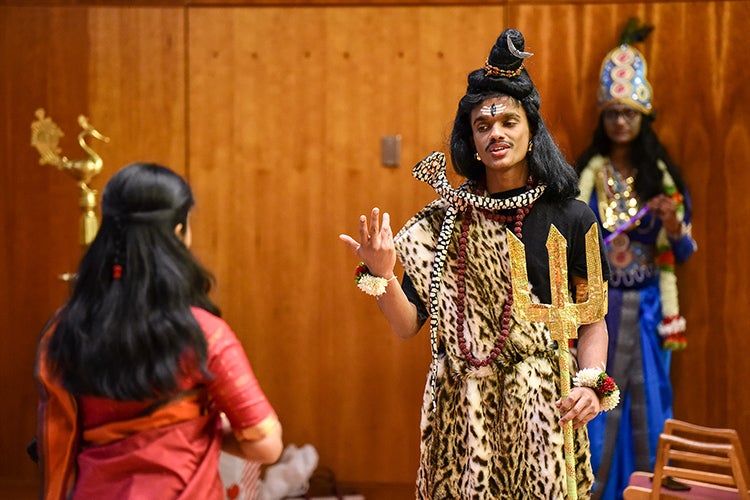 At U of T Scarborough's first Tamil Heritage Month celebration earlier this year, 18 performers made history by illustrating parts of the legend (photo by Joseph Burrell)
In 2015, at Markham Ont.'s first Tamil Street Festival, Ramaneekaran wrote, directed and acted portions of the legend in a solo performance. He told it as a koothu, an artform from early Tamil country (circa 200 BC), in which performers tell epic stories by singing, playing music and dancing.
But at U of T Scarborough, it was Ramaneekaran's daughter Tharscika Ramaneekaran (a current student and now the family's second generation of Tamil-Canadians) that sat centre stage. At the Tamil Heritage Month celebration, she struck a 10-foot bow-string with two wooden rods, singing and acting with 16 other young Tamil-Canadians for the 40-minute performance.
"Through my daughter, I continue to tell these stories to the younger generation, that is my dream," says Ramaneekaran, who wrote and directed the performance. "She's very talented. Whatever I had, she has now."
Ramaneekaran was also able to bring more youth into the performance by having them mime portions of the story.
"We are a very ancient history and traditional culture," Ramaneekaran says. "We have it with us – that's why we try to keep it alive."
UTSC