Social Work's Indigenous trauma and resiliency program focuses on the personal and professional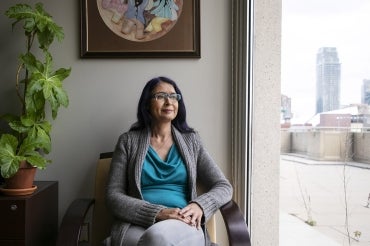 When Julie Blair returned to school in 2013 as a mature student after nearly 20 years, she had no idea what a profound journey she had started.
As she prepares to formally receive her Master of Social Work degree from the Indigenous trauma and resiliency program (MSW-ITR) at convocation on Thursday, Blair has not only carved out a personal legacy but left an imprint on the university itself.
Blair's personal legacy includes being part of the second cohort in a groundbreaking master's program, earning a previous undergraduate degree in Indigenous studies with a 3.9 GPA, winning the President's Award for Outstanding Indigenous Student of the Year, and being the first Indigenous student to receive the Brookfield Peter F. Bronfman Gold Scholarship from Woodsworth College. She also helped organize the first powwow at U of T in 20 years in 2017, establishing a tradition that has continued since then.
"When I went back to school, I couldn't decide what I wanted to take, and my partner told me to follow my heart and just take the first course that looks like it might be interesting, so I kind of stumbled into taking an Indigenous studies course," says Blair, who is of Anishinaabe and Dutch ancestry and a member of the Serpent River First Nation.
"And that's how it all got started. I was so upset by the things I learned about the colonial history of what's happened to Indigenous Peoples in Canada and what our contemporary realities are. As an Indigenous person myself, I never learned this in school," she says.
"I was not part of the Indigenous community in Toronto when I came to U of T. I didn't really know any other Indigenous people. And that Indigenous studies course just sparked a longer journey of wanting to learn more about my own culture and becoming part of a community that has really supported me along my journey."
The MSW-ITR program was inspired by seven Indigenous women – Kim Anderson, Maria Campbell, Suzy Goodleaf, JoAnn Kauffman, Sylvia Maracle, Rebecca Martell and Jane Middelton-Moz – and a unique collaboration among the Ontario Federation of Indigenous Friendship Centres (OFIFC), the Middelton-Moz Institute and the Factor-Inwentash Faculty of Social Work (FIFSW).
The two-year master's program prepares its graduates to help individuals, families and communities affected by historical and generational trauma. It focuses on theoretical knowledge, personal development and skills-building through face-to-face, week-long courses, online distance learning and field placements.
Only 44 students in two cohorts have graduated from the program, but they are already having a big impact, says Middelton-Moz.
"I keep in touch with the graduates of our program and a large number of them have already been put into executive director positions," she says. "We couldn't be happier."  
Dexter Voisin, dean of the Factor-Inwentash Faculty of Social Work, agrees. "We are beginning to witness the impact of the ITR field of study for students in this program and the communities in which they live and work.
"This field of study is innovative in both design and content. Many of the MSW-ITR students are located outside of the Greater Toronto Area. They are uniquely positioned to have impact in their own communities, while building on a supportive network that they have developed here at the FIFSW," he says.
"As the first few cohorts graduate and enter the field, they represent our deep commitment to transforming social work practice and honouring the calls to action from the Truth and Reconciliation Commission of Canada."
Middelton-Moz says one of the things that makes the program so unique is that it's based on North American Indigenous values of kindness, respect, inclusion, belonging and co-operation.
"And because of that, we welcome people from Indigenous cultures throughout the world," she says, adding that another key component is the emphasis on wellness plans for every student.
After 50 years in mental health and education, she says she recognized many students graduating from other universities were dealing with personal problems that made them unprepared to deal with the trauma in the communities they were trying to help.
"We wanted our students to get the help they needed so they in turn could go out and help other people."
Students in the MSW-ITR program develop individual wellness plans and evaluate them every three months throughout the two years in order to assure their mental, spiritual, physical and emotional health when working with individuals, families and communities.
Blair says she appreciated that the program incorporated the personal as well as the professional.
"One thing I learned is to reflect upon how we're taking care of ourselves as people moving through the program on this journey, and that I need to consider myself as part of the community I'm taking care of."
Middelton-Moz says Blair is an amazing person.
 "She is very grounded in spirituality, and incredibly ethical, and worked hard on her own wellness throughout the program. I can't say enough about Julie."
UTC