Slaves and pirates: Winner of Connaught New Researcher Award gives voice to history's voiceless on the high seas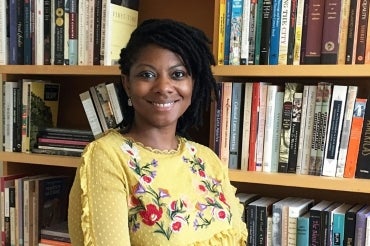 It was in Seville, Spain, that Tamara Walker experienced a breakthrough while researching the complex relationship between Black slaves and pirates in colonial Latin America.
Working inside the General Archives of the Indies, the University of Toronto assistant professor of history uncovered court documents that detailed the life of a man who was born on the Caribbean island of Saint Croix, enslaved in Peru and later joined a group of pirates who were eventually jailed.
Walker says the document offered tangible evidence that slaves of African origin played an instrumental, if almost entirely unrecorded, role aboard the marauding ships of the era.
"It was a real needle in the haystack, but it also affirmed some of my suspicions that these were people who mattered – and they are on record somewhere," says Walker, adding the man's court testimony indicated he saw himself as an integral part of the ship's crew alongside his fellow countrymen.
"It just takes a lot of patience and creativity to track them down."  
Walker's painstaking efforts will now have additional support. She is one of 61 U of T researchers, across a wide range of disciplines and on all three U of T campuses, who will collectively receive over $1 million in funding this year through the Connaught New Researcher Award.
Through a peer-reviewed process, the Connaught New Researcher program annually awards U of T assistant professors who are within the first five years of a tenure-track academic appointment in a bid to help them establish strong research programs.
"I want to congratulate all of the winners of the Connaught New Researcher Award this year," said Vivek Goel, U of T's vice-president of research and innovation.
"The award is not only a recognition of research excellence, but is meant to help up-and-coming U of T researchers get important projects off the ground in areas ranging from new materials discovery to understanding how new dialects form in Toronto's immigrant neighbourhoods."
For Walker, the Connaught funding will be used to do research at archival sources overseas, including at the British Library and National Archives in London, as well as additional sources in Bristol and Greenwich.
"Basically, I go anywhere I have an inkling there are records related to piracy or overseas trade and commerce."
Walker, whose research focuses on the history of slavery and freedom in Latin America, became interested in the relationship between Black slaves and pirates after reading the journals of British privateers – private ship owners who committed acts of piracy on behalf of the crown – who were enlisted to raid Spanish vessels and coastal ports in Spain's colonies.
The documents often revealed large numbers of slaves, as well as many free Blacks (the marauders weren't preoccupied with legal status), were looted along with other "property." But the documents offered scant detail about the people themselves beyond their numbers or where they were taken.
"For a lot of people of African descent, their lives end up being profoundly disrupted," says Walker. "They end up being taken from their home communities or from vessels destined for Spanish slave ports. Some end up crossing the Pacific and Atlantic oceans and end up in places as far-flung as China or back in England.
"This is part of what I'm interested in – all the ways the presence of these interlopers disrupts the contours of Black life in the region."
Walker's research also revealed many captured slaves were highly valued by ships' crews.
"They're relying on them to guide them along unfamiliar terrain, to serve as translators and, in some cases, especially with women and children, they're requiring them to provide comfort and entertainment," Walker says.
In addition to giving a historical voice to people who had none, Walker hopes her work will demonstrate the region's enslaved did much more than just provide their owners with manual labour.
"These were thinking, breathing people who had ideas of their own and tried as much as possible, under the difficult circumstances they were forced into, to make something of their lives," she says.
"It's really meaningful to me, as a person and as a descendant of slaves, to be able to recover the individuality of people who were reduced to their numerical value."
---
The Connaught Fund is a unique endowment resulting from the 1972 sale of the Connaught Medical Research Laboratories, established in 1914 to produce diphtheria antitoxin. After the 1921 discovery of insulin by U of T researchers Frederick Banting and Charles Best, the lab expanded and began producing insulin as well as other vaccine and antitoxins. The Connaught Fund, currently valued at approximately $120 million, has awarded more than $160 million to U of T scholars through a number of programs.
UTC