Mirza Nahiyan, who was one of TDSB's top students, is about to begin her first year in computer engineering at U of T (photo by Romi Levine)
Mirza Nahiyan is always up for a challenge. Her next one? University.
The incoming computer engineering student in the Faculty of Applied Science & Engineering was one of seven students from the Toronto District School Board to receive a 99 per cent or higher average in their last year of high school.
Her drive to succeed comes from a love of problem-solving and an unwavering commitment to her parents who left everything behind in Bangladesh to provide her with a good education.
When Nahiyan was four years old, her parents moved to Canada, hoping to provide her and her older brother a brighter future.
"Both of my parents don't like to show us their burdens – but they work incredibly hard," says Nahiyan, who graduated from Cedarbrae CI high school with a 99 per cent average.
Nahiyan, in return, is committed to ensuring they made the right decision by becoming a star student.
"I knew that was the one thing I had to get right," she says.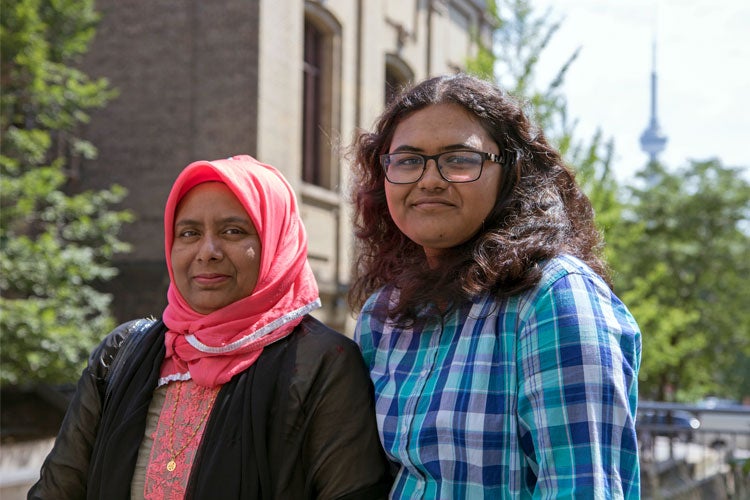 Nahiyan and her mom Nasrin Sultana visiting campus before the first day of class (photo by Romi Levine)
In high school, Nahiyan was up for any challenge that came her way.
"Every time we had an assignment, the harder it was, the more fun I had," she says. "It would be all I thought about at night and in my sleep – trying to figure out solutions to this problem."
In Grade 9, she attended a workshop where she learned how to build apps. It got her thinking about computer engineering.
"I learned I really loved it and wanted to do something like that," Nahiyan says. 
From there, she continued taking computer science courses, going above and beyond what was expected of her to impress her teachers – once making an elaborate game where a monkey has to collect bananas, protecting them from gorillas.
"[My teacher] didn't expect anything like that. It was supposed to be a simple game," she says.
Her love of problem-solving and creating follows Nahiyan home, where she says she's the head of technology in her household.
"I'm in charge of every tech thing – every furniture build – that's all me," she says. "We got new furniture last weekend and I built it all. Only because it's fun. I wouldn't really let anyone else help."
She also loves to draw while listening to music, which she says keeps her productive even when she's bored.
University will be just another exciting challenge for Nahiyan – though she admits she's a bit nervous.
"The main thing is being organized and I feel like I honed that in my high school years," she says. It won't be that different – but now it'll be a lot of work, different classes and teachers that won't coddle you."
Nahiyan says she's looking forward to exploring all the resources the university has to offer, including the ECF computer labs.
"I know I have endless opportunities here," she says.
On her university adventure, Nahiyan knows her family will be with her every step of the way. The emotional reaction her parents had to her receiving top marks in high school was every indication that she's on the right path.
"They both cried," she says.
Nahiyan's mom, Nasrin Sultana, says she'll miss her daughter going to school so close to home but is looking forward to seeing all that she can accomplish.
"She's a hard-working person," Sultana says. "I'm very proud of her."