Shared experiences: How five international students are contributing to U of T's global outlook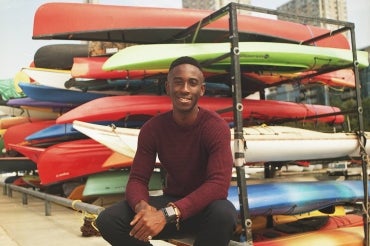 International students who come from around the world to study at the University of Toronto reap huge rewards – including a top education, life-long friendships and new career opportunities.
But the university and the surrounding community benefit, too.
Joseph Wong, U of T's vice president, international, says U of T's more than 20,000 international students provide domestic students with the opportunity to learn alongside peers who often have direct knowledge of the material being studied.
"It's one thing to read about nationalist movements in Europe or South Asia," Wong says. "It's an entirely different learning experience when you can talk to – and learn from – your peers who are from these regions."
The advantage extends beyond the classroom to co-curricular experiences and conversations in residence, he says, adding up to an immeasurable impact on life at the university.
"All U of T students gain a tremendous opportunity not only to be prepared academically for the world of work but also to be prepared socially and culturally for the literal 'world of work,'" Wong says.
Meet five international students at U of T who are making an impact – both at the university and beyond:
---
Ernest Nyarko
Hometown: Accra, Ghana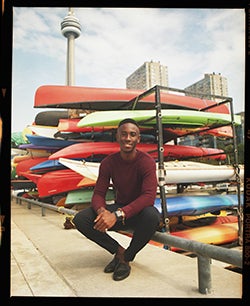 Five years ago, Ernest Nyarko and his friend Efosa Obano, both graduates of U of Scarborough, teamed up with other U of T undergrads to create the African Impact Initiative, a non-profit organization open to all students. Their objective: to help solve some of the problems faced by communities in Africa.
Since then, the initiative's volunteers have been collaborating with young people from Africa to contribute to the continent's development through community work, mentorship and entrepreneurship. One of the group's first activities was to fund a small project to improve health-care outcomes in the village of Ikot Eko Ebon in southeastern Nigeria.
In co-founding the initiative, Nyarko demonstrated that international students do much more than just study at U of T – their global experiences help their Canadian peers understand the world better.
"Diversity gives us the tools to challenge preconceptions and imagine the principles that will shape a better future," says Nyarko, who came from Ghana to study in the co-op marketing and management program at U of T Scarborough and now works as a management consultant at Deloitte in Toronto.
As part of his classes and extra-curricular activities, Nyarko was able to describe some of Ghana's "non-Western realities" to his fellow students.
"I made a point of sharing my experiences growing up," he says, adding that he hopes to provide his classmates information to question stereotypes about Africa. 
– Gilbert Ndikubwayezu
Jialiang Zhu
Hometown: Hainan Island, China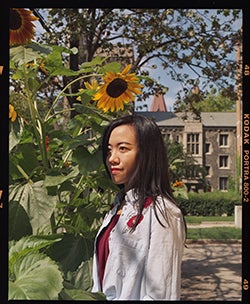 Jialiang Zhu loved attending concerts by visiting musicians when she was an undergraduate student in the Faculty of Music, but among the events that influenced her career, one stood out the most.
"It was a concert by the Imani Winds quintet, and I was in awe of how connected they all were to each other," says Zhu, a pianist.
She vowed that she would play in a group like that one day.
Today, Zhu, who is pursuing a doctor of musical arts degree at U of T, is also a member of the Bedford Trio – an ensemble with a growing international following. She co-founded the trio in 2015 with fellow U of T music alumni Alessia Disimino, a violinist, and Andrew Ascenzo, a cellist. "We shared a passion for chamber music but were also interested in works by contemporary composers, so it was a great fit," she says.
As part of Zhu's doctoral work, she would like to extend the reach of compositions from her homeland – specifically songs based on classical Chinese poetry. Many of the poems she's studying were part of the public school curriculum in China, where she memorized them in Mandarin.
"Unlike many of my classmates, I loved reciting them because the language had unique tonal inflections that already sounded like music to me," she says. "My goal is to expose English-speaking musicians and audiences to this wonderful poetry and the contemporary art songs inspired by it."
Zhu's thesis offers practical tools for learning to understand the poetry, such as a Mandarin diction guide and recorded pronunciations.
Zhu has performed some of these songs in Canada and China and online with native Mandarin speakers and non-native speakers, including Chinese diaspora musicians and those from other cultures. "I'm grateful that my research and performance have connected me with contemporary artists from around the world," she says. "I hope this will plant the seed for something that continues to grow."
– Megan Easton
Jose Ignacio Valdez
Hometown: Lima, Peru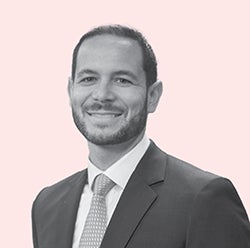 Jose Ignacio Valdez belonged to the Latin American business club when he was an MBA student at the Rotman School of Management, and he remembers talking to his fellow members about how strange the networking and recruitment events felt.
"To us, it was very odd approaching people we'd never met to give them our elevator pitch and try to strike up an engaging conversation," says Valdez, who completed his MBA alongside his wife, Brenda Balcázar in 2010 and was accustomed to more formal practices such as relying on referrals and applying to posted positions.
Valdez, who grew up in Peru, knew he would have to get over his discomfort with this cultural difference to have any chance at landing a job, especially since it was the height of the 2008-2009 recession.
"You only get one shot at the best of times to make the right impression when a firm is recruiting," he says. "Fortunately, a Rotman priority from day one is to ensure students understand how Canadian executives think and do business, both through classes and guest speakers."
He turned out to be one of the few in his class to land an investment banking internship, which evolved into a full-time job at a Canadian bank. After working there for several years, he returned to Peru as director of the country's investment banking team for Scotiabank.
Today Valdez is Scotiabank's managing director, head of Latin America investment banking. "I feel like I have the best of both worlds," he says. "I get to work for a Canadian company, but in the Latin American market."
Being part of a diverse student body at Rotman not only assured Valdez he wasn't alone in taking some time to acclimatize to a new business culture, but also prepared him for the challenges of working for one of Canada's most international banks.
"We learned to be sensitive to cultural differences, a skill that's very helpful in my current day-to-day work interacting with clients and colleagues from Canada, the U.S. and across Latin America – which is culturally diverse in itself," says Valdez. "The MBA program was a great training ground for the real world of international business."
– Megan Easton
Suddene Stone
Hometown: Central Village, Jamaica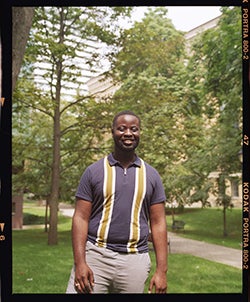 It wasn't until public health regulations required an end to in-person classes part way through Suddene Stone's first year at U of T Scarborough that he truly understood how globally diverse his new classmates were.
"When the pandemic hit, and people went home, I suddenly had friends in many different time zones," he says.
For Stone, who is in the third year of a psychology degree, moving to multicultural Toronto from his native Jamaica expanded his worldview in ways he didn't expect – and it hasn't been just about trying new foods. He has been able to observe – and compare – social, cultural and religious customs from Turkey, India and Egypt, to name just a few countries his classmates are from.
"You learn how to interact with different people across different cultures," he says.
Community work is important to Stone, who attends U of T on a Lester B. Pearson International Scholarship (awarded to international students who demonstrate exceptional academic achievement, creativity and leadership qualities). In Jamaica, he often spent weekends in a student-led service club, helping to plant trees or paint schools. In his first semester at U of T Scarborough, he joined the Imani Academic Mentorship Program to volunteer as a tutor for local Black youth, encouraginh them to consider higher education.
Although eager to help, he says he didn't understand at first why such a program was needed in Canada. He soon learned about racism in the Canadian education system, including high expulsion rates and discrimination from teachers. "Even in middle school, they understand that much more work needs to be done in Canadian society to achieve racial equity, especially for students," he says.
With respect to his own studies, Stone plans to complete a master's and PhD in clinical psychology, and aims to gain practical experience in the field while in Canada. "People who are seriously mentally ill often go undiagnosed or don't have access to proper care," he says. "I want to help change that."
– Matthew DiMera
Mahak Khurmi
Hometown: Sri Ganganagar, India
Everyone knows that for mathematicians "show your work" is an important rule. So when Mahak Khurmi, who is majoring in computer science and statistics, talks about her success, she is eager to describe the problems she had to solve on the way there.
Dreading math at the beginning of high school, she attacked the subject with a tutor – and finished high school in the top one-tenth of one per cent of math students in India. It's no surprise, then, that she tackled her first challenge as a U of T student in the fall of 2019 with similar fervour.
"When I came to Canada, I was very homesick," says Khurmi, who grew up in a small city in northwest India and is the first in her immediate family to attend university. "One thing that helped me was reaching out when I was in trouble." She joined a First-Year Learning Community, a small group of students registered in the same core courses.
She found other ways to connect with her peers, too. High school in India, for example, had equipped her with educational concepts and strategies that she was able to share with her Canadian classmates. One expressed curiosity about the speed with which she and another Indian student could solve certain math problems. "I told him about some of the formulas and methods taught to us, and he was very surprised and happy to learn about them," she says.
Now entering third year, Khurmi helps others understand software development and machine learning – two subjects she is passionate about. She has taught concepts in artificial intelligence to more than 300 African students through an inter-university initiative. She has also worked as a software engineering intern for a Toronto startup.
Khurmi is ultimately thinking about pursuing a PhD. This year, however, she will be helping incoming students make a smooth transition to university life. As an academic programmer for New College residence, she'll be a great resource for international students facing the same challenges she did.
"One really great thing about U of T is that you get to meet people from everywhere," she says.
– Cynthia Macdonald
A version of this story was originally published in U of T Magazine
U of T Magazine