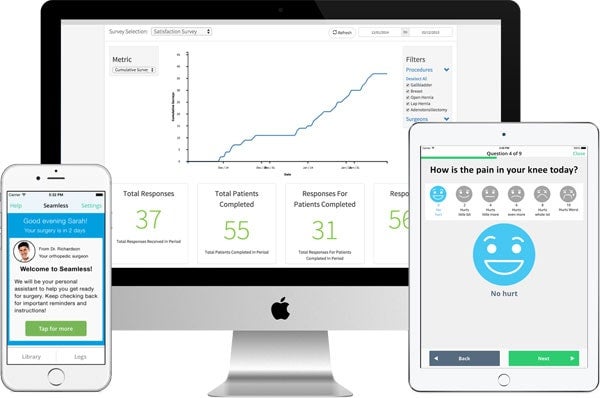 SeamlessMD raises $1.1 million from angel investors, BDC Capital, Funders Club
Company co-founded by alumnus Joshua Liu is making a difference to surgery patients and providers
The next time you're scheduled for surgery, your to-do list could include accessing a web-based program or downloading an app to your smartphone or tablet – thanks to a recent U of T grad and a startup with serious backers.
SeamlessMD, a company co-founded by alumnus Dr. Joshua Liu, is helping people prepare for and recover from surgery using their mobile devices and home computers.
Last week, SeamlessMD announced it had raised $1.1 million from a group of investors including BDC Capital, FundersClub, Anthony Lacavera (founder of WIND Mobile) and Dr. Raymond Muzyka (co-founder of BioWare).
The product was featured in a presentation at last month's annual meeting of the American College of Chest Physicians in which it was explained how Toronto East General Hospital used SeamlessMD to reduce surgery cancellations and post-operative ER visits. Below, writer Erin Howe from the Faculty of Medicine at U of T speaks with Liu about the company.
---
What is SeamlessMD?
We use web and mobile technology to re-engineer the way a patient prepares for surgery and recovers afterward. We provide hospitals with a cloud-based platform on tablets, smartphones and computers that helps educate, engage and monitor patients from the comfort of their own homes.
Is the information provided general or specific?
Each program is personalized for the type of surgery someone is having and which hospital is caring for him or her. The program helps people learn what to expect, how to prepare and have a safe recovery at home using tools like electronic reminders and videos. Our program also helps patients track their progress, symptoms and recovery milestones.
Are health care professionals linked in?
SeamlessMD allows patients to share their information with their health care providers. By engaging and educating patients when they're not in the hospital, our goal is to improve the patient experience, drive better health outcomes and lower costs. This will help patients, health care providers and the health care system.
What does it feel like to know that you are making a difference?
During my medical training, I did research at the University Health Network (UHN) on hospital readmissions. That experience left me wondering how I could have bigger, scalable impact on health outcomes. To know that the product we have built has had a major impact on patient outcomes – and that we can take that technology to hospitals everywhere – that's both humbling and exciting.
Probably the most memorable feedback we got was this past summer, when a patient told us she caught a blood clot on our system, got it treated right away, and it may have saved her life. Stories like that keep us motivated to grow. Our team is honoured to be part of writing this new narrative for the health care system. There's much more work to be done, but we're off to a promising start.
How did you your years at U of T influence the development of SeamlessMD?
In the middle of medical school, I became more interested in broader health systems problems. That was around the time of the emergence of mobile technology in the consumer market. I was fascinated by the opportunity to combine technology and health care, so I actually tried starting a health care software venture with a couple of medical school friends.
That initiative didn't work out, but I soon learned about The Next 36, a program for young entrepreneurs founded by industry and academic partners, including U of T. It was there that I met my co-founders, U of T alumnus Philip Chen and UBC alumnus Willie Kwok, who added important complementary skills that I did not have.
What's in the future for SeamlessMD?
With this new funding, we are expanding the library of surgery programs our platform can support. Currently, we support high-volume, high-risk surgeries such as hip and knee replacement, thoracics, colorectal, cardiac and bariatrics, with more on the way. We're also excited to continue building clinical evidence for the effectiveness of our platform, demonstrating how we improve health outcomes and lower costs. Finally, this will also help us grow our customer base in North America.
What advice can you offer budding entrepreneurs?
Look deep into the networks you developed in school, especially the contacts outside your field. Building a company is complicated. You need all kinds of skill sets, backgrounds and experiences to come together to make a company successful. You're not always going to find the right team members in the same program as you. The team is everything; if you have the right team, you'll figure everything else out. School is one of the best ways to cultivate those relationships. Reflect, look back, reach out to those networks. It's no surprise that many of the greatest companies were started from relationships developed in school. 
This interview has been edited and condensed.