Satish Kanwar, Shopify VP and U of T alumnus, on the importance of innovative thinking during a pandemic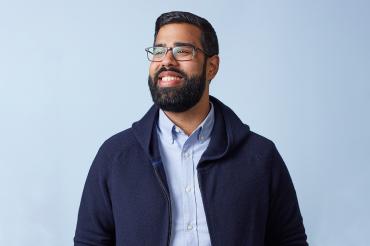 Still in his early 30s, Satish Kanwar already has a resume that outshines that of most people twice his age.
Shortly after graduating from the University of Toronto Scarborough in 2009, Kanwar co-founded user experience agency Jet Cooper, which was eventually acquired by Shopify, the Ottawa-based e-commerce giant that helps businesses sell their proucts online. He is now Shopify's general manager and vice-president of product, leading a team of hundreds of people in several cities.
Yet, Kanwar is the first to acknowledge that 2020 presented both challenges – and opportunities – as the COVID-19 pandemic forced Shopify to rethink its priorities so it could help clients meet an explosion in e-commerce demand.
On Thursday, Kanwar will reflect on how innovative thinking can enable entrepreneurs, companies and researchers to find opportunity amid the chaos thrown up by the pandemic. The virtual discussion, "Transforming Uncertainty into Opportunity: Entrepreneurial thinking for our new normal," is an RBC Speaker Series fireside chat presented by U of T Entrepreneurship. It will see Kanwar and other top business leaders discuss how the pandemic is impacting cities, e-commerce and retail.
Speaking with U of T News on the eve of the event, Kanwar recounts his journey from co-founder of a scrappy startup to vice-president at a Canadian tech darling. He also discusses how Shopify pivoted its services to help clients adapt to a rapidly changing e-commerce market and shares his tips for aspiring entrepreneurs.
---
How did Jet Cooper lead you to Shopify?

We began Jet Cooper in 2009 – shortly after graduating from U of T – after finding it challenging to get closer to the product development side of technology companies as non-technical graduates and in Canada. This gave us an opportunity to directly apply our user experience and design skills to emerging startups as an agency partner at a time when the understanding and demand for this talent was growing quickly due to mobile and SaaS [software as a service] models.

Over the next five years, we built Jet Cooper into a 25-person team of specialists that served as the design partner to a wide range of fast-growing startups and established companies, working at the intersection of design and technology, and in agile methods similar to software development.

It was this journey that led to conversations with Shopify in 2013, which was then primarily Ottawa-based with a few hundred employees, about working together to accelerate their design needs, which transformed into an acquisition to permanently do this while establishing Shopify's R&D presence in Toronto.

What challenges did COVID-19 pose for the company?

At the outset of COVID, Shopify's mission quickly changed to "because Shopify exists, more small businesses will survive this". Shopify's challenges are intrinsically linked to the challenges of our one million merchants around the world who are facing unprecedented changes with shifts in consumer behaviour. We recognized early that this would be a "new normal" that's pulled the future forward by a decade in terms of digitization.

That's led us to rethink our entire product roadmap to support the rush of traditional businesses turning to e-commerce as a business model for the first time, as well as to enable these merchants to support these new behaviours at scale such as local pickup and delivery, contactless payments, online tipping and more. It's also pushed us to accelerate our teams and timelines in order to get these capabilities into the hands of more people more quickly given the environment.

How did you go about spotting opportunities for innovation?

We've always done what's best for merchants at Shopify and this was no different. We deleted all our previous plans and focused on listening to what our merchants were telling us they needed in order to survive. For example, we pivoted our immediate focus to any products that supported increased cash flow for merchants and shipped them quickly, such as expanding access to Shopify Capital, releasing new marketing tools like Shopify Email and offering free trials to Shopify for 90 days to new merchants.

This was also an opportunity to work more closely with like-minded companies to innovate on how merchants and buyers could find each other more easily amidst the surge in e-commerce demand, and we did so by crafting new partnerships and integrations with Facebook, Google, Walmart, Pinterest, TikTok and more.

How did U of T prepare you for your current role?

U of T provided me with a strong and inspiring environment to practise entrepreneurship and leadership, while learning the fundamentals of business as a BBA [bachelor of business administration] student. I met my future co-founders and many future partners and team members by building relationships with other like-minded students. I established my leadership skills through extracurricular programs, including as president of MESA [Management and Economics Students' Association]. I found my business and design interests through the co-op program, including in roles at Microsoft Canada. And, at every step of the way, I received support and mentorship from my professors who brought in their real world experience.

Any tips for U of T students who are aspiring entrepreneurs?
Build a growth mindset. Failing fast, experimenting and turning ideas into small projects will get you further faster than waiting for the one perfect business. The best thing to do is pull the trigger to test, learn and adapt. This will prepare you better for the next one. 
Say yes to more. Opportunity is everywhere and you'll find yourself in many situations where you can capture more by having a simple willingness to try new and unknown things.
People are everything. Finding and surrounding yourself with the right co-founders will be key to your success. I've always found it important to have a strong diversity of thought, background and experience, and ultimately to work with people who you believe you can stand with in the hardest of times.
UTC