Sarah Qidwai, a U of T graduate student, builds online community to promote diversity and accessibility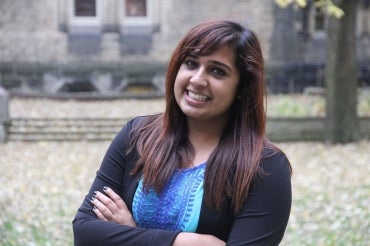 When the global pandemic cut short her research trip to the United Kingdom in March, Sarah Qidwai tweeted an idea about a new online community for scholars feeling isolated and disconnected.
She received an enthusiastic response. So, she created the Virtual History of Science, Technology and Medicine group (Virtual HistSTM), a digital community focused on diversity and accessibility for academic discussions, conferences and events.
Within just a few months, Virtual HistSTM amassed hundreds of members from all over the world and was presenting a full slate of planned events.
"It ended up snowballing into something much bigger than any of us who were involved could ever have imagined," says Qidwai, a PhD candidate at the University of Toronto's Institute for the History & Philosophy of Science & Technology in the Faculty of Arts & Science.
"I started it, but it became a success because everybody joined in and contributed. It shows what a community-oriented approach can achieve in the middle of such a chaotic year."
Qidwai and her team, working alongside members of the British Society for the History of Science (BSHS), put the group's ideas about accessibility and diversity into practice when co-ordinating content for the BSHS Global Digital History of Science Festival in July.
Organizers of Virtual HistSTM events at the conference reached out to people who needed accommodations. They provided transcripts as well as audio/video material as alternative ways to access the conference.
"I think everyone should be an accessibility advocate," says Qidwai. "People who require those accommodations need a way to talk about it without being outed, and we should not make it their responsibility to advocate for accessing these spaces."
The conference also provided an opportunity to challenge some of the Western bias and elitism that freezes many young Black, Indigenous and people of colour out of the professional mainstream, according to Qidwai.
"It's not as simple as bringing someone through the door; it's about how we are helping them stay in the field. That's something we need to think through with all these initiatives that we're doing," she says.
After working on the BSHS conference, the Virtual HistSTM advisory board saw the opportunity to encourage more diversity and accessibility in their own events, addressing things such as participants with restricted internet access.
They also blended ideas like traditional paper-and-discussion panels with master classes and publishing workshops.
Qidwai hopes the innovations they introduced will influence others.
"It's not enough to bring in women of colour or scholars from low-income backgrounds, for instance. It's about what we are doing to support them and seeing them succeed in the future," she says.
Qidwai says she is grateful to be receiving support from her institute and its director, Associate Professor Edward Jones-Imhotep. She is working as a research assistant under the Faculty Arts & Science Pedagogical Innovation Fund and has access to video conferencing and transcription services. Her group is also reaching out to the wider community for support.
Qidwai says the project would also not be possible without her Virtual HistSTM advisory board, a group of students and professors from across North America. They include: Kelcey Gibbons, PhD student at the Massachusetts Institute of Technology; Megan Baumhammer, PhD candidate at Princeton University; Edward Guimont, adjunct professor at the University of Connecticut-Stamford; and Daniella McCahey, assistant professor at Texas Tech University.
"We're hoping what we're doing will expand and we'll be able to bring more people into the discipline itself, and continue to grow," says Qidwai.
"I think the next step is to turn the Virtual HistSTM group into a pedagogical resource."
Arts & Science