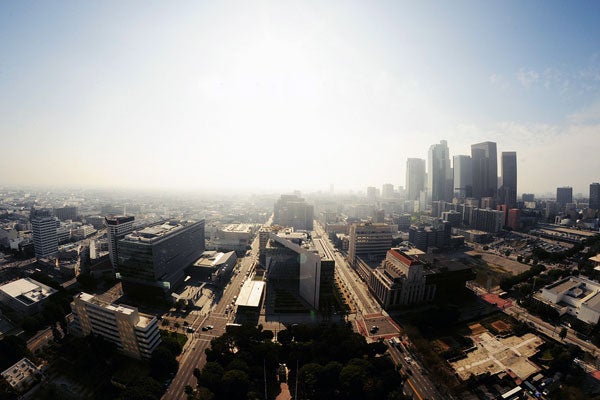 Sara Hughes: how city governments can help solve climate change
"Cities play a big role in contributing to climate, so they also have a big role to play in reducing those emissions"
How can city governments solve the problem of climate change?
That's the question the University of Toronto's Sara Hughes seeks to answer as she investigates how three major cities – Toronto, New York and Los Angeles – are delivering on ambitious pledges to improve sustainability.
"Globally, cities are where most people live, and where most economic activity takes place, and they contribute nearly 70 per cent of greenhouse gas emissions from energy and transportation," says Hughes, an assistant professor in the department of political science at the University of Toronto Mississauga. "Cities play a big role in contributing to climate, so they also have a big role to play in reducing those emissions.
"City governments have pledged toward emissions reductions of 50 to 80 per cent, but how are they going to do it?" she asks. "I'm interested in the big players in places where it might seem hard and complicated to make change.
"I'm looking at the patterns and strategies used by each city. I want to understand how programs get developed, funded and mobilized politically and institutionalized," she says. "What do they tell us about the internal structures of the city, about the local or broader political context that has led to the emergence of these strategies?
"Around 2007, there was a political moment where climate change issues were popular, and leadership took advantage of that," Hughes says. "Toronto, Los Angeles and New York were early actors, which makes it easier to see if they've been effective at meeting their goals."
Since 2007, each municipality has claimed about 20 per cent reduction in emissions, but each city has achieved those goals in a totally different way, she says. "For example, Los Angeles has focused on solar energy; New York created new legislation to switch to cleaner heating fuel; and Toronto's success is related to energy conservation and benefits from closure of coal plants.
"But governance also takes place outside of City Hall," Hughes notes. "There are limits that city governments run up against – like the private sector, or provincial, state or federal governments that might also have jurisdiction.
"In Los Angeles, the mayor appointed sympathizers to the utilities' governing body, leveraged state incentives, created a coalition of environmental non-profit groups and changed the municipal code to allow roof-top solar panels," she says. "New York created a new building code to address energy use. That city has been really good at passing legislation through city council – it has a strong government and a strong mayor. Cities that have the potential to pass legislation at city-level could do the same and change the building code or the energy code. 
"Toronto's innovation is the creation of an innovative funding scheme to loan money for energy conservation projects," she says. "Toronto is also getting good at making and quantifying carbon credits. They've seen other cities have success in that area, and the province is also moving in that direction. That could end up being a game changer."
There's no 'one size fits all' plan for cities, Hughes cautions. "But it could be helpful for other cities with similar power structures to examine the plans of Toronto, New York and Los Angeles and see where they might focus their own strategies," she says. "Cities contribute to climate change, and are a place where climate change is going to be solved."
Hughes' study, The Politics of Sustainable Cities: Case Studies of Institutional Change, is funded through UTM's Research and Scholarly Activity Fund and the 2015 Connaught New Researcher award.