Avoid the lines at High Park: Five fascinating things to consider before viewing U of T's cherry blossoms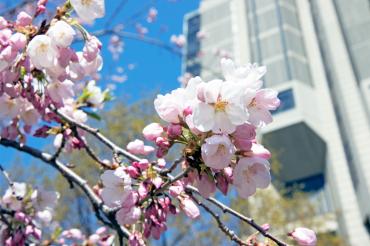 Warm spring weather means the cherry blossoms outside of Robarts Library at the University of Toronto are finally blooming.
The 70 Japanese cherry trees, also known as sakura, were originally given to the university as a gift from the Consulate General of Japan in the early 2000s. They're now an annual showpiece, attracting visitors from across the city who snap countless selfies with the photogenic backdrop.
There are also 50 cherry blossom trees at U of T Scarborough between the H-Wing and Social Sciences building.
When you go to check out the blooms, you'll be participating in a tradition that's over 1,300 years old – and one that now spans the globe.
U of T News went to the Cheng Yu Tung East Asian Library to speak with librarian Fabiano Takashi Rocha about the history and culture of cherry blossom viewing. Here's what we found out:
---
History of hanami
Flower-viewing parties – events where people gather to view tree blossoms – date back to the 700s, says Rocha.
While they are associated with Japanese culture, the first events of this kind were believed to have taken place in China, he says, but with plum blossoms instead of cherry.
In Japan, the custom, known as hanami, first took place during the Heian period, which began in 794. The event was initially exclusive to the aristocracy, but by the 1600s, during the Edo or Tokugawa period, hanami was enjoyed by the elite and commoners alike, says Rocha.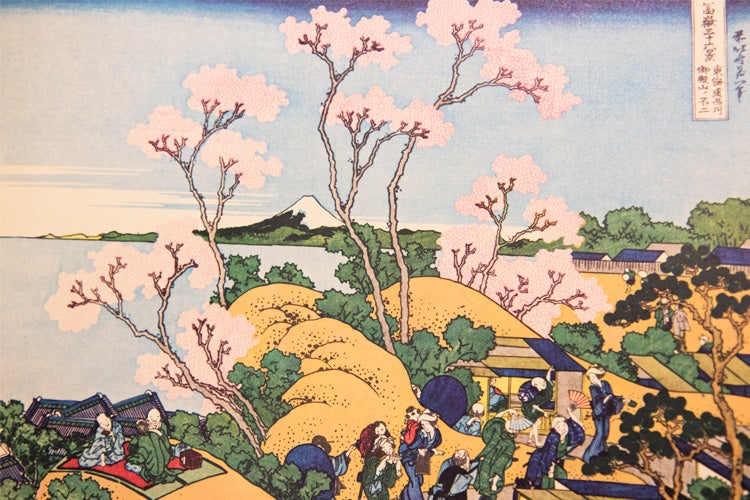 You may recognize the work of famous Japanese artist Katsushika Hokusai from "The Great Wave off Kanagawa," but he also painted other scenes of Japanese life and nature, like this one, featuring cherry blossom trees. Both works of art are part of a series called "Thirty-six views of Mount Fuji"
Picnic in the park
"In many ways, Japanese cherry blossoms and hanami became part of the national identity," says Rocha.
Today, he says, Japanese families, friends and co-workers flock to groves of sakura to have picnics under the trees, either with food they prepare themselves or bento decorated with cherry blossom motifs sold by vendors at some of the bigger parks.
"It's an opportunity for people to bond and enjoy the very ephemeral beauty of the sakura, which is there for a very limited amount of time," Rocha says.
Kanpai!
Along with lunch, Rocha says it's tradition to drink sake, Japanese rice wine, during hanami.
"The first time I did a cherry blossom viewing in Japan, they said if you hold your sake cup and if a petal falls into your cup, that's a sign of good luck," he says.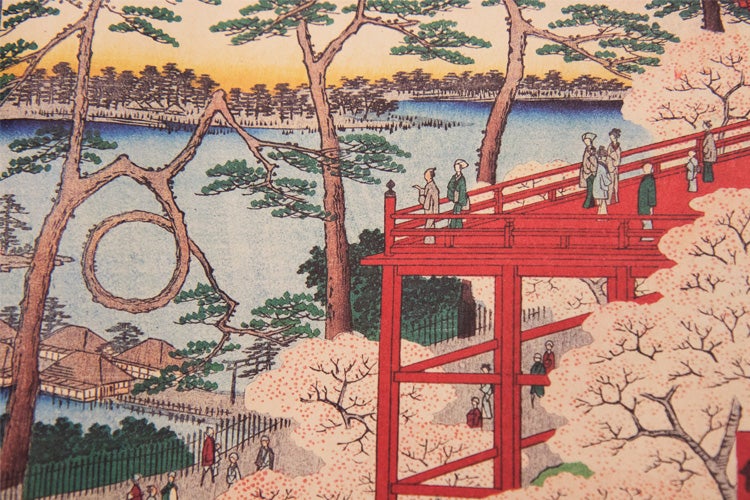 Japanese artist Andō Hiroshige captured cherry blossoms in bloom outside Kyoto's Kyomizu Hall in the 1800s, printed here in the 2007 book Meisho Edo hyakkei: hizō Iwasaki korekushon
Deeper meaning
What draws people to cherry blossoms year after year? Rocha says it's more than just their beauty.
"It's because of the transience," he says. "You know it's not going to be there for a very long time, so you want to enjoy as much as you can. There's a connection to the cycles of life – you know death is probably inevitable but while you're alive you should be enjoying the beauty of life."
Cherry blossoms are, indeed, only in bloom for a short period – about four to 10 days.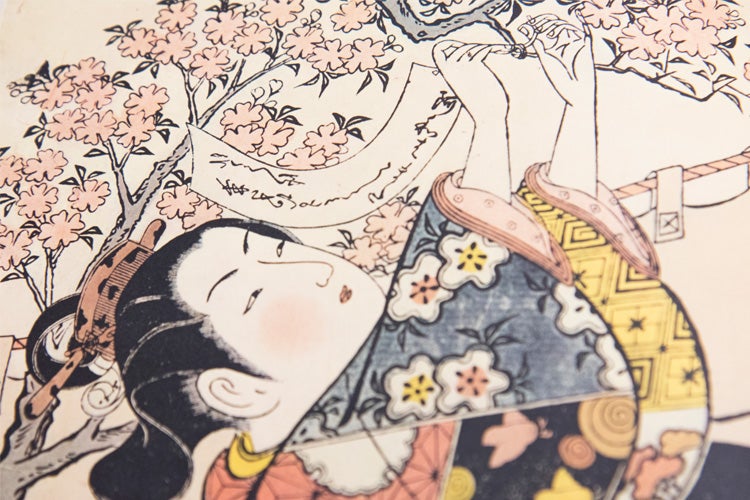 Cherry blossoms appear in literature as well as art, says Rocha. Here, a woman is depicted attaching a poem about her lover to a sakura that reads "On meeting again, there will be sorrows / How fleeting are the cherry blossoms"
Blossom biodiversity
There are over 200 species of cherry blossoms, says Rocha.
The most common type is the Yoshino, he says, which is the kind you will see outside of Robarts.
Most sakura are cultivated by people, but there are some that grow in the wild. They include the Yamazakura, which often grows in Japan's mountainous regions.  
Snapped a selfie with cherry blossoms at Robarts or U of T Scarborough? Share it on social media using #UofTBlooms for a chance to be featured on U of T channels. 
UTC