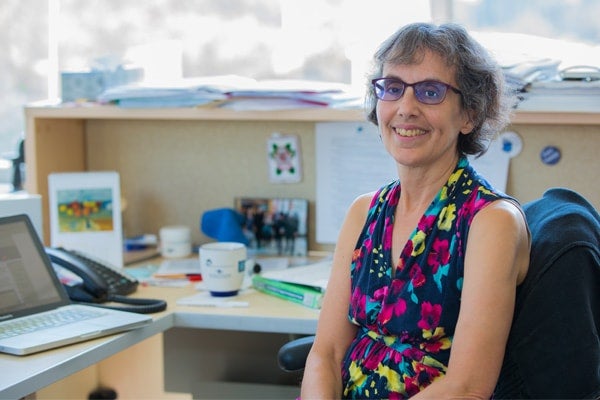 Royal Society of Canada honours U of T's Keren Rice
Less than five months after her election to the American Academy of Arts & Sciences, University Professor Keren Rice has added another honour to her collection: the Pierre Chauveau medal of the Royal Society of Canada.
The RSC citation notes Rice's work in "theoretical phonology, theoretical morphology, language description and indigenous-community linguistics." Professor Rice is known especially for her pioneering field work on the Dene language in the Northwest Territories and northern Saskatchewan and is credited with having given crucial impetus to its teaching and preservation.
"This award is one of many for Professor Rice and recognizes her continued contributions as a scholar," said Vivek Goel, vice-president, research and innovation. "She is a major figure in the world of linguistics who has made a unique contribution to culture and society in Canada."
While Professor Rice's research is now concerned more with the comparison of languages at a more analytical level, she still keeps up on the state of Dene. Last year she collaborated on an edition of traditional stories.
Is the Dene language still vibrant?
"There is not one answer, because it depends on where you are," Rice said. "But there are places where you can say that it is the first language being acquired. There are others where there is no real transmission to the next generation. These situations can change quite quickly."
As Rice knows from personal experience, learning Dene is a formidable task. This Athapaskan language is a tone language. Certain phonemes would be familiar to a Welsh speaker but unknown to an anglophone. Early acquisition is the best strategy.
It is widely assumed that minority languages around the world are destined for extinction. Rice adopts a more positive view.
"People used to say that maybe half the languages spoken today would be gone by the end of the century," she said. "I think people are much less certain about that today. They often find that languages are sustained even when it looks like they wouldn't be.
"And it's interesting that new languages get created when people who speak different languages come in contact. Michif, for example, is a mixture of Cree and French. That kind of thing happens a lot."
Another cause for optimism is the rising enthusiasm for preservation among the people who speak these languages, or who have ancestors who did.
"In Canada right now there is a huge amount of interest in many aboriginal communities in language and culture. Communities are doing a lot themselves to find what works for them in terms of sustaining and revitalizing languages.
"That's really what's important. This is something people are embracing, working at, putting themselves into. Whatever happens, that's a positive thing."
Recognizing a distinguished contribution to knowledge in the humanities, the Pierre Chauveau medal is named after the first premier of Quebec (1867-1872), a noted writer and orator who was also a speaker of the Canadian Senate and the second president of the Royal Society of Canada. The medal is awarded every two years.
The Royal Society also announced it was granting the Alice Wilson Award to U of T's Kelsie Thu, a postdoctoral fellow at the Campbell Family Institute for Breast Cancer Research at Princess Margaret Cancer Centre under the supervision of Dr. Tak Mak. Thu is interested in studying tumour biology, Thu is identifying cancer cell vulnerabilities that may represent therapeutic targets. She is also working on elucidating genetic mechanisms of tumour resistance to anti-cancer drugs.
The awards follow an earlier announcement by the Royal Society naming 14 U of T faculty members among its 87 new Fellows.