Rose Patten re-elected to serve as chancellor of the University of Toronto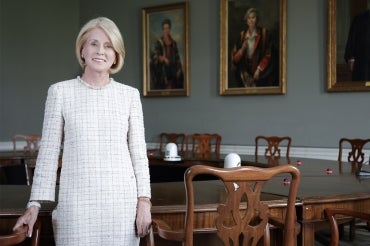 Rose Patten, the trailblazing business executive, philanthropist and volunteer leader, has been re-elected for a second three-year term as the chancellor of the University of Toronto, the maximum length of service in the position.
"I'm so deeply honoured, just filled with joy and inspiration to be able to do this now for a second term," Patten says.
"It is a great privilege to be part of the exemplary journey that U of T has been on."
Patten became the university's 34th chancellor in 2018. She is a longtime senior executive at BMO Financial group and a former chair of U of T's Governing Council, on which she served for nine years. Patten is a member of the Order of Canada and holds an honorary degree from U of T, in addition to many other accolades.
In a memo announcing Patten's re-election, U of T President Meric Gertler lauded her longstanding service and commitment to the university.
"Dr. Patten's service as Chancellor has been distinguished by her extraordinary loyalty and dedication," President Gertler wrote.
As the ceremonial head of the university, the chancellor presides at convocation ceremonies and acts as ambassador to U of T's alumni and the wider community. The chancellor is also a key advocate for the university on the local, provincial, national and international levels.
Patten has maintained a heavy schedule of events and meetings with students, faculty, staff, alumni and donors.
She says the university's response to the pandemic has only strengthened her resolve to contribute to its mission.  
"I marvelled at the adaptability [and] the remarkable resilience that was mustered everywhere – not to mention the courage," Patten says. "What I saw made the atmosphere at U of T even more motivating."
Patten also continues to champion mentorship and leadership – two core tenets of her career in business and community volunteering. More than two decades ago, the university re-named its staff mentorship program in her honour.
Patten says she will focus on connecting with students and supporting inclusive excellence in her second term. She looks forward to the day when more members of the U of T community can safely return to campus and she can resume spontaneous, one-on-one conversations.
"As chancellor, I've seen in a new way how crucial our shared values are, in making U of T a global leader," she says.
"Our commitment to inclusive excellence, and our efforts to keep building a caring community – these are so important to our success, individually and collectively. And they're what makes our membership in the U of T community so inspiring."
UTC