Role reversal: U of T student and faculty dean swap jobs, gain insights
Chelsea Wang has been busy during her two years as a University of Toronto student. The international relations major is vice-president of the East Asian Studies Students' Union, a mentor to incoming Victoria College students and a U of T tour guide.
Now she can add "dean" to her already impressive resume – albeit for a single day.
Wang recently got to trade places with Melanie Woodin, dean of the Faculty of Arts & Science, after winning a raffle held by the Arts & Science Student Union (ASSU), with the money raised going to food banks. For one day, Wang attended Woodin's meetings while Woodin attended Wang's class and worked her shift as a campus tour guide – a role swap that gave each party new insights into the university.
Wang says the highlight of her "Dean for a Day" experience was chairing a meeting of Arts & Science vice-deans, where she learned about ongoing initiatives such as improvements to student spaces like Robarts Common and the Sidney Smith Commons.
"I was able to give feedback on what the student experience is like in those spaces," says Wang, adding that she was pleased to learn about the team's efforts to solicit student voices on the projects. "I offered ideas about what can be improved, especially during exam time."
Chelsea Wang, centre, leads a meeting of Arts & Science vice-deans (photo by Sarah Khan)
Wang's schedule also included back-to-back meetings with members of the faculty's academic leadership team, including Acting Vice-Dean of Undergraduate Students Bill Ju and Acting Associate Dean of Student Affairs Alana Boland, as well as meetings with U of T Vice-Provost of Students Sandy Welsh and Faculty of Applied Science & Engineering Dean Christopher Yip.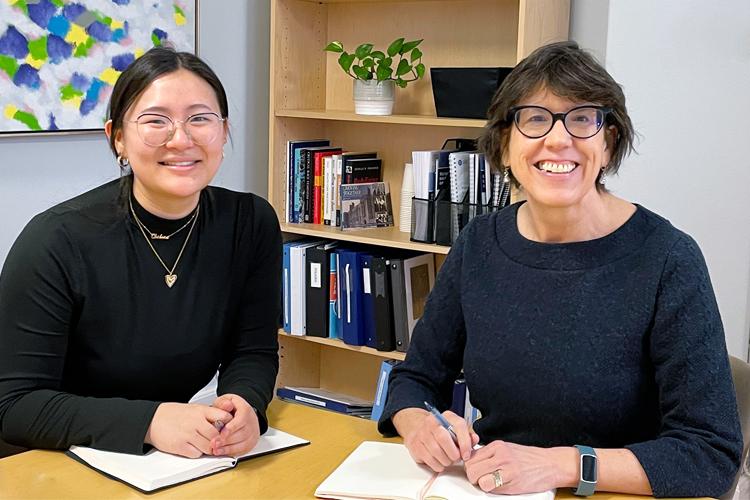 Chelsea Wang and Sandy Welsh, vice-provost, students (photo by Sarah Khan)
Meanwhile, Woodin attended Wang's modern East Asia lecture, where she chatted with instructor Yurou Zhong, an associate professor in the department of East Asian studies, interacted with students and even participated in the class discussion – although she admittedly had not completed the required readings.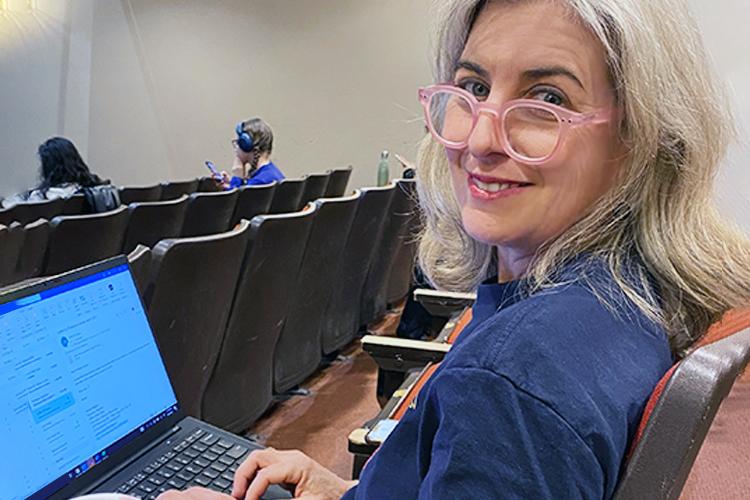 Faculty of Arts & Science Dean Melanie Woodin arrives early for Chelsea Wang's morning lecture (photo Christine Elstub)
​​​​​​After the lecture, Woodin headed to the Nona Macdonald Visitors Centre to cover Wang's shift as a U of T tour guide. She greeted a group of incoming students and their families at the centre before they toured the St. George campus.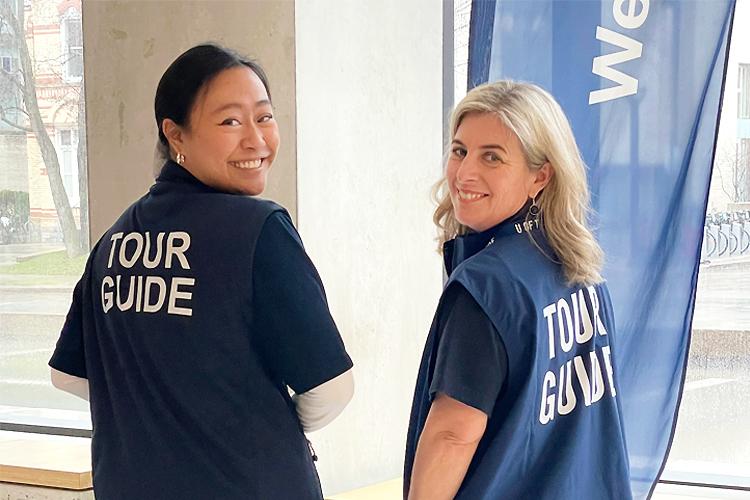 Faculty of Arts & Science Dean Melanie Woodin, right, prepares to cover Chelsea Wang's shift as a U of T tour guide (photo by Sarah Khan)
"I really enjoyed attending class and chatting with current and future students. It was a great reminder of what it's like to be a student here," says Woodin, an Arts & Science alumna. "The Dean for a Day fundraiser was a wonderful opportunity for Arts & Science students, faculty and staff to come together to learn from each other while giving back to the community.
"Trading places with Chelsea gave me fresh insight into the student experience, and my team gained invaluable feedback from Chelsea's participation in meetings."
For Wang, who is involved in student government, her experience as dean was also not entirely unfamiliar. "I found the meetings I attended similar to how student government meetings work, with members of different teams working together to get feedback and make improvements."
Wang says she would participate in any future Dean for a Day raffles and encourages other students to do the same. "It supports a great cause, so it's a nice way to get to know ASSU and participate in administrative life for a day."
Arts & Science