U of T alumna Christine Desrochers combines her love of yoga with Dungeons & Dragons for a Fringe theatre performance (photo by Romi Levine)
When the description for a play reads "comfortable workout clothes recommended," it's safe to assume the audience is part of the performance.
That's definitely the case for D&D Yoga – one of the 210 theatre events taking place at this year's Toronto Fringe Festival. Many of this year's plays involve University of Toronto students, faculty and alumni and take place in venues on the university's downtown Toronto campus.
D&D Yoga is the brainchild of Christine Desrochers, an alumna of U of T Faculty of Applied Science & Engineering who teaches yoga at the university. Her event is a choose your own adventure performance that melds the popular role playing game Dungeons & Dragons with a yoga class.
"It's a very different experience, and it really engages your sense of imagination," says Desrochers, who will be performing double duty as yoga instructor and dungeon master for the Fringe performance.
Given a yoga mat and a 20-sided die, the audience is taken by Descrochers on a fantastical journey, using yoga moves to overcome obstacles and rolling die to determine the direction of the narrative.
Never taken a yoga class or played D&D? "Don't feel intimidated," says Desrochers.
"I designed it to be very basic," she says. "I've had people try it who have never done either, and they had a blast trying something new."
Fringe provides a platform, not only for those trained in theatre but for aspiring playwrights and actors who come from varied disciplines – including science and engineering, says Leah Cherniak, a U of T sessional lecturer and a resident artist, director and actor at Soulpepper Academy. 
"They bring a whole wealth of different experiences and knowledge to the theatre," she says. "The Fringe Festival lets them explore that part of themselves."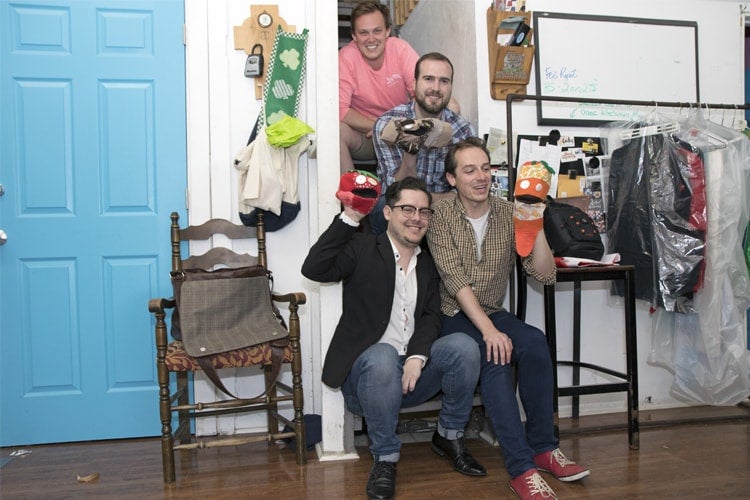 U of T alumni (top to bottom) Ben Hayward, Owen Fawcett, Jonathan Walls and Brandon Gillespie are part of the cast and crew of The Food Project (photo by Romi Levine)
There may not be any downward dog in The Food Project, a Fringe play by the theatre company, Theatre By Committee, made up of six U of T alumni and a current student – but it's unconventional in its own way.
The play takes place inside a kitchen at Artscape Youngplace, the perfect venue to tell the story of food production in Canada.
"Initially the idea came from me being obsessed with that kind of pervasive Netflix documentary about food that makes you feel guilty about the way food is produced but doesn't really offer you cohesive solutions," says Ben Hayward, the show's director and an alumnus of the U of T Mississauga and Sheridan College joint theatre & drama studies program.
"It's kind of like Sesame Street for adults and other times it's very obtuse information delivery that we try and tamper with to make people laugh," he says.
Oh, and there's puppets.
"There's a heavy musical component now," says Hayward.
Cherniak says U of T's theatre programs prime students to think outside the box.
"Being young and out of university, and especially with the U of T program, that risk taking is already very present in who they are and the work they do," she says. "The U of T undergraduate program tends to encourage personal expression and growth, and that often takes the form of experimenting with newer forms, new ideas, collaboration."
To prepare for the play, the Food Project cast became method actors, trying out various diets from the reasonable to the extreme, to better understand the sacrifices people make to become more responsible consumers of food. While the cast hasn't adopted any dramatic diet changes, they've been inspired to think before they eat.
"I stopped buying avocados because they're so recklessly unsustainable," says Hayward.
There are lessons to be learned watching The Food Project, but the cast promises not to be preachy.
"We think the way forward isn't to completely retool and re-engineer your life, it's about making small, sustainable choices that grow over time," says U of T theatre & drama alumnus Brandon Gillespie.
And at the end of the performance, the audience will be rewarded with a tasty – and refreshing – snack, made live on stage.
---
If narrowing down the impressive roster of Fringe plays feels daunting, we've put together a list of some of the U of T-linked performances at this year's festival:
A dystopian tale that takes place in a not-too-distant future Toronto. Check out U of T student Yona Epstein Roth on stage and student Armon Ghaeinizadeh behind the scenes.
A dramatic tale of animal rescue by U of T Ontario Institute for Studies in Education alumnus Davis Mirza.
Take your kids on a magical quest to fight an evil king, directed by U of T alumna Rebecca Ballarin, performed by current students Angela Sun and Nicole Bell, with costume design by alumna Orly Zebak.
The Shakespearean protagonist's severed head comes to life in this play by U of T Mississauga alumnus Kyle McDonald, performed by U of T grads Gabriel DiFabio, Roberto Esteves and Adrienne Kress.
A celebration of women and the important roles they've played throughout history, choreographed by U of T PhD student Jessica Watkin. U of T alumna Kira Renee is one of the actors.
A woman and her ukulele are stuck in the middle of a traffic island. Will she be able to create an indie music masterpiece? A play co-directed by U of T alumna Alexandra Jones.