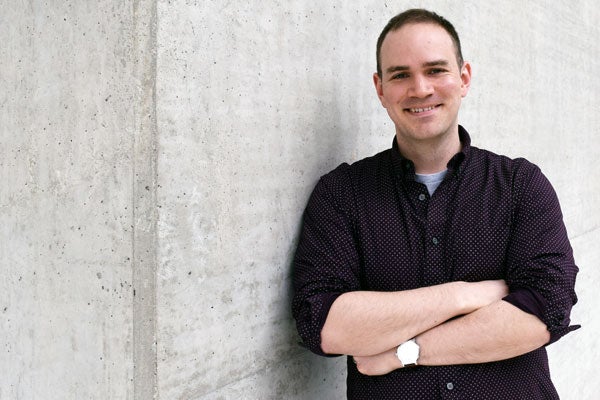 From rock 'n' roll to research: PhD student trades life on the road for HIV research in lab
Former alt-rock guitarist goes from academic bridging program to Vanier scholar, community volunteer and research leader
In 2007, Jonathan Cook played in his final Vans Warped Tour, North America's longest-running alternative rock festival.
Today, he's a third-year PhD candidate at U of T working with Professor Jeffrey Lee.   
"During the tour I met a drum technician for Billy Talent, and this thirty-something guy was doing extremely well," said Cook. "But he told me that he didn't have any family ties, and he was just part of this travelling music machine. I was 21 and I said 'I can't do this – 10 years from now I can't be here'."
For five years, Cook played guitar in his own band and also toured with the Juno-nominated band IllScarlet, a reggae rock band from Mississauga.
"On a normal day during the Warped Tour we'd play to 3,000 people. It was a ton of fun but it was grueling. We'd leave one concert at 11 p.m., get to the next location at 2:00 a.m. and be up at 7:00 a.m. for the next show."
Now Cook is dedicating his time to the lab. 
Once he got off the road, he updated his high school courses, completed an academic bridging program at U of T and started his full-time undergraduate degree when he was 24. 
Initially, he was interested in architecture and material science, but soon found his real passion in biochemistry. "I became really interested in protein structure because it's similar to architecture – I like building things and understanding how form can influence biological function."
A graduate student in Lee's lab in the department of laboratory medicine and pathobiology (LMP), Cook is a studying the structural biology of how HIV changes healthy immune cells. His goal is to understand the design of the proteins in the envelope that surrounds the HIV virus. 
"The Ebola virus is perfectly coated with spike proteins that transmit the virus to healthy cells. HIV, on the other hand, is covered with broken spike proteins. We're studying how HIV can use these broken spikes to influence the human immune system." 
Cook uses a technique called protein X-ray crystallography and other biophysical methods to render every atom of a protein, creating a highly accurate three-dimensional model. This model reveals vulnerabilities of the virus and provides a blueprint for effective drug treatment. 
"Jon has been an outstanding addition to my lab and the department. He is very enthusiastic for science and is always ready to help anyone who has questions about or problems with their research," said Lee. "Most importantly, he has driven his own research project – this is a testament to his intelligence and motivation."
Beyond his research, Cook is also a driving force in the community. He has served on multiple committees for U of T's biochemistry and LMP departments, and for the past three years he's been the lead organizer of the Let's Talk Science! Challenge, a science-engagement program designed for grades six through eight. 
He also volunteers every Friday with Toronto's Hassle-Free Clinic, an HIV and sexually transmitted infections clinic at Church and Gerrard.
"It's been a very rewarding experience. The clinic is fantastic and the people there have given me a very important perspective on the disease that I study." 
In 2014, he was recognized for his research excellence and leadership with a Vanier Canada Graduate Scholarship, considered one of the most prestigious awards of its kind.
In the future, Cook plans to finish his PhD and pursue a career in medical microbiology and infectious diseases. 
"In everything I do, I've always followed my heart. That means that my 10-year plan changes an awful lot," said Cook. "In science, like in life, I want my work to positively impact the people and the communities that I serve. With the expert guidance that I'm receiving at the Lee lab, and the scientific freedom to follow my intuitions, I know that wherever my passion leads me, I'll be well situated for success."