Robert Houle, who redefined contemporary Indigenous art, receives honorary degree
One of the foremost artists and curators of his generation, Robert Houle has played a pivotal role in working for change against the continued effects of colonization.
His art, exhibited in leading museums and galleries around the world, blends Indigenous experiences and traditions with contemporary visual ideas. And his curated exhibitions have helped redefine contemporary Indigenous art and bring it to wider Canadian and international audiences.
Today, for his excellence in the arts as an internationally recognized Indigenous artist and curator, Houle will receive a Doctor of Laws, honoris causa, from the University of Toronto.
Houle was born in St. Boniface, Man. in 1947, the eldest of 15 children. With his family belonging to the Plains Ojibwa, or Anishnabe Saulteaux, Houle spent his early childhood in Sandy Bay First Nation on the western shore of Lake Manitoba and learned the Saulteaux culture and language. Raised as a Roman Catholic, he was forced to attend residential schools in Sandy Bay and Winnipeg. In 1972, he earned a bachelor's degree in art history from the University of Manitoba.
After graduating, he attended the Salzburg International Summer Academy, where he focused on painting and drawing. He completed a bachelor of education degree at McGill University in 1975.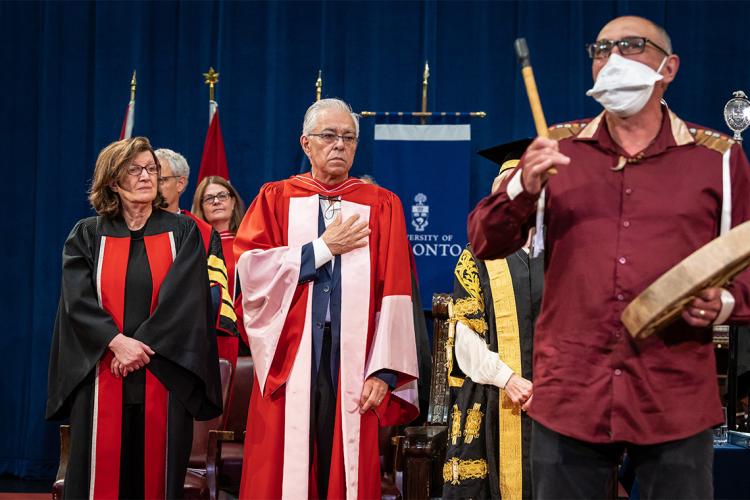 The time he spent in Sandy Bay at the residential school was difficult. According to Shirley Madill's biography of the artist, Robert Houle: Life & Work, Houle was not allowed to paint sacred objects or experiences from his own culture – or to speak to his sisters, who also attended the school. After Houle joined his family for their annual Sun Dance ceremony, the priest would force him to go to confession for worshipping false gods. These experiences would inform art he created much later in life.
When Houle graduated from McGill, exhibitions of Indigenous art at mainstream museums and private galleries were uncommon. A 1975 show in Montreal organized by Professional Native Artists Inc. challenged colonial thinking – and represented Indigenous Peoples in a way that was eye-opening for Houle. "Before seeing this exhibition, I was not aware of work by contemporary Indigenous artists and was struck by the power of their work," he told Madill, the biographer.
In the late 1970s, Houle worked for Ottawa's National Museum of Man as its first Indigenous curator of contemporary Indian art. But after a few years there, he says he grew tired of how the museum treated ceremonial Indigenous objects. "Presented in a context that isolated them from life and reality, all I could think of was that I wanted to liberate them," he told an interviewer at Muse magazine. He resigned, and decided that the best way for him to advance Indigenous art and representation was as an artist.
Around this time, Houle moved to Toronto with his life partner, Paul Gardner. During the 1980s, his art became more overtly political. He revisited the painful experiences of his childhood and youth in works such as Sandy Bay (1998-99.) He focused on the histories of Indigenous Peoples and recording the names of North American Indigenous nations, many of which colonization had erased. A trip to Amsterdam inspired a lifelong interest in the colour-field painting of Abstract Expressionism, which he found "perfectly suited to communicating his own Indigenous spirituality," Madill observed.
Since then, Houle's work has helped redefine contemporary Indigenous art and bring it to a wider audience in Canadian and abroad.
In 1990, he took on a newly established position as professor of Native studies at the Ontario College of Art (now OCAD University), becoming the first person to hold such a role. He taught there for 15 years, mentoring a new generation of Indigenous artists and curators. At the same time, Houle continued to create art that transformed audiences, such as his iconic Kanata (1992) which reworks Benjamin West's 1770 painting "The Death of General Wolfe" and the multimedia piece, Kanehsatake (1990-1993) and Kanehsatake X (2000).
Houle has curated and co-curated a number of influential exhibitions of contemporary Indigenous art, including at the National Gallery of Canada. He has been a member of the Royal Canadian Academy of Arts since 2000 and has received numerous awards including the Governor General Award for the Arts in 2015, the Toronto Arts Award for Visual Arts in 2001 and two honorary doctorates. In 2021, the Art Gallery of Ontario presented a major career retrospective of his work.
UTC