#Rio2016: U of T's Donna Vakalis competes in modern pentathlon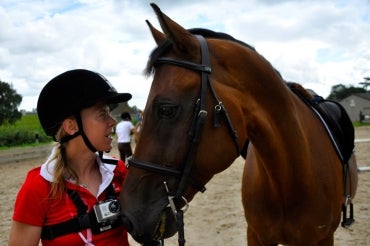 While working on her PhD in the Faculty of Applied Science & Engineering, modern pentathlete Donna Vakalis fences four times a week and swims five times a week. She shoots four times a week and runs five times a week.
She even rides twice a month. 
Now, all that training comes down to a gruelling two days' worth of events for the last of the University of Toronto athletes to compete in Rio.
Vakalis, who competed in the 2015 world championships in Germany, placed fourth in the Toronto 2015 Pan Am/Parapan Am Games. An alumna of U of T's John H. Daniels Faculty of Architecture, Landscape and Design, Vakalis began her PhD after competing in the 2012 Olympics in London. 
When she's not training, Vakalis studies the impact of indoor building environments on public health and productivity, under the supervision of civil engineering professors Heather MacLean and Jeffrey Siegel. 
Before she left, she spoke with Matt Galloway of CBC Radio's Metro Morning. 
"Most of us can barely focus on one thing, let alone be good at that one thing, let alone be good at five different things," Galloway told Vakalis. "What did it take for you to try to nail all of these different sports?"
"it is a little bit of a different mindset," Vakalis said, because the athlete's goal can't be to "be the very best you can be at that one sport" but "there is something appealing about trying to optimize multiple goals. So for anyone who has multiple passions, I think they can relate to this, when you want to be the best parent or the best friend, and also the best at work and also the best in your hobby – there's something really fun about optimizing them all."
Fencing is her toughest event, Vakalis said, adding that she learned it last and finds it a challenging combination of tactics and athleticism, particularly given the unpredictability of the opponent.
"People say it's a little like chess and track combined together."
You can watch Vakalis compete August 18 and 19 on CBC – and with so many faculty, staff, students and alumni cheering Vakalis on, civil engineering's Keenan Dixon is also live-tweeting her events.
"Donna is such an impressive student and athlete, the whole department is so proud of her," says Civil Engineering Communications Coordinator Dixon. "We'll all be watching, cheering and supporting her at every stage of the competition!"
See some of the social media highlights in the Storify below: