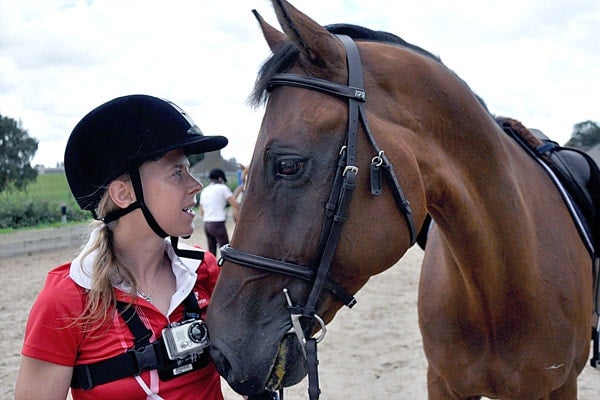 U of T at the Olympics: Meet Donna Vakalis
Modern Pentathlon
Alumna Donna Vakalis completed her master's degree in architecture in 2009 and is set to begin her PhD in civil engineering at the University of Toronto this fall. As a member of the Varsity Blues she was a versatile athlete competing in fencing, cross country and track and field. On Sunday, August 12, Vakalis will use her impressive skills to compete in the Modern Pentathlon.
Before leaving for London, Vakalis spoke with writer Gavin Au-Yeung.
Your performance at the World Cup in Chengdu, China, ultimately secured your spot on the Olympic team. How did you feel when you first received the news?
My initial reaction was a feeling of restricted happiness. Olympic qualification is calculated through taking your top three competitions throughout the year; China was the last event we could use towards qualifying.
Because I knew how the world ranking calculations were performed, I was sure I'd be invited for the Games. But because it takes two weeks to calculate and deliver the results, the official announcement was less exuberant.
However, during that time I was accepted into my PhD program – those two pieces of news came within days of each other – which multiplied the excitement, times 100. It was the best week of my life.  
What separates the Pentathlon from the other Olympic events?
The Modern Pentathlon is the only sporting event created just for Olympic competition and was introduced in 1912 to replicate the spirit of the original pentathlon. The five disciplines are believed to serve as useful military skills for well-rounded soldiers.
There's little predictability in actual competition because you can perform well in one discipline but poorly in another. I've seen people in 35th place take first place the next day in championship events. There is also an element of chance within the disciplines. For example, you could receive a horse you aren't compatible with (athletes get 20 minutes to prepare with a randomly selected horse for equestrian) – and maybe with a different horse, you could get a perfect score.
Luck can work to one's advantage or be detrimental to another.
Take us through your training schedule - what's it like preparing for five different sports? 
On average, I usually have three to four practices a day. But it's not as simple as finding time to practise each discipline; it's about getting the most out of the training.
There's a lot of strategizing involved; making gains in one discipline could compromise another. For example, if you do a hard run in the morning, there won't be as much value if you do the hardest swim of the week right after. I like to stagger the aerobically intensive workouts with the technical ones. 
It's sort of like playing a strategic board game.
What aspect of the pentathlon are you strongest in? Which could be improved upon?
The event I want to improve on is fencing – a good fencer can win about 50% of their matches.
Improving the percentage of victories makes a big difference because it puts you ahead and penalizes your opponents.
Furthermore, I'd say running and shooting are my strongest disciplines.
How do you mentally prepare yourself before competing? 
The mental game is extremely important and helps me perform under stress. Specifically, I like to visualize performing actions and focusing on positive outcomes. This is extremely important especially for the Olympics because there will be many external distractions. Another aspect is preparing in between the disciplines – this means letting go of the previous event and focusing on the current situation.
Putting on a good performance is my main goal, if I perform well the outcome will reflect that.
How did you initially get involved with Pentathlon?
I was originally introduced to pentathlon at a young age through Pony Club. But I quit my training when I began focusing my efforts on my education and social justice during high school.
While working on my master's I needed an escape from the long hours working and realized that I missed participating in sports and competing in general. So in 2006 I went to the Pentathlon Nationals and found success; now I'm just trying to see how far I can take myself. 
How has your time at the U of T helped shape who you are today?
The U of T is just amazing. There are so many great role models and very supportive people. It's a really big institution but at the same time, it doesn't convey an impersonal atmosphere.
Specifically, Ross Risstuccia (cross country coach) was a big influence on me in terms of pursuing sport. He's quietly amazing – those who know him know his greatness, but he doesn't promote himself. I walked onto the cross-country team with no competitive experience, but he's always been very supportive. Even now when I'm not training with him, I know I can always ask him questions.  
And I wish I could find a way to thank the amazing team of swim coaches at U of T: Byron [MacDonald], Linda [Kiefer] and JR [John Rodgers]. They, along with the swimmers they train, have been extremely generous with their expertise and support.
What's in store for you after the Games? 
I want to learn how to be an entrepreneur and start my own business. Something related to green technologies and large building projects, as that will relate to my studies in civil engineering.
I'd also like to get into teaching at the university level – I've already done a little of that at OCAD, and I've been a TA at U of T and McMaster.
Training, travelling and education are all fairly expensive. What sort of financial struggles do amateur athletes face?
Pentathlon is a fairly unknown event, and as such there hasn't been funding from the government. The National Federation for Pentathlon Canada runs their entire program off donations. And athletes are left to their own devices to fundraise or find supporters.
I've started a fundraiser on my website where people can directly help pay for expenses, and it's been a big help. It's nice to be supported by strangers or acquaintances who help out with whatever they can. It feels good to have people contribute so selflessly.
You can't put a price on the Olympic experience. But debt is a big problem facing athletes as it dissuades young and talented individuals from participating. It's definitely problematic for developing athletes for the future.
Read more about Vakalis in the Toronto Star here.