Researchers from U of T, Western help launch national survey on workplace sexual harassment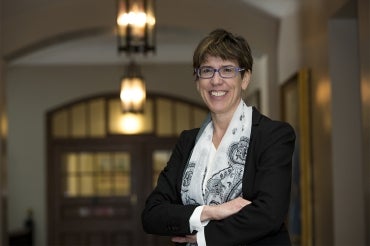 Researchers from the University of Toronto are helping to launch a national survey to collect comprehensive data on sexual harassment and violence in workplaces across Canada.
The survey, a collaborative effort with the Centre for Research and Education on Violence Against Women and Children at Western University (CREVAWC) and the Canadian Labour Congress, will provide insight into, among other things, why workers report – or don't report – workplace sexual harassment, what supports workers need and the links between sexual harassment and other forms of violence in the workplace.
Sandy Welsh, professor in the department of sociology at U of T's Faculty of Arts & Science and co-principal investigator of the study, says the survey will generate data that can shape recommendations to government and workplaces about how to address a longstanding problem.
"The #MeToo movement has created an open dialogue on the scourge of sexual harassment and violence in the workplace, with many people bravely speaking out about their experiences," says Welsh.
"Yet, while this has told us a lot about the frequency and scale of workplace sexual harassment, there remains a dearth of comprehensive data about victims, their experiences and how workplaces respond in the wake of complaints."
Welsh is working alongside Western University's Barb MacQuarrie, who is CREVAWC's community manager.
The survey launched this week and will be open to both unionized and non-unionized workers for a period of six months. It will collect responses on the prevalence of workplace harassment and violence, awareness, reporting levels, the types of actions taken by workers, supports available to them, organizational consequences and responses and implementation of preventative measures.
All data collected from the survey will be anonymous, and information obtained will not be used to identify respondents. Once a respondent has completed the survey, they will be given the option of participating in a more detailed interview or focus group session with a member of the research team.
The survey is funded by the Government of Canada's Workplace Harassment and Violence Prevention Fund. Anyone who completes the survey will be provided with crisis and support phone numbers as well as referral information.
"A comprehensive, national survey is vital to addressing the issue of workplace sexual harassment and violence," says Welsh. "By taking into account the varying contexts, power dynamics and social factors behind workplace sexual harassment, we can build on existing knowledge and come up with recommendations for government and workplaces on how to bring about meaningful, lasting change."
UTC