Researchers probe COVID-19's uneven impact on racialized and immigrant communities in Peel Region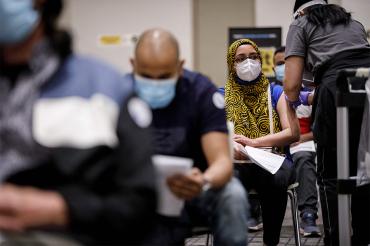 After than two years and six waves, COVID-19 continues to affect Canadians – but it has taken a particular toll on residents of Peel Region, which last year emerged as a nationwide pandemic hotspot.
Now, researchers are hoping to find out why.
A new University of Toronto Mississauga study, "Understanding the COVID-19 Journeys and Vaccine Experiences of Racialized and Immigrant Communities in the Greater Toronto Area," is probing the pandemic's uneven impact on Ontario's second-largest municipality, a culturally and economically diverse region of 1.5 million that consists of the cities of Mississauga and Brampton and the town of Caledon.
By directly asking community members about their experiences, the one-year qualitative study seeks to illuminate why racialized populations experienced relatively higher rates of virus exposure, and how families and communities worked together to support each other during the crisis.
"As of right now, we know what we think happened based on media coverage and very basic information on case rates," says co-principal investigator Tracey Galloway, an associate professor in U of T Mississauga's department of anthropology. "We really want to hear from people who lived it all across Peel Region, what their stories were and what the pandemic felt like for them in their homes and families and communities."
The idea for the study was sparked by the desire of Peel Public Health and Trillium Health Partners to learn about the lived experiences of community members most impacted by the pandemic. Galloway joined with Assistant Professor Matthew Adams and Professor Kathleen Wilson – both of the department of geography, geomatics and environment – and with a team of post-doctoral, doctoral, master's and undergraduate students, began mapping out all six COVID-19 waves across the region's hardest-hit postal code areas.
Next, the team created recruitment posters in English, Bahasa, Bengali, Gujarati, Hindi, Spanish and Urdu. The posters were distributed to local community and immigrant welcome centres to display at their facilities.
"With my background as a Black woman, the accessibility of this study was important, so that we could capture as many perspectives as possible," says medical anthropology and women's health graduate student Fatema Ali, who served as the project's research co-ordinator and as an interviewer. "This is work that highlights and centralizes the voices of the people we are focusing on."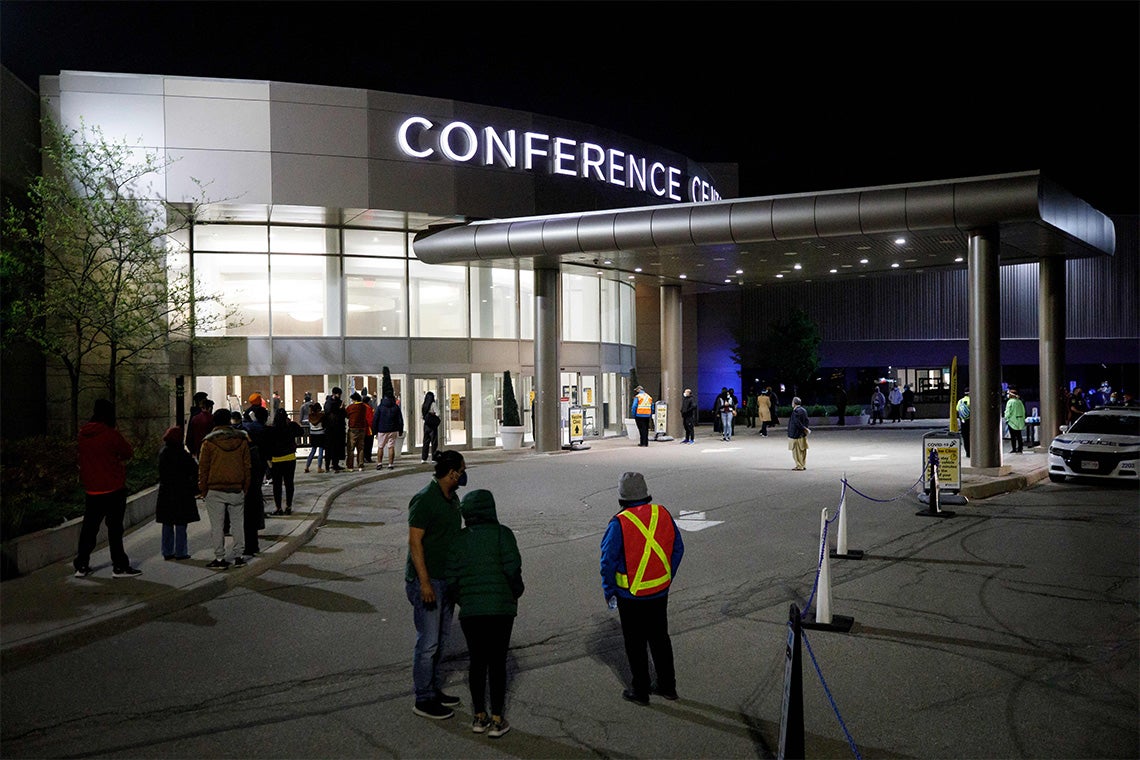 Residents line up outside the International Centre during Peel Region's "Doses After Dark" vaccination clinic in Mississauga in May 2021 (photo by Cole Burston/AFP via Getty Images)
A total of 69 interviews took place, and the team is now analyzing the data to identify themes that might explain the pandemic's disproportionate burden on racialized communities. The researchers also hope to learn about the roles of young adults in immigrant families in interpreting public health information. As well, they want to learn what sources of information people used to determine risky or safe behaviours relating to COVID-19, particularly around vaccines.
PhD student Amanda Norton used her geospatial analysis expertise to identify patterns of infection rates. The process involved using mapping software to determine how the patterns relate to the racial and socio-economic makeup of affected communities.
"I think it's really important to understand that these disparities exist in health," Norton says. "Maybe in the next pandemic, we can be more prepared to support these communities."
The overall goal of this study, which is supported by a grant from the Canadian Institutes of Health Research, is to increase the efficacy of health messaging and care for racialized urban communities within Canada. That's a priority that is important to health geographer and U of T Mississauga post-doctoral researcher Thelma Abu, who is helping to analyze the qualitative data.
"My hope is that findings from this research assists stakeholders, including health practitioners, in understanding how marginalized populations and those living in vulnerable circumstances navigate life," Abu says, "and better inform community health programming targeted at strengthening communities, better public health messaging and care, and addressing health inequities."
UTM