Researchers explore shifting AI landscape at Absolutely Interdisciplinary conference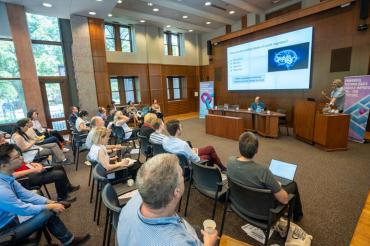 Researchers across disciplines gathered recently at the Absolutely Interdisciplinary conference to reckon with the ramifications of the evolving AI landscape – from the technology's transformative impacts on work and education, to its implications for human cognition and values.
The third annual academic conference held by the Schwartz Reisman Institute for Technology and Society (SRI) at the University of Toronto featured 23 speakers from diverse fields such as computer science, psychology, law, economics, education, philosophy, media studies, and literature.
"The recent impacts of generative AI tools have really emphasized how important it is to build spaces for interdisciplinary conversations," said SRI Director and Chair Gillian Hadfield, the inaugural Schwartz Reisman Chair in Technology and Society, CIFAR AI Chair and professor in the Faculty of Law and Rotman School of Management.
"Our goal with Absolutely Interdisciplinary is to foster new research agendas based in the creative interplay of diverse questions and framings as we explore the potentials of these new technologies." 
Cognition, storytelling and the future of intelligence
The conference featured an opening keynote by Blaise Agüera y Arcas, vice-president and fellow at Google Research, and a regular participant in developing cross-disciplinary dialogues about AI and ethics, fairness and bias, policy and risk.
"We're all going through a bit of existential angst because most of us believe that we have been the smartest things on Earth for some time now," he said. "I don't think that will any longer be the case."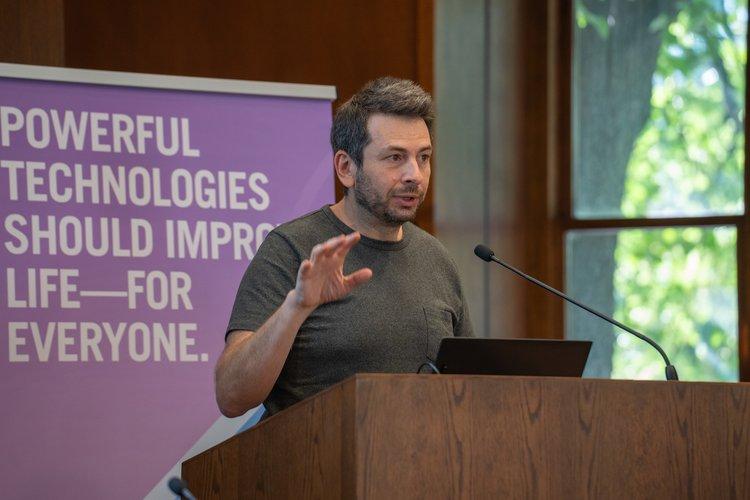 Exploring the historical connections between neuroscience, computer science and cognitive science, Agüera y Arcas discussed the progress made in visual perception by neural networks in recent years, and delved into the concept of artificial general intelligence (AGI), including ongoing debates on whether AI might become sentient and pose a risk to humans.
"Some people take AGI to mean superintelligence, others take it to mean consciousness," said Agüera y Arcas, who highlighted storytelling as an essential quality of human experience, and how the construction of personal narratives about ourselves and our past help to predict our future.
"We are the stories that we tell ourselves," Agüera y Arca noted. "And as we interact with people, we construct and edit that story over time."
AI, learning and the role of education
In a session pairing psychology with computational neuroscience, Joel Leibo of Google DeepMind and SRI Faculty Fellow William Cunningham, a professor in U of T's department of psychology, presented their ongoing work on modeling human social interactions using artificial agents to test social cognitive theory. 
Leibo and Cunningham showed that by simulating coordination games in multi-agent reinforcement learning, they could test the origins of very human things like in-group bias and coalition-building.
SRI Research Lead Ashton Anderson, assistant professor in the department of computer science, moderated another session on learning from a different perspective: the implications of generative AI tools such as ChatGPT for educators and students.
Panelist Lauren Bialystok, an associate professor of social justice education at the Ontario Institute for Studies in Education and acting director of U of T's Centre for Ethics, offered ideas on why we value the concept of "originality" and discipline students who violate it by using ChatGPT to write assignments.
"What is the benchmark against which cheating emerges as a moral wrong or a pedagogical error?" asked Bialystok.
"Is technology the enemy of originality? What about individual originality versus collective originality? We need to start sussing out what really matters to us in student learning and student assessment."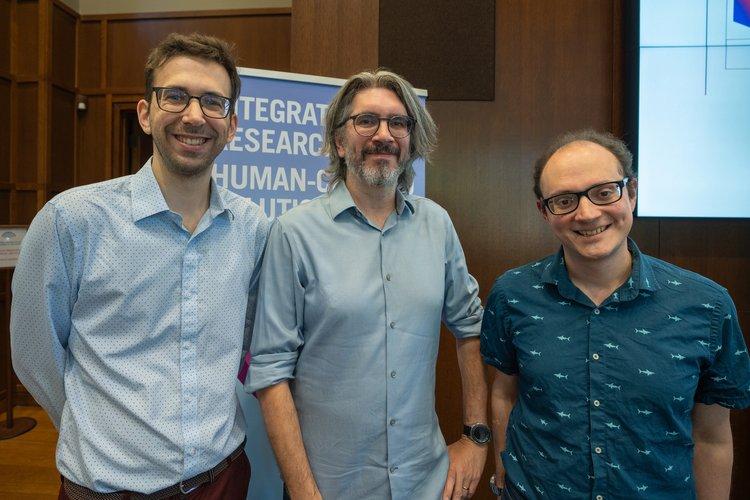 AI's capabilities, behaviours and harms
One of the more frequent fears cited about AI is that it will replace workers – a subject tackled in a session moderated by SRI Research Lead Avi Goldfarb, the Rotman Chair in Artificial Intelligence and Healthcare and a professor of marketing at the Rotman School of Management. Economist Daniel Rock of the University of Pennsylvania's Wharton School shared his recent findings on which occupations are most likely to be impacted by large language models.
"People who process information [and] have knowledge as part of their work are more exposed," said Rock, who noted that this exposure can be harmful or helpful.
"One of the key things for economists to add to this conversation is equilibrium," Rock said. "It's not just about AI replacing workers – there's complementary innovation to be done here; there's supply and demand; there's the question of whether making one part of work cheap makes another part of it very expensive. There is a lot more work to be done here."
New languages, new frameworks for understanding
The conference closed with a session on AI and creativity led by SRI Faculty Fellow Avery Slater, an assistant professor in the department of English in the Faculty of Arts & Science. The session featured presentations by literary scholar N. Katherine Hayles, whose work has focused on relations between science, literature and technology, and U.K.-based poet Polly Denny, who presented her experiments with text-generating AI systems that have yielded new forms of artistic collaboration.
Where Agüera y Arcas's opening keynote highlighted the role of narration about the self as constitutive of what we might think of as AGI, Hayles also framed the question of whether AI is "alive" in similarly fundamental terms of how perception and meaning-making construct and define the environments in which we operate.
"Where there's life, there's cognition. But computational media also have cognitive capabilities," Hayles said.
SRI