Researcher at U of T Scarborough creates free online course to manage stress during COVID-19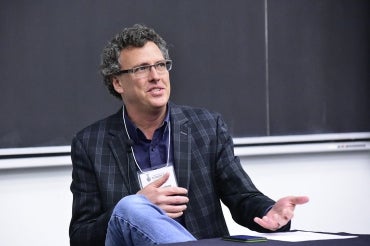 A new online course launched by a psychology professor at the University of Toronto Scarborough aims to help people manage their mental health during COVID-19.
The course, Mind Control: Managing Your Mental Health During Covid-19, is available free through Coursera.
"I'm constantly being asked for strategies on how to manage mental health given the current circumstances," says Steve Joordens, who is also the director of the Advanced Learning Technologies lab, where various educational technologies are designed and created.
"This course is designed to help people to learn some skills in order to avoid a lot of the anxiety they're facing, and how they can find ways to better control it."
The course is split into three main sections. The first deals with understanding the mechanisms behind anxiety – what it is and some strategies on how to manage it. The second looks at ways of crowding out stressors and sources of anxiety by offering tips and advice on how to mentally distract yourself. The third section focuses on the effects of isolation, with strategies on how to make it more tolerable and advice on how to stay socially connected during physical distancing.  
Joordens says important mental health tips covered in the course include limiting the amount of news we consume. While it's important to stay informed, constantly watching the news can feed anxiety.
He says finding positive ways of filling the day can offer a good mental distraction, whether it's laughing or singing, exercising, learning or practicing a skill or socially connecting with others through technology. Keeping to a regular schedule through a healthy diet, exercise and sleep are also key to helping us manage our mental health and shouldn't be ignored, he adds.
In the course, Joordens also goes over something called "guided relaxation," which are techniques that can help people relax their body so they can better manage anxiety.
"Research has shown that constant stress and anxiety can wear down our immune systems, and the last thing we probably need at the moment is a weakened immune system," Joordens notes.  
There's also a section at the end of the course on the importance of being aware about depression.
"What's really dangerous is when anxiety morphs into depression. Throughout the course there are reminders to be aware about feeling a sense of helplessness, and to make sure you are finding ways of having control in your life because control is key," he says.
Joordens, who is an expert on educational technologies, notes the course has flexible deadlines so anyone can pick it up at their convenience, and it can be completed in about 10 hours.
He says one big takeaway when it comes to managing your mental health during the pandemic is for people to try to achieve a sense of accomplishment. Whether it's learning a new skill, honing an existing one or by upgrading credentials, he says there are countless online platforms people can use.
"Filling your day with a positive routine or ritual is a really great mental distraction," he says.
"You also get to join an online community of learners that share a common interest. It can be a kind of replacement for some of the social interactions we're losing at the moment."
UTSC