Researcher puts rare disease under the atomic force microscope
Laurent Bozec is on the hunt for biomarkers associated with Ehlers-Danlos syndrome, which causes collagen dysfunction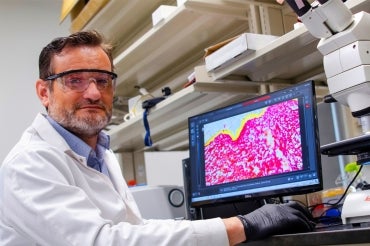 Laurent Bozec, a professor in the University of Toronto's Faculty of Dentistry, is keen to help patients with Ehlers-Danlos syndrome – a group of genetic disorders in which collagen dysfunction can cause stretchy and fragile skin, joint hypermobility and a range of oral, facial and dental problems.  
The syndrome affects 1.5 million people worldwide, while another 225 million have symptoms but no formal diagnosis.

Working with University Health Network (UHN) physician and Temerty Faculty of Medicine faculty member Nimish Mittal, Bozec has been looking at skin samples of patients to find a biomarker for the disease. 
"I love looking at damaged collagen," says Bozec, who uses atomic force microscopy to look at tissues at what he calls the nanometrology level.
His lab analyzes samples at 1,000 to 10,000 times higher resolution than normal histology – always with an eye to clinical implications.
Bozec ultimately hopes to help patients with the rare disease thanks to a partnership with the GoodHope Ehlers Danlos Syndrome Clinic at UHN – starting with finding ways to improve diagnoses.
 
At present, most people take an average of 15 years to get a diagnosis, although a small subgroup can be identified with a genetic test.
"So, that's 15 years where your health insurance is not going to pick up the tab. Nobody believes that they are having these issues; people get told to stop complaining," says Bozec, who is cross-appointed to the department of laboratory medicine and pathobiology in the Temerty Faculty of Medicine and at Sinai Health.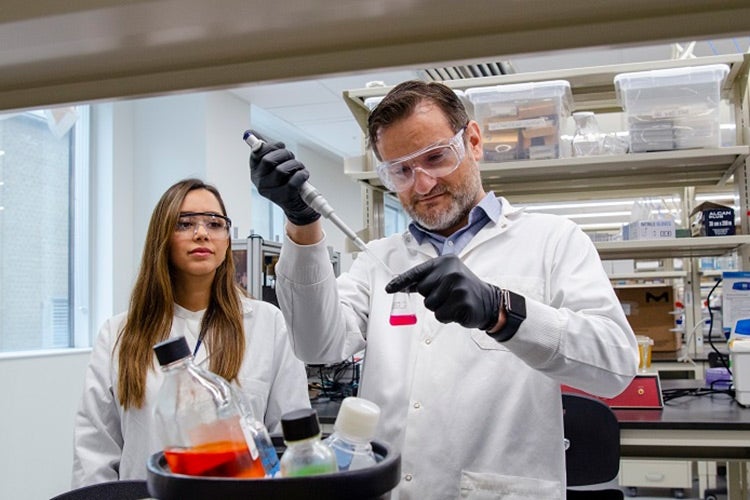 After Bozec finds a diagnostic biomarker, he plans to influence collagen using peptides and find personalized, local treatments to help with, say, a wound or a loose tooth. Currently, there are no pharmacological treatments for Ehlers-Danlos, leaving patients rely on things like physiotherapy to stay as well as possible.
Bozec also researches oral cancer, using collagen matrix changes to predict which lesions will lead to cancer. And his lab is trying to prevent the degradation of the collagen around teeth during routine treatments such as root canals.
His approach to scaffolding collagen during these dental processes helps inform his work on treating Ehlers-Danlos. In turn, Bozec expects findings related to diagnosing and treating this rare disease to feed back into other research.

Because patients with Ehlers-Danlos take longer to heal after providing a sample, a rigorous review preceded approval of the research effort, Bozec says.
"I hope we can find some solutions for these patients," Ehlers-Danlos says. "Even if we can't, we will still have done good research that has the potential to help others."
Dentistry