Researcher discusses brain injury and 'shadow pandemic' of intimate partner violence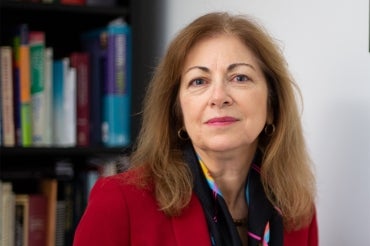 People who live with brain injury from intimate partner violence (IPV) face massive chasms in health care and support systems, says University of Toronto researcher Angela Colantonio, a researcher at the University of Toronto and University Health Network (UHN).
Most of these injuries go unreported. Service providers may not have the training to recognize brain injuries, and survivors themselves are often unaware they have a brain injury – instead attributing symptoms to mental health conditions or personal failure.
The COVID-19 pandemic has worsened their suffering. Physical abuse has increased, and access to support services has withered. To help address this immediate crisis, and the long-standing problem of brain injury from intimate partner violence, Colantonio – director of the Rehabilitation Sciences Institute and a professor of occupational science and occupational therapy at U of T's Temerty Faculty of Medicine and a senior scientist at KITE-Toronto Rehabilitation Institute, UHN – recently co-edited a special issue of the Journal of Head Trauma Rehabilitation.
Colantonio is cross-appointed to the Dalla Lana School of Public Health and her work is supported by a Canada Research Chair in traumatic brain injury in underserved populations.
She recently spoke with writer Jim Oldfield about intimate partner violence, and how research is raising awareness of brain injury and providing new tools for social workers, health professionals and patients.
---
How common is brain injury from intimate partner violence?
We don't have great prevalence estimates. About one in three women globally will experience intimate partner violence at some point, and physical abuse is a common form of this violence. Yet it has been found that fewer than 25 per cent of women seek care at the time of injury, according to some studies. Hits to the head, face and neck account for over 90 per cent of physical abuse by some estimates, which leaves women at high risk for a brain injury. So, this is a huge population that requires a specific approach in care and about whom we have very little information.
What are the most immediate needs to address this situation?
The needs are many, but education among front-line service providers is a big one. That said, the gender-based violence sector has been so receptive to work in this area, and we've had great partnerships with organizations such as WomenatthecentrE, the Cridge Centre for the Family and others. Just great collaboration to address this major gap in education, practice and knowledge. At the same time, the need for education among health care providers in brain injury is huge. That requires a tailored and sensitive approach to avoid putting people at further risk, or creating more harm and stigma. And of course, we need more research to guide care.
How was the experience of editing this special issue of the journal?
We had a great response from the research community. We received more submissions than we could consider, and I was really impressed by the willingness of researchers around the world to share their work and ideas. We ended up with a varied suite of articles and topics, from strangulation outcomes to neuroimaging correlates on IPV related brain injury and new data about prevalence. We had prevalence estimates in understudied populations that include refugees, and some of the first qualitative reports on the impact of the pandemic and brain injury among service users and providers. One paper found that persistent post-concussive symptoms significantly predicted IPV perpetration, highlighting the need to address brain injury in perpetrators as well. So there's a real breadth to this issue, which is encouraging, although we're just scratching the surface compared to research on brain injury among athletes, for example.
What can you say about the COVID-19 pandemic, relative to physical abuse and brain injury?
We're seeing more reports of new cases and more severe injuries, so the problem has escalated in Canada and worldwide. Many providers now refer to IPV as a "shadow pandemic." Through our consultations and research, we heard about a quiet period at the start of the pandemic, then a surge of calls to service providers. They reported more frequent and serious injuries, but also more barriers to accessing services, in part because shelters had reduced capacity and resorted to more online formats. Many survivors face challenges accessing technology safely and confidentially, and people with brain injury may find it hard to be on a screen and navigate resources. This is on top of pre-existing barriers, which we know are pronounced for persons who are Black, Indigenous and in rural or remote communities, among others.
How do you keep your morale up, working in this area?
It's absolutely a difficult area. But I'm just so humbled by those with lived experience who are willing to share, talk to us and lead efforts to address this issue. They have told us what it's like to live with cognitive difficulties attributed to poor mental health or personal failure. They've told us they want to identify and label their experiences, so they can get help and not feel it's all their fault. Similarly with service providers, we've heard of many aha moments when clients have missed appointments, for example, and providers later realize it was a memory issue. I also have the privilege of working with the most dedicated and talented staff and trainees in our lab who are making major collaborative contributions.
How effective are treatments for brain injuries?
Rehabilitation is critical for successful recovery and to maximize meaningful participation in everyday life and work. A multidisciplinary team approach can work very well at the individual level to build upon strengths and abilities, compensatory strategies and also to adapt the environment. We include information on care guidelines in our Abused and Brain Injured Toolkit.
Is that tool kit available to the public?
Yes, it's an educational resource that includes screening considerations, links between brain injury and mental health, and fundamentals on brain injury and care along with personal stories. We co-created it with service providers and survivors, and that's reflected in the content. It's been accessed by over 8,000 users on four continents, and referenced in websites, clinical programs and fact sheets. So we're having an impact, as are our colleagues. Our special issue includes an evaluation of a health-advocacy intervention developed by the Ohio Domestic Violence Network, which has helped survivors increase their knowledge and agency, and a letter from Katherine Snedaker of Pink Concussions, with updates on a Partner Inflicted Brain Injury task force. Maybe most gratifying is the cross-pollination we're seeing between brain injury and gender-based violence organizations. They are working together in new ways, and that really is essential to moving us forward.
Temerty