Researcher develops kidney stone 'vacuum'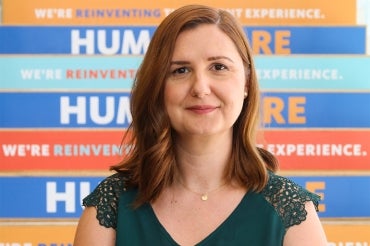 A Toronto researcher has developed a new tool to remove kidney stone fragments left over after laser surgery and is working to bring the invention to market with support from a new entrepreneurship program.
"Kidney stones can be life-altering – some people place their lives on hold [and] they worry about a potential kidney stone attack, which can be unexpected," says Monica Farcas, a surgeon-investigator at St. Michael's Hospital, Unity Health Toronto, and an assistant professor of urology in the University of Toronto's Temerty Faculty of Medicine. "It's common for people who experience kidney stones to visit the emergency room dozens of times over the course of their lives with a kidney stone attack."
One in 10 people in Canada experiences kidney stones. The symptoms are sudden and debilitating, and laser surgery is a common treatment. Surgeons break the stones up and remove most of the pieces after laser surgery, but when remaining bits fail to pass through a person's urine, they can develop into larger stones or harbor bacteria that lead to repeated urinary tract infections.
A researcher at Unity Health's Li Ka Shing Knowledge Institute who holds the Agnico Eagle Chair in Endourology and Minimally Invasive Urology, Farcas led the creation and development of a device that can be inserted into a patient's kidney to vacuum out any remaining bits of stone. In the long term, patients are less likely to need follow-up care or to visit the emergency room.
Farcas says there were significant challenges in designing the device since instruments used in these types of procedures need to be tiny and can't disrupt the kidney in any way. She and her team built a prototype and are testing and improving the device.
Farcas received support along the way from the Temerty Medicine's Entrepreneur in Residence (EiR) program. It launched as a pilot last year with funding from James and Louise Temerty and the Temerty Foundation, and continues to be a resource for Temerty Medicine-affiliated faculty.
"Physicians are generous with their knowledge and want to find the best solutions for their patients, colleagues and the broader population. The Temerty EiR program fosters an entrepreneurial culture to help them improve human health through commercialization," says Jarrod Ladouceur, the faculty's industrial partnerships officer.
Farcas is among the first cohort of entrepreneurs in the EiR program. Participants gain access to a team of seven entrepreneur-advisers, staff support and help for crafting pitches to bring new health-care devices and technology to market.
The program also provides seed funding to help participants with expenses related to early-stage milestones such as hiring a lawyer to assist with contract reviews.
For many clinicians, it can be difficult to find time for mentorship and learning opportunities, but Farcas says she was able to tailor the experience to suit her busy schedule.
"My mentors have been instrumental in showing me how to think about a customer base, learn about intellectual property and patents and better understand which projects to focus on," says Farcas, who studied engineering before she entered medicine and holds several patents in surgical innovation.
"I've got lots of clinical and research experience, but talking to someone who sees things from a business perspective has been tremendously helpful," she says.
Farcas also credits the EiR program with helping her in the most recent Angels' Den Pitch Competition at St. Michael's Foundation last November – her second time before the judges and jury. Farcas's pitch earned her one of the event's three prizes, the Keenan Award for Medical Discovery, which includes $150,000 to support the next steps in developing the surgical tool.
Medicine