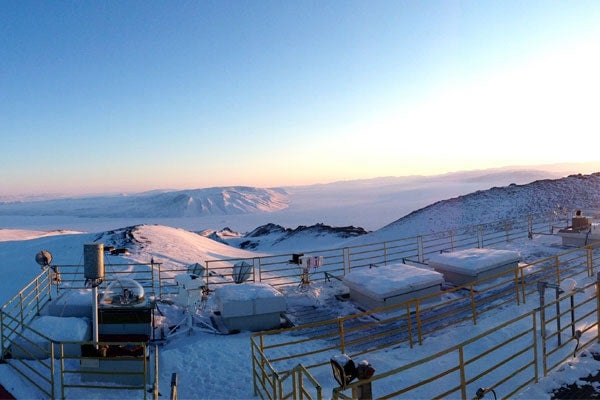 Reporting from the Arctic: tips for surviving winter
Dan Weaver is a graduate student at the University of Toronto whose research takes him to PEARL, the Polar Environment Atmospheric Research Laboratory on Ellesmere Island, near Eureka, Nunavut. 
PEARL's main building, the Ridge Lab, is 15 kilometres from Environment Canada's Eureka Weather Station, up on a ridge overlooking stunning Arctic fiords and waterways. At 80°N latitude, PEARL is more than 4000 kilometres (about 2500 miles) north of Toronto (43°N).
What kind of work takes a PhD candidate from U of T's physics department to an experimental lab at the northern edge of Canada? Start with climate, ozone depletion, atmospheric dynamics, and air quality.
But while the geographic location of the lab may be in the far north, Weaver's work isn't just about the remote Arctic environment – it contributes to our understanding of processes that affect the entire planet.
"The data collected at PEARL is highly valued by international collaborators because the lab's location is strategic; it's the only one of its kind in this part of Canada, which lends valuable data to networks of observatories around the world," says Weaver. "As scientists advance our understanding of the Earth's atmosphere, PEARL contributes a key piece of the puzzle."
Weaver is spending a month conducting research at PEARL – and he's filing occasional dispatches to www.news.utoronto.ca complete with photos.
Across North America, many people are already fed up with the cold
It was interesting for us to watch recent media coverage of the Polar Vortex. It brought unusually cold weather to large parts of North America, and all of a sudden a topic usually confined to Arctic atmospheric research meetings was hitting the front page of newspapers (it even hit TV shows like the Colbert Report!). Our team thinks quite a bit about the effect the Polar Vortex has on atmospheric chemistry. While we are at PEARL, we monitor it daily. It plays an important role in ozone depletion, for example.
One of the distinct advantages of PEARL is that it typically sits inside the Polar Vortex, and sometimes outside. Our measurements give the atmospheric science community a critically useful view into this fascinating atmospheric phenomenon.
Any advice for surviving winter?
Dress warmly and spend time outdoors. It is tempting to stay inside all the time during winter. Getting outside and finding ways to have fun will lift your spirits, keep you active, and help the season pass enjoyably. If we can occasionally go out on hikes in the extreme environment at PEARL, you can do it where you live! There are lots of great activities outside in the winter: cross-country skiing is a favorite of mine, as is snow-shoeing.
Members of the PEARL team occasionally take a break and go for a hike especially on a sunny afternoon. It's a fantastic way to get some exercise and emotionally recharge, even when the temperature is below -30°C before windchill.
(At right: teammate Emily McCullough celebrates a long hike;  photo by Dan Weaver.)
Up in Eureka, hikes can be amazing, without being too demanding because you can go at your own pace and take breaks as needed. The heavy boots and parkas we wear add to our challenge! The scenery is gorgeous on a sunny day.
One of my favorite parts to being outside in the winter is seeing wildlife. Near PEARL, that often includes Arctic hares and foxes (pictured below; photo by Zen Mariani).
I went for a hike from Eureka at twilight last year two days before leaving. It was amazingly quiet and peaceful. We encountered a curious Arctic fox, which followed us halfway back to the station. That's an incredible memory, far superior than watching another hour of TV!
Back in Ontario, I enjoy seeing deer, rabbits and a variety of birds.
The key to enjoying winter activities is wearing the right set of clothes. With the appropriate outfit, you can be comfortable in almost any weather.
A good base layer makes a world of difference. When it's *very* cold, a set of long underwear and a warm long-sleeved undershirt can make a huge difference. I picked up a couple of good ones from Mountain Equipment Co-op when I started "wintering" in the high Arctic. Combined with fleece mid-layers, thick socks, a scarf and good hat, you'll be in good shape! I often wear two pairs of gloves: a heavy pair on top of a light one for warmth, and in case I need to remove the heavy pair to work with an instrument outdoors or take a photo with my camera.
In the Arctic, I add a face mask, snow pants, and a heavy parka. The photo at right of me with Emily McCullough was taken by McCullough on a walk in -45ºC weather.
You'll be filing your first dispatch to U of T News from Eureka soon. If people have questions, they can email uoftnews@utoronto.ca. Can they also reach you via Twitter?
Yes, people can reach the team through the @CREATEArcticSci Twitter account. I can't always reply immediately because we are often busy in the lab and sometimes the Internet connection cuts out, but we will do our best.
There will be occasional updates to the blog (http://createarcticscience.wordpress.com/) where we welcome comments.
We also have a (simple) campaign website, which will host daily photo albums: http://acebox.uwaterloo.ca/eureka/
You're working with U of T colleagues as well as researchers from other institutions. Who else is up there and who's funding this work?
I'm in Eureka as part of the 2014 Canadian Arctic ACE/OSIRIS Validation Campaign. Led by U of T Physics professors Kaley Walker and Kimberly Strong, our team has been conducting these spring campaigns since 2004 with support from the Canadian Space Agency, Environment Canada, NSERC, and the Northern Scientific Training Program.
This year, our UofT team also includes PhD student Joseph Mendonca, postdoctoral fellow Sophie Tran, and PEARL site manager Pierre Fogal, as well as colleagues from York University and Western University.
This article is the latest in a series of stories featuring Dan Weaver in the Arctic. Read more articles: