Renowned anti-racism education expert among 10 U of T scholars elected fellows of prestigious national academy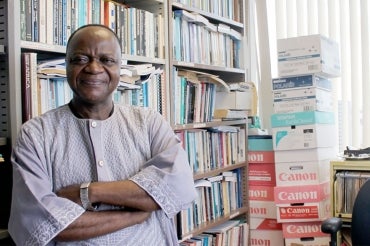 Scholars shaking up the education system in Canada and how we understand what leads some women to a life behind bars are among 10 University of Toronto researchers elected as fellows of the Royal Society of Canada.
"This is huge for me. It's something I always wanted," said Professor George Dei, an expert in anti-racism and Indigenous philosophies, of the Ontario Institute for Studies in Education.
"It's a top notch award and it's wonderful to have my work recognized by such a respected Canadian body," he said. "It makes me feel like I'm really making a contribution.
"I also know such contributions are the product of joint efforts working with my students, community workers and other academic colleagues."
Dei, who is currently in Ghana collecting Indigenous stories for a new book, has spent his academic life working on ways to rethink conventional, Eurocentric education policies to improve the experiences of young people and the communities they call home.
A way of instilling more equity and social justice in the education system, he argues, is to place community sages, fables and Indigenous philosophy, with their own sophisticated worldviews on society, culture and nature, at the heart of schooling to transform not only what is taught but how it is taught.
These fables have been passed down through the generations but were pushed aside in colonial classrooms in favour of a western approach with its own values. Returning to this local knowledge will teach young people how to care for the environment, build their community and respect their culture and peers through reciprocity and sharing.
"Education is too focused on the marketplace – what do I need to know to get a job?" Dei explained. "Education is about more than a job. It's about learning how to build communities and sustain ourselves in spiritual, emotional, cultural, physical and material ways."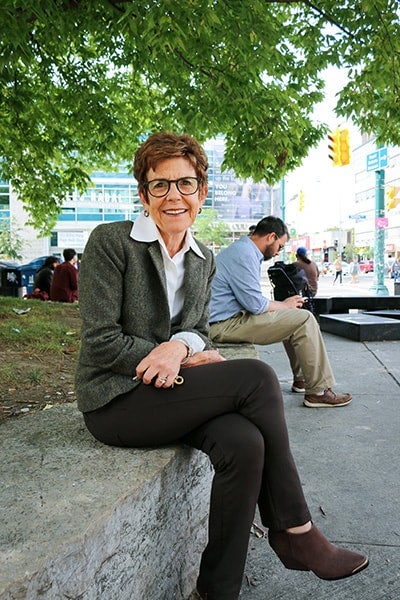 Like Dei, sociology Professor Candace Kruttschnitt (pictured left) is also thrilled to be joining the 133-year-old society, which is made up of the senior collegium of distinguished scholars, artists and scientists in the country.
"It's totally an honour and unexpected – completely," she said with a laugh. "To be recognized for your work any time is wonderful."
Since the 1990s, Kruttschnitt has studied the incarceration of women by speaking with hundreds of inmates in the United States, England and the Netherlands, with surprising results.
Contrary to common perceptions, the risk factors for a pathway to prison are comparable for men and women. For example, male and female inmates identified as multi-problem property offenders commonly had mental health issues, substance abuse problems, substantial debts and were unemployed.
Both sexes in the multi-problem violent offenders category also shared a history having parents with "parental deviance," with drug and alcohol abuse and their own brushes with the law. The parents started committing crimes before the age of 18, had debt and also were substance abusers.
"This is a controversial subject because many scholars and policy-makers believe we need a gendered approach to programming in prisons," Kruttschnitt said, adding that if she was facing imprisonment anywhere in the world the Netherlands "would be the place for me. They're just wonderful. It's the most advanced place I've ever seen" in their treatment of inmates.
"The University of Toronto is proud of our 10 new fellows elected to the Royal Society of Canada," said Vivek Goel, U of T's vice-president of research and innovation.
"They are joining dozens of U of T fellows, who represent the largest contingent from any university in Canada," he said. "They are all top scholars in their fields who help to promote learning and research in the arts, the humanities and the natural and social sciences."

Joining Dei and Kruttschnitt as fellows of the Royal Society of Canada are:
Professor Benjamin Blencowe, Donnelly Centre for Cellular and Biomolecular Research, Faculty of Medicine
 
Professor Peter Dirks, department of surgery, Faculty of Medicine and The Hospital for Sick Children
Professor Reza Iravani, department of electrical & computer engineering, Faculty of Applied Science & Engineering
Professor Robert Jerrard, department of mathematics, Faculty of Arts & Science 
 
Professor Lynn McDonald, Factor-Inwentash Faculty of Social Work
Professor Helen McNeill, department of molecular genetics, Faculty of Medicine and Sinai Health System
Professor Milica Radisic, Institute of Biomaterials and Biomedical Engineering, Faculty of Applied Science & Engineering
Professor Frank Wania, department of physical & environmental sciences, University of Toronto Scarborough
UTC