Remembering Murray Koffler (1924-2017)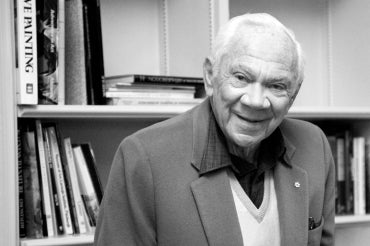 Visionary businessman, philanthropist and U of T alumnus Murray Bernard Koffler died on Sunday at his home in Toronto. He was 93.
Perhaps best known as the founder of Shoppers Drug Mart and co-founder of the Four Seasons Hotels Ltd., Koffler was also deeply committed to improving the lives of Canadians through his philanthropy.
"Murray Koffler described himself as 'just a simple pharmacist,' says U of T President Meric Gertler. "In fact, he was one of our country's most successful entrepreneurs and greatest humanitarians. The close relationship between Murray and the University of Toronto spanned a remarkable seven decades. After first arriving on campus in the 1940s, he remained an active alumnus and supporter for the rest of his life. As a generous supporter of education, but also the arts, medicine and social justice, his aim was to create a stronger and more just Canada."
Born in an apartment above his father's drugstore on College Street, Koffler graduated with a degree in pharmacy from the University of Toronto in 1946, and soon thereafter assumed the reins of the family business. Over the next several decades, Koffler, drawing on his talent for innovation and his keen eye for where the country was headed, revolutionized the pharmaceutical retail market and transformed the field of pharmacy in Canada. Today, more than 1,300 stores operate under two names: Shoppers Drug Mart in nine provinces and two territories, and Pharmaprix in Quebec.
Murray and his wife Marvelle Koffler have generously supported numerous divisions across the University of Toronto, including Arts & Science, Pharmacy, Information, Medicine, Architecture, Music, Kinesiology and Physical Education, Graduate Studies, Victoria College, University College, the Thomas Fisher Rare Book Library, Student Services and Student Awards. 
Most notably, the Kofflers helped create the Koffler Student Services Centre on College Street, and, in 1995, made the largest-ever land gift to a Canadian university with the donation of Jokers Hill, their 350-hectare equestrian estate, to the University of Toronto. Now home to the Koffler Scientific Reserve, Jokers Hill is internationally recognized for cutting-edge research and education in biodiversity, ecology and conservation biology. 
"So many members of our community have benefited from Murray and Marvelle's generosity of spirit," says David Cameron, dean of the Faculty of Arts & Science. "The Koffler Scientific Reserve at Jokers Hill allows our students to gain the sort of hands-on experience with ecological systems that few urban university campuses can offer. Their kindness and benevolence will impact Canadians for generations to come."
The Reserve's diverse forests and wetlands are a living laboratory, allowing students and scientists to test hypotheses about the ways in which biological systems persist and adapt. It has become a vibrant outdoor classroom for undergraduates with hundreds of students visiting the site each year. 
"Jokers Hill has transformed the educational experience of countless undergraduates and graduates," says John Stinchcombe, director of the Koffler Scientific Reserve, "and it allows Canada's most pressing ecological issues—conservation, land protection, research and education in the environment, ecology and global change biology—to be studied by some of the world's top researchers. The impact on those of us who have been touched by this gift, and this place, is immeasurable. We're all grateful, and honored to participate in such a meaningful legacy of philanthropy, education and conservation."
Over the years, Koffler also had a significant impact on the Faculty of Pharmacy. In 1990, the Koffler Institute of Pharmacy Management opened at U of T's Faculty of Pharmacy. Initially providing continuing education in the area of management to practising pharmacists, the Institute evolved into a comprehensive program in social and administrative pharmacy, which included the teaching of pharmacy management courses to undergraduate and graduate students, research in pharmaco-economics, pharmaco-epidemiology and leadership training. In 2006, the newly-named Leslie Dan Faculty of Pharmacy recognized Koffler's contributions by establishing the Murray B. Koffler Chair in Pharmacy Management, and naming the fifth floor of the building the Murray B. Koffler Administrative Centre. 
"Few people have made a bigger impact than Murray Koffler on the profession of pharmacy, and by extension the health of Canadians," says Heather Boon, dean of the Leslie Dan Faculty of Pharmacy. "His entrepreneurial spirit is being passed on to the next generation of pharmacists through his many contributions to our Faculty. His support has changed how generations of pharmacists think about primary care and community pharmacy practice."
Beyond the University, the Kofflers supported Mount Sinai Hospital and the Koffler Centre of the Arts at the UJA Federation of Greater Toronto's Sherman Campus. Murray Koffler was also instrumental in founding the Council on Drug Abuse, the Toronto Outdoor Art Exhibition and the Canadian Council for Aboriginal Business. He also supported the Toronto Symphony Orchestra, the Weizmann Institute of Science in Israel and the Canadian Society for the Weizmann Institute of Science along with countless other organizations.
The recipient of numerous awards and accolades, Koffler was inducted into the Canadian Business Hall of Fame in 1991, received the Canadian Foundation for Pharmacy 2013 Pillar of Pharmacy Award, and has been honoured with the Order of Ontario and the Order of Canada. First appointed to the Order of Canada in 1977, for his "many services to his community as businessman, philanthropist and patron of the arts," Koffler was made an officer of the Order of Canada in 1995.
"Murray was one of Canada's first great entrepreneurs and one of our country's greatest citizens," says David Palmer, vice-president of advancement. "He was always generous with his time, and was continuously striving to find ways to parlay his own success into lifting other people up. Our community has lost a great friend and champion."
Murray Koffler is survived by his wife, Marvelle, five children, and many grandchildren.
DUA