Relationship feeling stale? WooYourBoo startup to help couples reconnect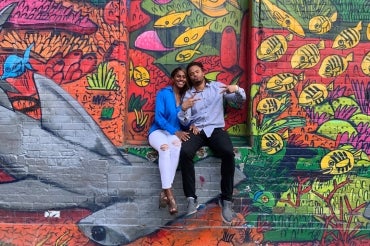 Falling in love is easy — but staying in love takes work.
That's why husband-and-wife co-founders La Vance and Colleen Dotson decided to launch a dating app tailored for more seasoned lovebirds — couples who want to "swipe right" on strengthening their relationship.
Supported by the University of Toronto's Black Founders Network, WooYourBoo is a digital platform that aims to help partners reconnect and better communicate with each other through features such as quizzes, activities and rewards.
Colleen says the app is designed to reignite the excitement of courtship by emulating the gamified thrill of swiping through profiles on a matchmaking app.
"Social media is not designed to be social in the way it nurtures relationships," says Colleen, who is also head coach of the U of T Track & Field Club.
"Our goal is to create depth and help you reconnect with this person that you've committed to — and make it fun."
The idea for WooYourBoo, which is set to launch in the coming weeks, stems from the Dotsons' own relationship trajectory over nearly 15 years, three children and two countries.
La Vance first met Colleen at the University of Central Missouri, where he was playing football and she was coaching track and field while earning her master's degree. But as time went on, their initial infatuation gave way to the familiar challenges of sustaining a long-term relationship.
One day, Colleen decided to tell La Vance how she was feeling: "You don't woo me anymore."
La Vance says he felt both offended and inspired.
"Up until that point, I had men teaching me how to go pick up a woman. No one had ever sat me down and said, this is how you actually have a successful relationship," says La Vance. "What she was actually communicating to me was that 'You don't make me feel loved.'
"I told her that it's not that I don't want to. I just simply don't know how to."
La Vance recalls wishing that there was an app he could download to guide him; Colleen suggested it calling it WooYourBoo.
The resulting startup is built on the pair's learnings as they worked to better communicate their love with each other. The "love expressions" quiz, for example, allows users to swipe through a series of prompts asking them to pick between two romantic options — spending quality time together or getting a small gift. Your "boo" can then take a test to see if they can guess your preferences.
The app also uses that data to make suggestions about ways you can make your partner feel loved and work toward mutual goals. There's also a feature that awards users points for putting in the effort.
The Dotsons say the Black Founders Network (BFN) has been instrumental in building WooYourBoo, which was among the inaugural cohort of the BFN Accelerate Program.
"When you're in a space with people who may come the same background as you, who may talk like you and look like you and have a similar experience, it makes accomplishing any task a lot easier," La Vance says.
"It's helping us connect with people and other organizations that on our own we may not have access to, but through the community of the BFN, we do."
BFN founder and manager Efosa Obano says the couple's focus on building connections could be a competitive advantage in a crowded dating app market.
"I think it's really going to take off because it's so much more than just matching with someone based on their profile pictures," Obano says. "They've taken a more thoughtful approach to helping you understand yourself and how you connect with others and coaching you through every phase of your dating or relationship journey."
The Dotsons say they can personally attest to WooYourBoo's effectiveness. They're also betting there are many other couples who can relate to their struggles.
"You have to keep wooing your boo because you're going to discover more things to love about them that you didn't know were there," says Colleen. "It becomes exciting because you get to date that person all over again.
"It could be a new relationship every time if you allow it to be."
UTC