Reclaiming her time: During U of T visit, U.S. scholar gives talks on being Black in academia, sports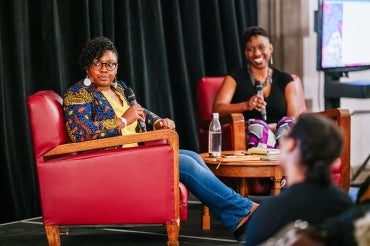 LaToya Brackett, a visiting assistant professor of African American studies at the University of Puget Sound, says the idea of being both visible and invisible is a daily reality for many Black woman. When visible, they have to be mindful of everything they say or do. When invisible, they are neither seen nor heard.
Brackett, who recently gave a talk about her experiences in academia at an event hosted by Hart House in partnership with the University of Toronto's Faculty of Kinesiology & Physical Education, says navigating between the two extremes requires both code switching – changing the way one talks depending on the audience – and "throwing shade," which she says includes sharing inside jokes in spaces not traditionally welcome to Black women. 
To underscore the point, she showed the packed room a clip of U.S. Congresswoman Maxine Waters repeatedly redirecting U.S. Treasury Secretary Steven Mnuchin back to her question by invoking a procedural rule that allows members to reclaim time lost in questioning. The moment became a viral sensation and the phrase "Reclaiming my time" became an unofficial rallying call for women, people of colour and the LGBTQ community to reclaim their time and power.
Brackett's Hart House talk capped off her visit to U of T, where she was special guest of KPE's Indigeneity, Diaspora, Equity and Anti-Racism in Sport (IDEAS) Lab led by Assistant Professor Janelle Joseph, who teaches a course on race and indigeneity in sport. Brackett also spoke in Joseph's undergraduate class and the faculty's graduate seminar, focusing her presentations on how Black athletes' appearances and actions are frequently interpreted in ways that perpetuate negative stereotypes and restrict their freedom of expression – think Colin Kaepernick or Serena Williams. 

"The reaction in the class was phenomenal," says Joseph. "The students were so engaged. Essentially, Dr. Brackett reinforced the message that the racism that we witness in sport today is a historical colonial legacy. We can see it in the 1936 Olympic Games, we see it in the 1968 Olympics, we're seeing new versions of it today, but the issues that Black people are protesting against – being undervalued and restricted – remain the same."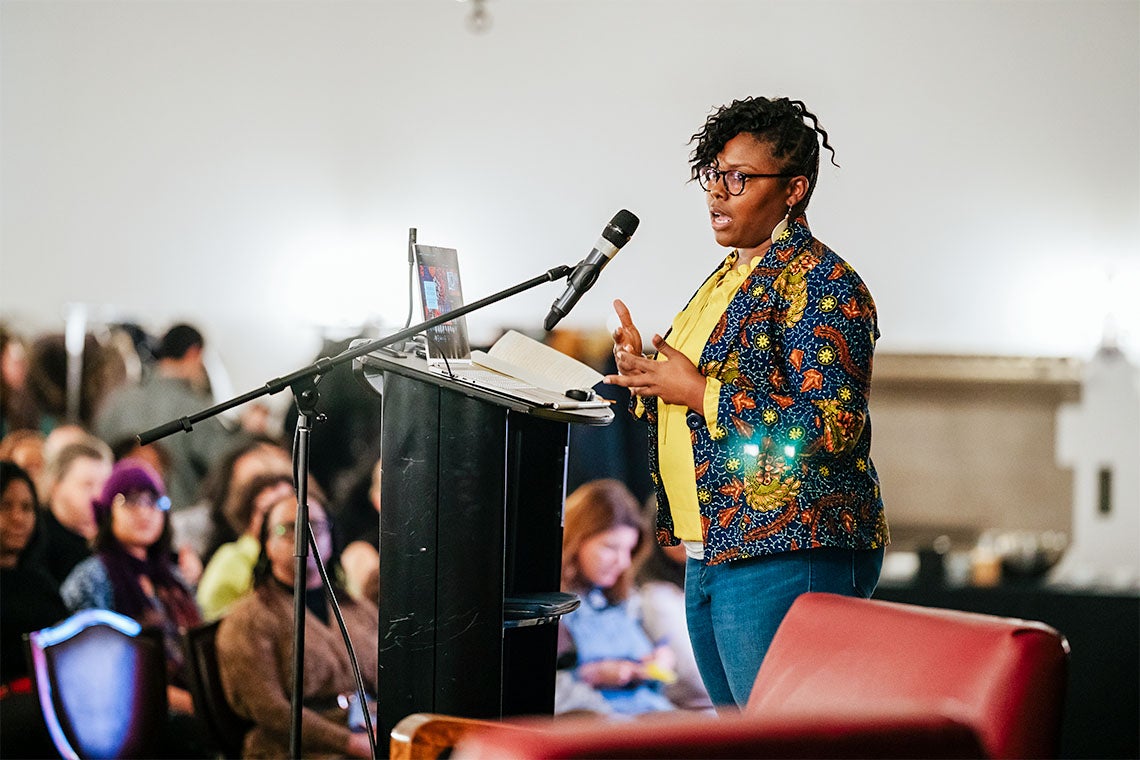 LaToya Brackett, a visiting assistant professor of African American studies at the University of Puget Sound, showed the room a now-viral clip of U.S. Congresswoman Maxine Waters calmly redirecting U.S. Treasury Secretary Steven Mnuchin back to her question with the phrase "reclaiming my time" (photo by Jiduo An)
Joseph, one of few critical race scholars in kinesiology, says it's very important to her to be able to bring international scholars to the faculty to expand the network of people doing research in this area. "There are people in many different disciplines across many different universities doing this kind of work, from African-American scholars to anthropologists. Now they can come to KPE to have these cross-disciplinary conversations," she says.

The significance of Joseph's course was reinforced by the findings of KPE's 2018 Task Force on Race and Indigeneity, which was inspired by the Truth and Reconciliation Commission. The expert panel's recommendations included developing a course on "Indigenous issues/history, colonial history, equity, racialization and racism in the context of sport and physical activity" – one based on or complementing Joseph's work. Joseph, then a sessional instructor, successfully applied for a full-time tenure-track position in 2019. 

"Although it's an elective, I think her course would benefit everybody, especially those of us who haven't had experience with these kinds of discussions in our education," says fourth-year kinesiology student Jessica Nachman, who listened to Brackett's talk in Joseph's undergraduate class and came out for her lecture at Hart House with her classmate, Viviane Gauthier.
"When we talk about these big topics like racism and colonialism, oftentimes, for people who haven't experienced them, it's hard to imagine what that's like, so having these conversations, hearing stories of things that have happened to people, makes you realize that this is what people actually go through – [that] this is a real problem, even if it doesn't affect you personally," she says.

Gauthier, also in her fourth year of kinesiology, adds that Joseph's class and talks by visiting speakers such as Brackett are so important to students who often feel invisible. 

"It literally validates our existence and our experiences," she says.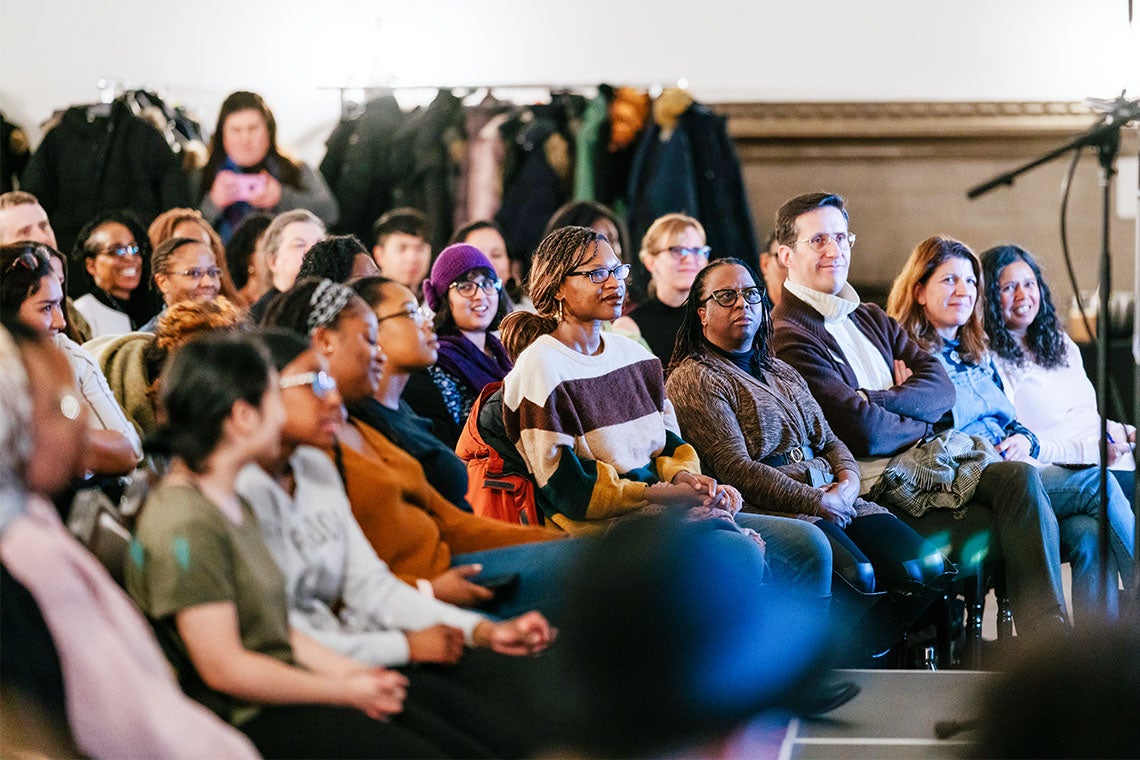 A packed room listens to LaToya Brackett speak at Hart House (photo by Jinduo An)
For Sabrina Razack, a second-year PhD student in kinesiology who is also doing a collaborative specialization in women and gender studies, having speakers like Brackett address students is important on many different levels.
"First of all, there's the psychology of representation," she says. "Seeing a woman of colour up there on stage lets you see what's possible. I know a little bit about this topic because I happen to be studying it, but these talks are also a great point of entry for others who may not be studying these issues. 

"These are hard topics. Talking about race and racism is not easy. Getting students exposed to this kind of research, arming them with information and engaging them in dialogue helps them see things from different perspectives and carry that knowledge beyond the walls of the classes. That's really powerful." 

Razack, Nachman and Gauthier all agree that an important takeaway from Brackett's talk was to take some of the responsibility for educating oneself about the discrimination others experience by seeking out spaces and events that host such discussions.

"It was important for me to hear how I can be a co-conspirator or an ally and when I need to step back and not take up space," says Nachman. "Throughout the whole presentation I was very aware when I was feeling discomfort, but a prof once said to hold on to those moments and not ignore them because that's how you learn to understand.

"There are a lot of stereotypes that surround Black women, but having a historical framing of how these stereotypes came to be, contesting them and reimagining a different reality is really powerful."

A podcast featuring a conversation between Brackett and Joseph, facilitated by Zoe Dille, the senior program co-ordinator at Hart House, will be airing shortly on Hart House Stories, a home for podcasts and other projects that offer different perspectives to the U of T community.
KPE